Amazon Alexa vs Google Home vs Apple HomeKit - which smart speaker assistant is best?
Looking for a smart assistant, but don't know which one to choose? In order to find the best option for you, we assess the three main options.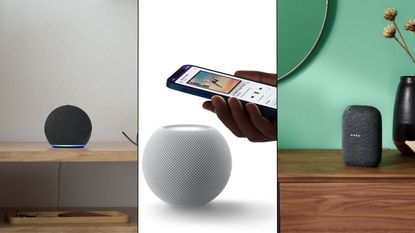 (Image credit: Amazon; Apple; Google)
Even once you've decided to get a smart speaker and maybe even build out a wider smart home with additional accessories and products, the question of which assistant to go for remains. Do you want an Alexa speaker, Google Assistant or Apple HomeKit?
Considering that smart assistants can essentially become part of your household, helping you do everything from setting morning routines and controlling your heating to answering the kids' many questions and playing the tunes, you should consider carefully before making any commitments.
To make things even more complicated, these assistants don't just reside on smart speakers produced by the company behind them. Instead, there are dozens of third-party products from the likes of Lenovo, Bose, Sonos, Bang & Olufsen, and more that also offer full functionality from Google, Alexa, and Apple.
The battle between the big three, though, is constantly evolving with new releases and features. Apple will always have its die-hard fans, but its compatibility compared to Alexa and Google is limited. Likewise, Alexa's reliable and sleek devices have made it a household name, but Google's efforts measure up and, in some areas, surpass Amazon's.
To help make choosing the right speaker a little easier, we have assembled our favorites in our guide to the best smart speakers. Before that, keep reading to see which smart assistant suits you best.
1. Amazon Alexa
Amazon's range of smart speakers and displays may be the most well-known, with the command 'Alexa' becoming synonymous with the smart home phenomenon overall. However, it also has the widest selection of devices. Moreover, it is most regular with its new releases - knocking the price of older models down for those who aren't necessarily interested in the latest tech.
Smart home compatibility
A big perk of Alexa is that it is part of the wider Amazon suite of technology, including Fire TVs. This allows you to control your viewing with just your voice, so whether you have a Fire TV or Fire streaming stick, it's a great bonus.
Then there's the range of Ring security products, such as Ring doorbells and security cameras. Alexa smart displays, such as the Echo Show range, come in handy here, giving you a video feed direct to your device. You can also use your speaker to communicate with someone at your front door when you're too busy to answer the door. For more on this, take a look at our guide to the best video doorbells.
Alexa Guard offers another layer of more low-tech security, with the ability to train your speaker to alert you with a push notification to your phone when it hears something like a smoke alarm.
The updated Echo features an in-built temperature sensor and Zigbee hub, increasing its usefulness as a standalone smart home hub. Zigbee-equipped smart locks, lights, and plugs will all connect seamlessly for a completely automated home.
Music & podcasts
For obvious reasons of friendly competition, the only major audio streaming services not supported by Alexa are Google Play and YouTube Music, making it the best option for those with multiple subscriptions or memberships to Apple Music, Tidal, or Amazon Music.
There's also multi-room listening, which allows you to network multiple speakers around the home together for parties or to listen to podcasts while cleaning different rooms of the house. No pausing required. This is, of course, useful for broadcasting messages to another room, like calling the kids for dinner.
Audio quality
The Echo Dot houses a 1.6" speaker, while the larger Echo has a 3.0 woofer and dual front-firing 0.8" tweeters. The Echo Studio blows both out of the water with a 1.0" tweeter, three 2.0" mid-range speakers, and a 5.3" woofer. The latter two also feature Dolby Atmos surround sound.
Overall, Alexa speakers aren't well-regarded for audio power in traditional terms, by they are more than adequate for everyday use.
Privacy & personalization
For an extra subscription, you can activate Alexa's kid-friendly options, including filters for answers to kids' questions, filter explicit songs and stop the little ones from doing some secret shopping. You can also review what might have been happening while you weren't supervising.
Echo devices (and most Alexa-equipped voice speakers) have a switch for the microphone so you can protect your privacy whenever you want. You can also hear back any interactions you've had, deleting them at your leisure. You'll also be able to set up multiple voice profiles for a more personal touch.
Amazon Alexa: who will it suit?
Amazon's Alexa smart assistant is a fantastic all-rounder, with the company putting as much effort into the design as it has the features in recent years. The spherical Echo and Echo Dot won't be to everyone's taste, but they're sleek and modern-looking enough to blend into their surroundings.
When it comes to functionality, it's impressive. Compatibility with things like Ring, Amazon shopping, and Zigbee smart home products is a massive bonus for anyone interested in building a wider system, and kid-friendly features will please parents.
Amazon offers the widest range of smart displays to suit those looking for something small for the kitchen counter or a 10-inch video-calling recipe-guiding machine.
2. Google Assistant
The biggest tool in Google's arsenal is its vast bank of data, having completely cornered the market on internet searches and knowing way more about us all than we'd probably like. This doesn't necessarily help it when it comes to the smart speaker wars, but it can't hurt its ability to answer obscure queries.
Smart home compatibility
Google Nest speakers hold their own as smart hubs, working with compatible Philips Hue light bulbs, smart plugs, and Nest thermostats (and more) to automate your home exactly how you like it.
And, though the original Chromecast was once not as impressive as what you can do with Alexa and Fire TVs, the new Chromecast with Google TV has brought the brand into the streaming wars in a big way. The dongle comes out on top in our ranking of the best streaming devices.
And, while there are still alternative email and calendar services to Google's own, it's true that many of us rely on Gmail and its attached services for both work and personal organization. Google knows this, of course, and makes it incredibly simple to hook your email and calendar up to your smart home routines. If you use Google Meet to keep in touch with family and colleagues, even better.
You also can't ignore the benefits of having Google-owned YouTube at your fingertips, either, with video tutorials and recipe guides all easily accessible on your smart display.
Music & podcasts
Google's branded music service is YouTube Music, which combines tunes with the millions of corresponding videos on YouTube. This makes Google devices a great match for those who enjoy live music and hard-to-find songs, though YouTube Music hasn't (rightfully or wrongfully) taken the world by storm the way that third-party Spotify or Apple Music has.
Audio quality
The budget option from Google - the Nest Mini - much like Amazon's own, has just one speaker. But, like Amazon, Google has released a more audio-focused option in the Nest Audio, which hosts a 0.7" tweeter and 2.9" woofer for more impact. Still, there's a large gap between what Google speakers (or Alexa) can offer and what audiophiles might expect.
Privacy & personalization
Like Alexa, Google speakers feature a microphone mute switch that protects your privacy when you don't want to be overheard. Also, like Alexa, each member of the family can set up their own voice profile.
Google Assistant: who will it suit?
We'd recommend a Google Assistant speaker for those who want to use their smart device as a productivity tool. Whether it's having reminders of calendar events and email alerts, or tracking their sleep and setting routines, it's all slightly more connected than Alexa can claim, and without locking you in like Apple. Smart displays are where Google Assistant really comes into its own, with the latest Google Nest Hub prioritizing something we're all interested in pursuing - better sleep.
Apple HomeKit: the details
iPhone or Mac users will already be familiar with Apple's resident smart assistant - Siri - and the company's HomeKit range could be the best choice for those who want their smart home to work seamlessly with their other Apple products.
Smart home compatibility
HomeKit is by far the most restrictive of the three options, tying you to Apple-branded services for pretty much everything. So, if you don't fancy kitting your house out with Apple TV, subscribing to Apple Music, and tying yourself to the iPhone for the foreseeable future, think carefully before going for a HomePod.
There aren't any third-party speaker brands that have Siri on board, and your only options are the HomePod mini and the newly-released HomePod 2. Still, two excellent speakers aren't to be sniffed at, and quality could make up for a lack of quantity in this instance.
Music & podcasts
The name 'podcasts' literally comes from Apple's iPods and the new listening freedom they came people, so you would expect the tech giants to be pretty good in this area. And they are, with easy access to everything you'd want to listen to, along with Apple Music and its exclusive and lossless/Dolby Atmos tunes. Second only to Spotify, Apple Music has a lot to offer, especially while we all wait for Spotify's long-awaited Hi-Fi tier.
Audio quality
The spherical design of the HomePod mini offers a 360-degree sound that is the best on offer amongst the smallest speakers in each range. Pair it with another Apple speaker, and you'll have a sturdy surround sound system on top of everything else Siri has to offer. Apple is hands-down the winner for audio quality.
Privacy & personalization
Like Alexa and Google, HomePod speakers feature a microphone mute switch that protects your privacy when you don't want to be overheard.
Apple HomeKit: who will it suit?
There are no two ways about it - the Apple HomePod mini (and its larger sibling, the HomePod) is only really recommended for those who have already sworn allegiance to the Apple brand. Those who don't use Apple Music, have an Apple TV, or already use an iPhone will find a lot of roadblocks in their way.
That said, Apple Music is doing its best to rival Spotify for music fans with HQ audio, and podcasts, of course, actually originate with the fruit-inspired brand. If you're happy with what Apple has to offer, as well as the design of the HomePod mini, then this is still a solid - though more restrictive - option.
With her job as smart home editor for Livingetc requiring her to switch between Google Assistant, Alexa and Apple's HomeKit as she tests and reviews the best smart speakers, Caroline is somewhat uniquely placed to compare the three leading smart assistants based on how well they function in the home. Testing of these devices is done in her own home to ensure that information and recommendations are based on real-world experience.
Verdict: which smart assistant is best?
All three of the major smart speaker providers have their positives and negatives, from wide compatibility with other smart home devices to enhanced audio quality and user-friendly speakers or privacy options.
Those who value an open ecosystem for their tech may want to steer clear of HomeKit speakers, but anyone else would be rewarded for committing to Apple with excellent audio and seamless integration with Apple TV, Apple Music, iPhones, and iPads.
Google wins out for acting most like a personal assistant, owing mostly to its wealth of knowledge on all of us. If you use Google software like Gmail, Google Calendar, and Google Chat, as well as being a frequent YouTube user, then Nest speakers will suit you and your lifestyle the best.
Perhaps because they've got the most eyes on them, Amazon might have the edge for households with children or those who are concerned about their privacy. Child-specific smart speakers (opens in new tab) are unique to Alexa, and work great with the rest of your smart home while limiting what your kids can do.
Smart Homes Ecommerce Editor
Caroline is the smart home ecommerce editor for Livingetc, covering everything tech for the home, from smart speakers to air purifiers and everything in between. She is passionate about the role that technology and smart devices can play in daily life, enhancing the home without sacrificing personal style and carefully chosen interiors. In her spare time, she can be found tinkering with bulbs, soundbars, and video doorbells in an effort to automate every part of her small home. Previously, she lent her expertise to the likes of Expert Reviews, IT Pro, Coach, The Week, and more.