As an Android user, I tried the Apple Homepod 2 for a month and I might just be converted
An Android user tests the Apple's new Homepod 2 for a month, but can she be persuaded to switch?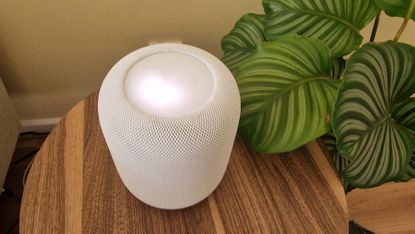 (Image credit: Future / Millie Fender)
For iPhone users seeking top-notch sound quality, the Homepod is an excellent choice. Its sleek design and superior audio put it ahead of other smart speakers. It can even be used with your TV, and purchasing two is still more affordable than some top soundbars. However, it works best within the Apple ecosystem, and Bluetooth compatibility would be a welcome addition.
Reasons to buy
+

Seamless setup

+

Fantastic, bass-heavy audio

+

Pleasingly compact

+

Dolby Atmos works wonders with Apple TV
Reasons to avoid
-

Works best alongside the whole Apple ecosystem

-

Design is a little uninspiring

-

An expensive choice
I rarely start my reviews with an apology, but it's worth noting off the bat that this Apple Homepod 2 review is coming at you from a long-time, somewhat devoted Android user. I've not laid my hands on an Apple product since I upgraded my iPhone 4, so it's safe to say that I've been out of the loop for a while now.
Not only am I a Samsung-touting traitor, but my skills lie outside the world of tech. I know a good speaker when I see (well, hear) one, and I also place an emphasis on ease of use when I'm reviewing the best smart speakers. Perhaps sensing trouble, Apple's PR team sent me a swish new iPhone to try alongside the Apple Homepod 2, and some Apple masterclasses to get me started.
Why? Well, herein lies the main problem with the Apple Homepod 2. I can't deny that it's a phenomenal speaker. The sound quality truly put my existing setup to shame, and I had a lot of fun getting to grips with the Apple ecosystem. But that's just it, you absolutely need to be fully immersed in all things Apple to get the most out of the Homepod. I'll hold my hands up and admit that I may be in the minority when it comes to my go-to operating system, but if you're someone with a penchant for Spotify, the Homepod will force you to make some tricky choices.
Apple Homepod 2: Key info
Voice assistant: Siri
Connectivity: Wi-Fi, Bluetooth
Streaming: Apple AirPlay 2
Other features: Thread/Matter, Apple HomeKit, temperature sensor, humidity sensor
Dimensions: 5.6 x 6.6 x 5.6 inches
Weight: 5.16 lbs
Apple Homepod 2: Setting up
Setup was simple. I was struck by how tactile the speaker was as soon as I took it out of the box. It comes in either Black or White finishes, both complete with the signature mesh exterior we saw in the original Homepod and the Homepod Mini. When plugged in, the top bursts into a multicolored light display which comes on each time you talk to Siri. You can also tap the top to play or pause music, and there is a plus and minus touch control to easily fiddle with basic audio settings.
Design-wise, it's incredibly similar to the first Homepod. The main differences lie under the hood, with temperature and humidity sensors, as well as Matter smart home support. The first Homepod is now discontinued, so you won't have to choose between them, but based on the minimal differences I'm not sure I'd recommend you upgrade if you already have the first Homepod. You can also pick up the Homepod Mini, which is more discreet and a third of the price. It also comes in some more fun colors, but the main difference is in sound quality, which is really where the Homepod comes into its own.
Pairing with the iPhone was easy, but myself and my partner didn't like that it will only connect to one Apple ID. You can add another user to that account, though, so both of us were able to use it. We also found that friends could connect to the speaker when in the same room thanks to the ultra-wideband chip which detects nearby iPhones (so long as they're iPhone 11 or later). I discovered this during a house party when someone kicked me off DJ duty. It was for the best - all my good playlists were still on Spotify.
Sound quality
The sound quality is what sets the Homepod apart. It's insanely good for the price, with a woofer up top and tweeters at the bottom, and it will use in-built mics and sensors to adjust the audio output depending on its placement in a room. This is incredibly responsive, and I noticed an instant adjustment when moving the speaker even a small distance further into the room.
I'm not an expert on audio, but I've used a lot of different speakers over the years. In my house I've got a fair few Amazon Echos dotted about, and the Homepod easily outperforms all of them on sound. I've also got a similarly-sized Ultimate Ears WONDERBOOM 3 which admittedly costs a third of the price, but is no match for the Homepod in capabilities.
I was first struck by the bass, which is punchy but well-balanced. I enjoyed this, but you can change the balance in your settings to dial the bass down if it's not your thing. I trialed the speaker on a large range of genres, from AC/DC, to Oasis, to Taylor Swift. Unsurprisingly, changing the bass settings on more recent tracks was a lot more effective. Another cool feature is that you can change the vocal balance using Apple Music, and tap on a lyric to listen to different parts of a song. Karaoke, anyone?
To me, the major downside is that you need Apple Music to make the most of this speaker. You can technically play using other music apps by making the most of AirPlay, but there's an unpleasant lag and far fewer options when doing so. If, like me, you're someone who's got a carefully curated selection of Spotify playlists, I don't know that I would recommend switching to the Homepod unless you're willing to make the switch to Apple Music, too.
Spatial Audio
Apple Music is designed to work with Dolby Atmos Spatial Audio, meaning you'll hear a noticeable improvement in quality in sound dispersal with the Homepod. Particularly if you have two, which is why I was sent a pair to test simultaneously. I took advantage of this with Apple TV 4K, using my two speakers to act as a soundbar.
I've never had a home cinema setup before, but I thoroughly enjoyed it. The 3D sound feels totally immersive, and had a really strong impact on my TV viewing experience. I had to place a speaker either side of my TV though, because they didn't fit underneath it. This wouldn't be an issue if you had a wall-mounted TV but could be annoying if you have a short console without a spare few inches either side of your screen. Even with that space, I didn't love the look of having speakers either side, but that's an aesthetic preference.
Other features
The intercom feature is one I've not experienced with other smart speakers. It allows you to essentially voicenote your speaker from anywhere. I loved this feature, but my partner got a bit fed up with me calling down to the living room to ask him to make me a coffee. Aside from using it to pester your partner, there are lots of practical uses for this, especially if you have a few different speakers scattered around.
The Homepod can tell you the temperature and humidity levels in a room. This seemed fairly accurate, too. It gave me a reading of 20.5°C (69°F) when my thermostat was giving a reading of 19°C. I can see this integrating very well into a smart home setup, perhaps where you can activate a humidifier, dehumidifier or air conditioner when this hits a certain point.
Another major feature is Sound Recognition, which you can opt into from the Home app. This automatically detects when a smoke or carbon monoxide alarm goes off and sends an alert to your Apple devices. You can even listen in from the iPhone or iPad, although the speaker will announce that you're listening in for the benefit of anyone still in the house, which is great for security but less fun for spying on your housemates.
How does it compare? Siri vs Alexa
I'm very familiar with smart speakers, but mostly of the Amazon variety. I've got an Alexa in three rooms of my house, so I'm used to being able to ask it to connect to my Spotify account to stream a playlist or podcast while cooking in the kitchen or knitting in the lounge.
I will say, Alexa is a fair deal smarter than Siri, who at times almost felt deliberately inept. When asking it basic questions (including questions about how to use the speaker itself) it would often tell me to ask Siri on my smartphone, instead.
Alexa is also better at queueing up appropriate music. If I ask her to play me a specific song, it'll continue to play songs of a similar genre. I asked Siri to play the new Hozier song, and it decided to follow it up with some Christmas music. Read the room, Siri, it's April.
Apple HomePod (2nd Gen): Our verdict
If you're an iPhone user looking for an outstanding quality speaker, the Homepod is very easy to recommend. I loved the design, which is modern without looking brutish, and far preferred the audio quality to the other smart speakers I've tried in the past. I also really enjoyed using the Homepod in the place of a soundbar, and although you'll need to buy two to really see the difference this can make, the combined cost still comes in lower than some of the best soundbars on the market.
The main downside of the Homepod 2 is that you need to be fully immersed in the Apple ecosystem to make the most of it, so if you're not already geared up on Apple Music and Apple TV, it could be a costly big change. It feels unnecessary too, because I could see a lot more users enjoying this speaker if it had Bluetooth compatibility.
About this review
Millie Fender is Head of Reviews at Future Homes. Formerly our head of all things kitchens, she's tested everything from coffee makers to cookware, and loves finding the best products to make an impact in a small space.
Millie tested the Apple HomePod (2nd Gen) for three months in her own home, using it to listen to the TV and some of her favorite music.
All reviews on Livingetc are based on real-life experience with the products, and testing is always done in the writer's own home to mimic best the experience our readers would have. These reviews are then used to build comprehensive buying guides that list the best of the best across a range of budgets and use cases.
As Head of Reviews, the Philips Hue Gradient Signe Floor Lamp was expertly tested by Millie Fender. She tested it in her North London maisonette for a number of months before writing her review. To learn more about our process across reviews and buying guides, you can take a look at our explanation of how we test.
Millie is the Head of Reviews on the Homes Ecommerce team at Future. She started writing for Livingetc in 2021 after working as a staff writer for another Future brand. Specialising in indoor and outdoor cooking, Millie is always testing kitchen appliances like juicers, stand mixers, and pizza ovens. She loves finding renter-friendly ways of adding her own touch to living spaces, and browsing the property market for houses with larger kitchens.