Apple TV vs Smart TVs - could the streaming device mean you don't need to replace your set?
We look at the difference between Apple TV and smart TVs, and whether the former can extend the life of your older sets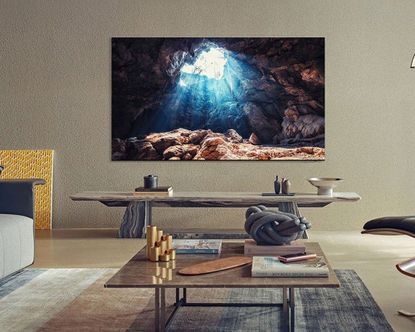 (Image credit: Samsung)
Smart TVs are now the norm, and many of us don't have any 'dumb' screens left in our homes. If we do, they've likely been relegated to the basement, the kitchen, or the spare bedroom. But there's a way of bringing these blank screens back to life, and that's streaming devices like the Apple TV 4K and similar.
Apple's streaming devices are the best of the best, offering up-to-the-minute tech and a quality build that makes them a statement as much as they are a convenience. Unlike cheaper boxes and dongles from Google, Amazon, and Roku, Apple has pitched its streaming solution as high-end, and they're incredibly popular as a result.
But are they better than smart TVs? And is there any point in buying an Apple TV device if you already have a perfectly good television? We dig into the answers in this guide and if you're curious about the other choices out there, head on over to our ranking of the best streaming devices.
Apple TV vs Smart TVs: upfront costs
When comparing Apple TV streaming devices and smart TVs, there are two ways to think about costs. The first is upfront costs, which differ wildly between the two.
There is a near-endless choice of smart TVs that cost anywhere from below $100 to over $10,000, depending on the size and technology they sport. You will always be paying more for OLED or 8K, and the best 85 inch TVs will always set you back more. The Apple TV 4K streaming device, meanwhile, costs about $200 and supports high resolutions, HDR, and Dolby Vision.
So the question comes down to whether you already have a television at home that you're happy with, and you're just looking for a new way to navigate streaming, or you need an upgraded screen to fully enjoy what Apple TV has to offer.
Upfront costs: Our verdict
Apple TV streaming devices are much cheaper than a new TV, but older sets won't allow you to enjoy advanced features like 4K or Dolby Vision. Bottom line - if you have a good TV at home, opt for Apple TV, but if you need to upgrade your whole home cinema system, a new smart TV is the way to go.
Apple TV vs Smart TVs: cost over time
Because of a few factors, including the fact that Apple TV devices are the bridge to streaming content rather than the display themselves, these streaming boxes actually have more longevity than the average smart TV.
Smart TVs are always evolving, with the best TV brands like Samsung, Sony, and LG all bringing out a range of new models every single year. This, coupled with the fact that streaming services like Netflix are beginning to support higher-quality content such as 8K, means that smart TVs now become obsolete in a number of years. If you try to find that model you bought five years ago on sale, you probably won't be able to.
Of course, there have also been several iterations of Apple TV, but the evolution in the streaming device space is much slower.
Cost over time: Our verdict
When adding up the cost over decades, an Apple TV device could be a much better bet in the long run, since the technology is slower to evolve than modern TVs that need to be replaced every few years to get the best tech.
Apple TV vs Smart TVs: smart home integration
Smart homes are very personal to the household, with just as many families finding themselves accidentally tied to Apple, Google, or Alexa as those that consciously opt into a particular smart home assistant.
There's no doubt that Apple TV works best in homes that have already purchased Siri-enabled devices like the HomePod mini, iPhones, or AirTags. If that's you, then you've probably already discovered that Apple is more limited in what its assistant can interact with, and so an Apple TV is the only real path to true Siri compatibility.
Meanwhile, smart TVs are much more flexible, with most now working with Google Assistant and Alexa - with some letting you choose between them.
Smart home integration: Our verdict
If you're already an Apple user and want your TV to work with your smart home, you should definitely opt for an Apple TV device. But if you're tied to Google or Alexa, a good smart TV could be a better fit.
Apple TV vs Smart TVs: what are you other choices?
If, after scanning through this guide, you're wondering whether an Apple TV or smart TV is really the best option, then we'll briefly touch on some alternative options.
The best streaming devices now include Amazon's range of Fire TV sticks, the Chromecast with Google TV, and Roku's devices. As with our previous answer, much of this choice comes down to individual preference and what you already have in your home, but if you're still not sure, take a look at our guides:
Apple TV vs Smart TVs: Our verdict
Apple TV devices like the Apple TV 4K are fantastic ways to get top-of-the-line streaming into your home without splashing out on an entirely new TV. If your television is relatively new, we would recommend opting for the streaming device.
On the other hand, those who think they need to upgrade their TV in the next year or so would do better purchasing a new smart TV, and those who don't care about tech like 4K, HDR, and Dolby Vision could go for a cheaper device to add streaming to their older sets.
Smart Homes Ecommerce Editor
Caroline is the smart home ecommerce editor for Livingetc, covering everything tech for the home, from smart speakers to air purifiers and everything in between. She is passionate about the role that technology and smart devices can play in daily life, enhancing the home without sacrificing personal style and carefully chosen interiors. In her spare time, she can be found tinkering with bulbs, soundbars, and video doorbells in an effort to automate every part of her small home. Previously, she lent her expertise to the likes of Expert Reviews, IT Pro, Coach, The Week, and more.