Your iPhone has a free built-in plant identifier you probably didn't know about – it might be Apple's best secret feature
Gardening can be difficult if you don't know what you're dealing with, but this free iPhone feature does half the work for you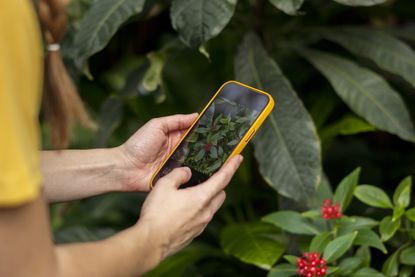 (Image credit: Getty)
Now spring is here and we're venturing into our backyards once more, you might be looking to try your hand at some gardening. For seasoned horticulturists, stepping out into the wilderness of an overgrown winter garden is a walk in the park, but for anyone less familiar with botany, this unknown territory can be a challenge, especially if you don't know what plants you're dealing with.
If this situation sounds familiar and you have an iPhone, you're in luck. What you probably didn't know is that the hand-held device you use every day has a nifty built-in feature that helps you to identify plants (as well as birds and insects) with just the touch of a button. No more guessing what that bush at the end of your backyard might be or writing a description of that mysterious flower in a search engine, now you can let your phone do it all for you. Here's how.
Before you even get to grips with your garden, it helps to know what existing flowers, shrubs and trees you're dealing with in your outdoor spaces already. You might be quick to run to download a plant identifier app, but did you know that your Apple iPhone actually has something built in to your camera roll that you can use?
Dubbed 'Visual Look Up' by Apple, it's supported on all models of the iPhone from the SE 2nd generation and later. The technology works by identifying the visual image of a flower, shrub, or insect and telling you the official name of that specific wildlife, allowing you to plan your landscaping ideas like a pro.
It works with existing pictures already in your photo library as well as new photos you take on your phone too, so you can use summer snaps of your flower bed when it was in full bloom last year to get a more accurate result.
How to use Visual Look Up on iPhone
1. To use Visual Look Up, you first need to open a photo from your photo library in full screen.
2. Swipe up or tap the photo to reveal icons. If a small 'information' symbol with the letter 'i' in a circle and a sparkle icon is visible in the bottom banner, this indicates that Visual Look Up information is available for that photo.
3. Tap the icon that appears on the photo to view Siri Knowledge and more information about the object. It should say 'Look Up - Plant'. Visual Look Up should then identify the plant species, listing the correct name alongside a link to a Wikipedia page of that plant so that you can learn more about how to look after it in your modern garden.
Visual Look Up can also be used to identify and learn more about popular landmarks, statues, art, pets, and more within the Photos app too, so don't forget to use it next time you're out and about somewhere new. It's like having a personal expert guide within the space of your back pocket!
Now all that's left to do is get down to some serious gardening with your newfound knowledge. We're loving the 2023 gardening trends for cut flower beds and vertical gardening, but now you're familiar with all the flora and fauna in your backyard, your options are limitless!
Don't have an iPhone? For a more old school approach, try one of these books
(opens in new tab)
The Old Farmer's Almanac is America's longtime trusted gardening resource. Detailed photos accompany expert guidance and inspirational ideas, providing gardeners of all experience levels with the tools needed for success and creative enjoyment.
(opens in new tab)
Encyclopaedia of Flowers & Plants
Think of this as the gardener's bible. This fully comprehensive yet easy-to-use planting guide is what every beginner gardener needs on their bookshelf. It includes a photographic catalogue of 4,000 plants and flowers grouped by type, size, and color, as well as a detailed "Plant Dictionary" describing more than 8,000 species and varieties, and their ideal growing conditions.
(opens in new tab)
Plant Families: A Guide for Gardeners and Botanists
There are quite literally hundreds of plant families which all include thousands of different species. This is an easy-to-use guide to get to grips with those core plant families every horticulturist, gardener, or budding botanist needs to know. It teaches readers how to identify and understand the structures of flowers, trees, herbs, shrubs, and bulbs, all with beautiful accompanying illustrations.
Lilith Hudson is the Junior Writer on Livingetc, and an expert at decoding trends and reporting on them as they happen. Writing news articles for our digital platform, she's the go-to person for all the latest micro-trends, interior hacks, and color inspiration that you need in your home. She discovered a love for lifestyle journalism during her BA in English and Philosophy at the University of Nottingham where she spent more time writing for her student magazine than she did studying. Lilith now holds an MA in Magazine Journalism from City, University of London (a degree where she could combine both) and has previously worked at the Saturday Times Magazine, ES Magazine, DJ Mag and The Simple Things Magazine.