Are kitchen islands outdated? Six experts decide on the biggest debate in design right now
A kitchen island has long been a status symbol, but has it finally lost its luster? Top designers decide if it's still a priority for your decor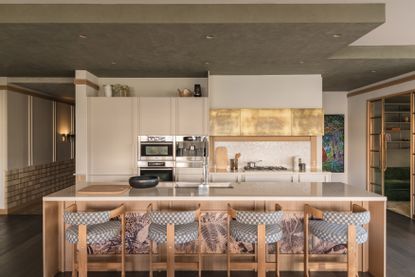 (Image credit: Studio Roslyn. Photo credit: Conrad Brown)
A kitchen island is a no brainer – right? An extra surface that can do a neat double act as a dining table or desk feels like a worthy prize for making it through a renovation.
That's if you have the square footage to spare. A kitchen island generous enough to do everything it needs to (forget the farmhouse look – clients often want their sink, dishwasher and trash compactor in the island these days, says designer Todd Prince (opens in new tab)) will carve a serious chunk out of your footprint, once you factor in space to move around it too.
The kitchen island, then, has become synonymous with the rise of open plan – and up to this point general wisdom has been that's worth knocking down a wall to get one in.
It's a choice that certainly has its cheerleaders. 'Whenever there is an opportunity to create an island, we go for it,' says Trish Lynn (opens in new tab), principal designer at Colette Interiors. The team has just put one in for a client that didn't think it was possible (the trick was to round one of the corners, thus allowing for more 'walkable space').
Yet the mood in the design world is that many of us are quietly choosing to eschew a kitchen island for a piece of vintage furniture – more portable and 'lived-in' – and that the pantry is the new must-have. 'Kitchen islands have been on trend for years, but they are not suitable for every kitchen,' says Prince. 'Adjusting the floorplan is an option instead. A large walk-in pantry allows for storage space to be maximized with counter-to-ceiling or floor-to-ceiling cabinetry.'
Is it always worth reconfiguring a room to squeeze in an island?
A general rule of thumb is that an island should not take up more than a tenth of your floor space – something few of us can manage without making sacrifices elsewhere.
Atlanta-based designer Mark Williams (opens in new tab) tells us he raised the idea of a kitchen island in a recent Palm Springs project, but ultimately the client felt he would lose out in other ways. In the end he opted for a galley kitchen-style layout without an island (above).
'We specifically discussed the idea of a large island dividing the kitchen space from the living room instead of a wall [to the right], but the client distinctly preferred to keep the wall in place. They wanted a prominent wall for art on the living room side, and didn't want the informality of feeling like the kitchen was in the living room itself.
'The home's original design was by Palm Springs mid-century modern icon Williams Cody, and during this period of residential design people lived and entertained in a certain way. Our client wanted to honor that, and carry on those traditions,' he adds.
What if I want more flexibility?
A great marble monolith is an expensive commitment – especially considering you can't move it later if the placement feels a little off.
Interior designer Lexi Brandfon (opens in new tab), founder of New York-based studio Lex & Hudson, is a fan of the multi-purpose kitchen 'island' on castors. In a recent Brooklyn project, shown above, 'the dining space didn't have room for a buffet but clients wanted a space for guests to serve themselves more informally. The casters allow for it to be flexible in the space and even move outside for parties if need be. The 36 inch height matches the kitchen worktop for an easy extension of counter space and it also can take stools.'
'I'd 100 per cent recommend this for anyone looking for some flexibility in the kitchen,' she continues. 'Just make sure the casters lock...'
Even though Anderson is firmly in the pro-island camp, she sees the appeal: 'the only thing we would "replace" a kitchen island with would be a unique large piece of vintage furniture that would serve as an island.'
How can I make a kitchen island feel my own?
Think beyond the rigid rectangle – there is a host of options out there, including waterfall islands and split-level islands, and any good designer can draw up something totally bespoke.
'Islands and kitchens in general can be both functional and fashion forward,' assures Studio Roslyn principal Kate Snyder (opens in new tab). 'We believe that you don't have to sacrifice style or personality for function.' In a sensational Vancouver project (above and top), the designer decided against 'pushing the boundaries' of the island's dimensions and instead focused on the cladding and materiality. 'A triptych of recessed panels are wrapped with wallpaper – commercial grade for that wipeable surface – which create a more artful island front.'
Amy Kreutz, partner at Conceptual Kitchens (opens in new tab), agrees that you shouldn't always settle for something standard. 'Decorative elements like integrated butchers blocks, built in shelving and furniture-like legs can make an island uniquely your own'.
'Another option is to use decorative legs rather than undercounter cabinets,' adds Prince. The bonus for the long-legged among us? 'It allows for more leg room when sitting at the island'.
Cat Olley is a British design and lifestyle journalist, editor and copywriter. Formerly on the features team at ELLE Decoration, she has written for The Guardian, The Modern House, Evening Standard Homes & Property, Inigo and John Lewis at Home. She specializes in the latest trends and ideas happening in the design world, and is our go-to for aesthetically-led pieces.