Beats Studio Buds vs AirPods 3: battle of the Apple-backed earbuds
We compare true wireless earbuds from Apple and Beats, looking at design, comfort, audio, pricing, and more.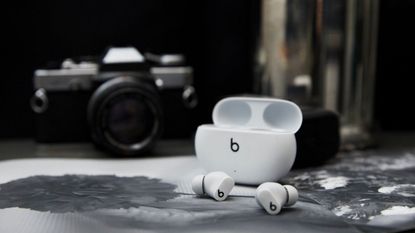 (Image credit: Beats)
Choosing between Beats Studio Buds and AirPods 3 comes down to a few things, not least of which is the bold and colorful design of the former against the sleek simplicity of the latter. Both under the Apple banner, after the tech giant purchased Beats back in 2014, many find it tricky to decide which one would be best for them.
As with any of the best workout headphones, both models offer great audio quality, smart control features, and noise cancellation when you need to get into the zone. They also each have a charging case that significantly extends battery life, making it easier to take them on the go.
So how to choose between these two excellent options? In this article, we will run down the key features of both earbuds, from design to performance and beyond, to hopefully make your decision a little easier.
Beats Studio Buds vs AirPods 3: Key specs
Price: $149.99
Colors: Ocean Blue, Moon Gray, Beats Red, White
Water resistant? Yes
Microphone?: Yes, works with Siri
Noise cancellation?: Yes
Battery life?: 5-8 hours + 15-24 hours from case
Ear tips: small, medium, large
Price: $169.99
Colors: White
Water resistant? Yes
Microphone?: Yes, works with Siri
Noise cancellation?: Yes
Battery life?: 6 hours + 30 hours from case
Ear tips: none
Beats Studio Buds vs AirPods 3: Pricing
Neither Beats nor Apple products are ever going to sit at the budget end of the market, but both have similar pricing compared to one another. You can pick up Beats Studio Buds for around $150, while Apple AirPods 3 retail for $170. You can, however, still pick up the 2nd Generation AirPods for around $99 on Amazon (opens in new tab). In general, AirPods have a few extra features (more on that below), but opting for the Beats Studio Buds will save you $20.
Beats Studio Buds vs AirPods 3: Design
The most significant difference between the Beats Studio Buds and AirPods 3 is their silicone ear tips - or lack thereof. While Beats has opted to include small, medium, and large options for the comfort of the wearer, AirPods claim they are so well designed that there's no need for tips to keep them in place.
The Beats Studio buds come with a case that matches the headphones, with the expected USB-C port on the bottom and an LED light on the front. The buds themselves are slightly chunkier than the Airpods and free of the stem, and they stick out of the ear a little more. With different color options and a prominent logo, the Beats buds are meant to be seen.
The AirPods opt for a simpler and more sleek design, though the smooth white aesthetic of Apple products means you'll know where they're from regardless. The stem extension at the bottom houses the touch controls, and, as said, there are no optional ear tips to get the perfect fit. They're also available in just two muted colors - white and black.
Winner: Beats Studio Buds
Beats Studio Buds vs AirPods 3: Fit and comfort
With a choice of ear tips, Beats Studio Buds are keen that users get a good, snug fit, making them comfortable to wear for longer periods. Some may become annoyed at how the buds stick out slightly, but this is only really a problem if you want to lie down while wearing them. They're also pretty lightweight, so they shouldn't be a bother even during long listening sessions.
AirPods 3 are pretty similar to previous generations, just with a slightly shorter stem that can be used to control audio, Siri, and calls. Unlike Beats, you will have to settle for what you get, as there is nothing to adjust to get a better fit. When testing, we found that the lifelong problem of non-earbud-friendly ears was still an issue for AirPods, meaning they were uncomfortable and insecure.
Winner: Beats Studio Buds
Beats Studio Buds vs AirPods 3: Audio
Audio performance is where Apple really shines, as the AirPods 3 offer super-high quality sound with a custom high dynamic range amplifier and fresh driver design. They also support spatial audio, Dolby Atmos, and lossless tracks in Apple Music, getting you what is probably the best music streaming experience around. There's also dynamic head tracking, which means you get an immersive soundstage tuned to your own body.
The audio from Beats Studio Buds is much more focused on music, as you might expect, with them originally coming from hip-hop artist Dr. Dre. Bass levels are boosted, though many think that they're less balanced overall than AirPods when listening to a wider array of genres. Studio Buds also have active noise cancellation, which helps block out unwanted external noise.
Beats Studio Buds vs AirPods 3: Making calls
Even if you're interested in the AirPods 3 and Beats Studio Buds as workout headphones, it's likely that you'll also use them to take and make calls. Both models have in-built microphones that support Siri and hands-free calling and will work best with iPhones and iOS devices over Android. Either choice will get you clear audio.
Beats Studio Buds offer active noise cancellation, meaning you'll be able to better concentrate on what you're hearing on the other end of the call. There's also transparency mode, which means you won't be completely tuning out the world - important for safety in busy areas.
The AirPods 3 were the first to include a beamforming microphone array that isolates your voice from background noise, making it easier for the person you're talking to hear what you're saying. They also have spatial audio processing that generally makes audio more immersive.
Beats Studio Buds vs AirPods 3: Battery life
A long battery life is essential if you want to be able to use your earbuds for an extended period of time before recharging, and thankfully both Beats and Apple headphones come with a charging case that extends use time.
Beats Studio Buds offer 8 hours of listening time with an added 24 hours with the charging case. This time drops significantly when active noise cancellation is enabled, giving you about 5 hours and 15 hours from the buds and the case. It's quick to charge, however, and five minutes in the case will give you an hour of extra playback time.
AirPods 3 offer a slightly different split with 6 hours plus 30 hours from the charging case. Similarly, five minutes in the case will give you another hour.
Beats Studio Buds vs AirPods 3: Compatibility
Both earbuds are designed to work best with iOS devices such as iPhones and iPads, and you will get the best out of them if you're an Apple user. However, Beats Studio Buds play nicer with Android than AirPods 3, despite being under the same banner.
AirPods 3 can be used with Android, of course, but they will perform as glorified Bluetooth earbuds rather than the advanced devices they are. Beats Studio Buds, however, benefit from users being able to download the Beats app from the Google Play Store on Android, and you can use this to play around with settings and functions. You can also access advanced features like transparency mode and active noise cancellation.
Winner: Beats Studio Buds
Beats Studio Buds vs AirPods 3: Our verdict
There's absolutely no doubt that both Beats Studio Buds and AirPods 3 are excellent choices of true wireless earphones for work, exercise, or general use. With little price difference and similar basic features, it all comes down to the nitty gritty when choosing between them.
However, the Beats Studio Buds won the most rounds in our comparison, with a more interesting design (though there will be many that prefer the more demure vibe of the AirPods), better compatibility for Android users, and a battery life and audio performance that can stand toe-to-toe with Apple.
Overall winner: Beats Studio Pro
Smart Homes Ecommerce Editor
Caroline is the smart home ecommerce editor for Livingetc, covering everything tech for the home, from smart speakers to air purifiers and everything in between. She is passionate about the role that technology and smart devices can play in daily life, enhancing the home without sacrificing personal style and carefully chosen interiors. In her spare time, she can be found tinkering with bulbs, soundbars, and video doorbells in an effort to automate every part of her small home. Previously, she lent her expertise to the likes of Expert Reviews, IT Pro, Coach, The Week, and more.