Best blender: 7 top buys for healthy smoothies and creamy sauces
Shake up your smoothie routine and make food prep a breeze with one of these best blenders in your kitchen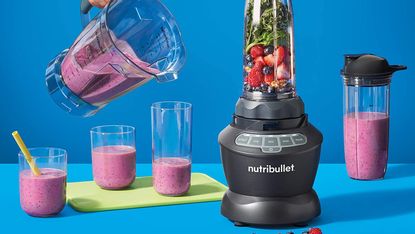 (Image credit: Nutribullet)
The first thing that come to mind when talking about blenders, is of course smoothies on a hot day, or a post workout treat. But, the best blenders do so much more than blended beverages, making one a must in your kitchen, year-round.
Whether it's to make your homemade salsa, savory soups, a sweet-tasting smoothie, or maybe even a naughty-but-nice milkshake, we've found the top seven blenders that can tackle any job.
These blenders will grind through dense ingredients such as ice, nuts, and seeds, as well as your go-to fruit and veggies. Scroll down to the bottom for our guide to key features to look out for when choosing a blender, from the volume of the blending container to its settings. Our roundup includes everything from family-sized blenders to one-cup smoothie makers, so you're sure to find something for you.
For more appliances to make healthy food at home with ease, see our guide to the best juicers.
Our pick of the best blenders
1. Ninja Professional 72 Oz. Countertop Blender
Best blender you can buy: this Ninja model packs a punch
Specifications
Capacity: 72 oz.
Power: 1000W
Dimensions: 9.5 x 7.5 x 17 inches
Warranty: 1- year limited warranty
Settings: Low, Med, High, Pulse
Reasons to buy
+
Dishwasher safe
+
Large capacity
+
Fast working
+
Crush and purée, too
+
Pulse mode
+
BPA-free
Reasons to avoid
-
Doesn't come with any to-go cups
Buy this Ninja blender if you love your milkshakes and smoothies (and whatever else) to be free from bits. It can cut through everything from ice to seeds, and it's dishwasher safe as well as BPA-free. Not just for blending, it can crush and purée, too – perfect for frozen margaritas! With six different blades to do the job fast, you needn't wait long for a beverage. It has a -ounce maximum capacity, making it also great for families, and parties, when we can have those again. With a range of buttons including a pulse mode, everyone can use it.
2. Smeg 50's Retro Style Aesthetic Blender
Best good-looking blender: place this on your kitchen counter with pride
Specifications
Capacity: 48 oz.
Power: 700W
Dimensions: 11.5 x 9.6 x 14 inches
Warranty: 1- year limited warranty
Settings: smoothie, ice crush, pulse, and 4 speeds
Reasons to buy
+
Available in 8 color options
+
Gorgeous, nostalgic design
+
BPA-free cup
+
Built in cord-wrap
Reasons to avoid
-
Power could be greater
-
On-the-go cup sold separately
With looks like these, the iconic Smeg Blender has earned a coveted spot on our countertops. The 50's style blender, is available in eight colors including neutrals like black, white, and cream, as well as a range of pastels. And if you're really feeling the design, you can even treat yourself to the Dolce & Gabbana special edition model (opens in new tab) for some serious style credit. Operation is very simple with a dial with four-speed settings and three presets: smoothie, ice crush, and pulse. The 700W motor could be stronger at this elevated price point, but the overload protection will keep you from ruining your blender, should you overwork it. We still think Smeg without a doubt performs when it comes to whipping up healthful shakes, sauces, and more. The detachable stainless steel blades slice through fruits, veggies, and ice to blend to a creamy consistency. When it's time to put it away, if you really want to, a convenient cord wrap keeps you from having to deal with entanglements.
3. Vitamix E310 Explorian Blender
Best pro-level blender: what chef's use in their kitchens
Specifications
Capacity: 48 oz.
Power: 1400W
Dimensions: 11 x 8 x 18 inches
Warranty: 5-year limited warranty
Settings: 10 speeds, Pulse
Reasons to buy
+
Professional level smoothies
+
Variable speed control
+
Heats liquid into soups and sauces
+
Radial cooling fan and thermal protection system
+
Includes a tamper and blade scraper
+
Self-cleaning
Reasons to avoid
-
Bulky on countertop
-
Expensive
Vitamix is often found in restaurant kitchens and the hands of your favorite celebrity chefs, but when it comes to home use, you'll be impressed with the sheer power of this machine from thick dips to refreshing green smoothies. And another cool feature? The stainless steel blades reach speeds fast enough to create friction heat, bringing cold ingredients to steaming hot in about six minutes. It offers 10 variable speeds and a pulse- feature, so you can feel like you're in total control of your recipe at all times. But all that is complimented by the carefully designed 48 oz. container that is designed to fold ingredients back to the blades for faster, smoother blends—creating what is known as the Vitamix vortex. The blender is also equipped with a radial cooling fan and thermal protection system to protect the blender from overheating and can extend the life of the blender. If you're serious about making a long term investment in your smoothie or meal plans, this is the blender you'll want by your side, er, countertop.
4. Hamilton Beach Power Elite Blender
Best budget-friendly blender: great value yet very powerful
Specifications
Capacity: 40 oz.
Power: 700W
Dimensions: 8.66 x 6.5 x 14.69 inches
Warranty: 3- year limited warranty
Settings: Mix, Puree, Dice, Grind, Milkshake, Smoothie, Chop, Crush Ice, Easy Clean, Icy Drink, Salsa, Grate
Reasons to buy
+
12 functions
+
BPA-free
+
Affordable
+
Easy serving
Reasons to avoid
-
Small capacity
-
Not the best looking
On a budget? Not yet ready to spend 100s of dollars on a new blender? Try this Hamilton Beach model out for size. It works at 700 watts and boasts 12 different functions from purée to dice and grind. With five, easy to use and well-labeled buttons, it's very simple to get the results you require whether that be a thick and chunky dip, finely grated carrots (for cake, obviously), or a creamy milkshake for dessert. It comes with a BPA-free 40-ounce jar which is dishwasher-safe, along with the blades and lid, too. The best part? It boasts a pouring spout for easy serving.
5. NutriBullet ZNBF30500Z Blender Combo
Best blender for daily use: for serious smoothie and milkshake lovers
Specifications
Capacity: 64 oz., 32 oz, and 24 oz.
Power: 1200W
Dimensions: 8.07 x 7.75 x 16.97 inches
Warranty: 1 year
Settings: Extract, Low, Med, High, Pulse
Reasons to buy
+
Extractor function
+
Pulse function
+
Comes with two to-go cups
+
BPA-free
+
Dishwasher safe parts
Reasons to avoid
-
Large
-
Not the best option if it's going to be on show
Buy this NutriBullet blender if you'll be using your new blender more or less every day of the week. Not only is it built to last, but it offers 1,200 watts of power at the touch of one button. Perfect for blending everything from hard fruit and veg to all kinds nut butters, as well as seeds, ice, and more. It comes with a multi-serving pitcher that measures 64 ounces, as well as a 32-ounce cup and a 24-ounce cup for enjoying your drink on the go (or storing a sauce for later use). Its blade is made from stainless steel and the cups are all BPA-free, while they can be popped in the dishwasher after use, too. This machine also boasts an extraction mode as well as a pulse option, and low, medium, and high settings.
6. Oster Blender Pro
Best blender for function range: with 3 pre-programmed settings and 4 other modes
Specifications
Capacity: 24 oz.
Power: 1200W
Dimensions: 8.5 x 10.15 x 13.9 inches
Warranty: 3-Year Satisfaction Guarantee/ 10-Year All-Metal Drive Limited Warranty
Settings: Low, Med, High, Pulse, Milkshake, Food Chop/Salsa, Green/Frozen Smoothies
Reasons to buy
+
3 pre-set settings
+
Durable
+
Pulse function
+
Comes with carry cup
+
Glass jar
+
Dishwasher safe
Reasons to avoid
-
Not the best choice looks-wise
-
Quite bulky
The Oster Blender Pro is made from black nickel and boasts seven speeds including three pre-programmed settings – smoothies, salsa, and milkshakes. It works at 1,200 watts to blend fruit and more and 900 watts to crush ice, while it also has a pulse mode. It comes with a six-cup Boroclass glass jar that's dishwasher safe, and also included in the box is a 24-ounce smoothie cup complete with a lid.
7. Magic Bullet Mini Blender
Best small blender: for tiny kitchens or small appetites
Specifications
Cup Capacity: 22 oz., 12 oz.
Power: 250W
Dimensions: 4.01 x 4.48 x 11.61 inches
Warranty: 1-Year Limited Warranty
Reasons to buy
+
Comes with an extra cup
+
Inexpensive
+
Compact
+
Dishwasher safe
Reasons to avoid
-
Not so good for families
-
Not very powerful
Consider the Magic Bullet Mini Blender if you have a small kitchen with little storage space, or if you live alone and don't see any point in owning a large blender. This model can make everything from salsas to guacamoles, smoothies, and much more. What it lacks in size it definitely makes up for in features – it can blend, chop, and mix ingredients with ease. It arrives with a short cup for enjoying en-route, while it has 200 watts of power sitting behind it. It doesn't have a button – simply attach the cup and twist to turn it on – and it's dishwasher-safe for your convenience.
How to choose the best blender
When choosing a blender, be sure to bear in mind some key features from its price – you'll want to set a budget depending on how often you'll use your blender – to its size. If you have a smaller kitchen or if you'd like to hide your blender away, opt for a compact option.
Whether it's dishwasher safe is another key feature, as well as its container size. The smaller the container, the fewer mouths it can feed. Some blenders feature different modes while others you simply twist to turn on. Depending on what you'll be using it for, choose accordingly.
Some blenders come with to-go cups included for drinking inside or outside of your house, while others come with just the unit. Based on where you will be enjoying your creations, pick a blender that comes with cups and lids. Working from home? Don't worry about it.
What is the best blender?
The Ninja Professional Countertop Blender is, without a doubt, the best blender on the market in 2021. It offers loads of power at an accessible price point. It can be used for everything from smoothies to soups and dips as it can crush, puree and blend, while it boasts a large, 72-ounce capacity and it's dishwasher safe for easy cleanup. While it doesn't come with any cups included, it is fast working so you can enjoy your milkshake, margarita, or even dip some chips in your homemade dip within minutes of turning the machine on.
Jaclyn is an eCommerce editor at Future Home Interest, and scouts out the best of the best for buying guides to help you fill your home with housewares you will love. She joined the team in January 2021. She has previously worked with sites like Apartment Therapy, The Kitchn, The Spruce, The Spruce Eats, and MyDomaine, but got her start in trade magazines, which fueled her excitement for innovation in the home category, seeing the newest launches, and interior design.