Best Bluetooth speakers - unique designs, powerful audio, and ultimate connectivity
The best Bluetooth speakers to enjoy high-quality audio at home, from Marshall, Audio Pro and more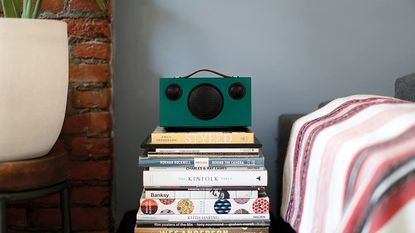 (Image credit: Audio Pro)
The best Bluetooth speakers serve as an entertainment hub for the home, easily connected to your smartphone, TV, or laptop for on-demand music, podcasts, and anything else you want to listen to.
Eclipsed slightly by the allure of smart speakers, high-quality Bluetooth speakers are making something of a comeback. This is thanks partly to luxury brands, including Bowers & Wilkens or Bang & Olufsen, as well as iconic companies like Marshall and Audio Pro, investing heavily in high-end, high-quality speakers with all the latest technology without compromising on the sense of style that makes them so popular.
Design-led Bluetooth speakers come in a wide variety of shapes, sizes, and styles. If you're looking for a speaker that makes a statement both with its sound quality and its aesthetic appeal, there are plenty of options to choose from. Many of these speakers incorporate unique design elements, such as a retro look, sleek modern lines, or eye-catching colors, to set them apart from more basic models.
It's not a choice between smart or analog - Bluetooth speakers sit perfectly in the middle ground, with many also allowing you to take your audio outside or on the go, including - yes - Alexa or Google Assistant compatibility. You can take a look at our guide to the best smart speakers if this interests you. For now, though, keep reading to see how we ranked the best Bluetooth speakers.
Quick picks
The best Bluetooth speakers in 2023
Bluetooth speakers have become an entertainment hub for the home, allowing for easy connectivity to a variety of devices. But you don't have to choose between smart or analog, as they can offer the best of both worlds. Check out our guide below for more.
Best Bluetooth speaker overall
Image 1 of 2
Specifications
Multi-room?: Yes
Smart?: Yes
Portable?: No
Dimensions: H7.7 x W13.8 x D10.3in
Reasons to buy
+
Stylish and classic design
+
Also available as a smart speaker
+
Easy control over bass and treble
Reasons to avoid
-
Large, heavy, and not portable
-
More expensive
Music lovers will instantly recognize the beautiful Marshall iconography of the Stanmore II. Having invested heavily in home speakers over the past few years, Marshall hasn't compromised in the style department for its Bluetooth offerings, and the back leather look with fabric grille and rose gold controls add a touch of luxury to any room it's in.
Physical buttons also make it easier to control unlike speakers that can only be controlled via an app, and EQ knobs give you greater control over your audio. You can also buy the speaker with Alexa or Google Assistant support, though these have become harder to come by in recent years.
Our only real complaints are about the size and heft of the speaker, but those with enough space to have the Stanmore II proudly on display won't find its significant presence. It's certainly not a device you will want to take from room to room. Still, this is a must-have for classic rock fans or those who just want a speaker to be part of the vibe of a room, rather than something you'd rather keep out of sight.
Livingetc rating: 4.5 out of 5 stars | read our full Marshall Stanmore II review
Best Bluetooth speaker to use with Alexa
Image 1 of 2
Specifications
Multi-room?: No
Smart?: Yes
Portable?: Yes
Dimensions: H1.8 x W5.2in
Reasons to buy
+
Some Alexa functionality built-in
+
Good battery life
+
Fully waterproof
+
Lovely high-end design
Reasons to avoid
-
Alexa functionality can be fiddly
-
More expensive
Bang & Olufsen's Beosound A1 is the perfect antidote to the typical trend of bulky and brightly-colored Bluetooth speakers, with its jewel-toned shimmer and unique look setting it apart from the crowd. The speaker is also sturdy, impervious to both water and being dropped, and there are various EQ presets in the B&O app for you to fine-tune things to your liking.
The shape of the speaker lends itself to the True360 omnidirectional sound system, and you can take it with you on the go with 18 hours of battery life.
The only downside is the built-in Alexa, which, in practice, can be frustrating to use. You need to open the app on your phone first, making it less of a smart speaker and more of a bridge between you and the app. Still, the Beosound A1 remains and an excellent option for those who want style, durability, and solid audio.
Livingetc rating: 4.5 out of 5 stars | read our full Bang & Olufsen Beosound A1 (2nd Gen) review
Best compact Bluetooth speaker
Image 1 of 1
3. Marshall Emberton
Specifications
Multi-room?: No
Smart?: No
Portable?: Yes
Dimensions: H7 x W6.3 x D2.7in
Reasons to buy
+
Good battery life
+
Lightweight and easy to carry
+
Classic, iconic design
+
IP67 Water-resistant rating
Reasons to avoid
-
No smart home functionality
-
No multi-room audio
The Marshall Emberton is another great addition to the brand's line-up of audio products, as a portable, waterproof speaker that's the perfect size and shape for carrying around. While there's no handle, the speaker's weather-resistant design makes it ideal for outdoor activities, and the battery life is very impressive at around 20 hours - seeing us through several workdays while testing.
The LED display showing remaining battery life is also a helpful feature, and the design is otherwise pleasingly minimal with a front and back grille, plastic casing in cream or black, and a metal control knob on top. Compared to larger speakers like the Stanmore II, there is less room for customization and control over your audio, but most people will be pleased.
Livingetc rating: 4 out of 5 stars
Best Bluetooth speaker for battery life
Image 1 of 2
Specifications
Multi-room?: No
Smart?: No
Portable?: Yes
Dimensions: H4.5 x W8.4 x D5.3in
Reasons to buy
+
Lovely design
+
Amazing battery life
+
Clear and detailed sound
Reasons to avoid
-
Not weather resistant
-
Feels heavy when carrying
-
No smart home compatibility
-
No multi-room audio
With a warm and balanced sound no matter what genre of music we were playing, the Audio Pro Addon T3+ is a stylish and compact speaker providing a seamless audio experience and a battery life of up to 30 hours. The retro design and easy-to-use controls have made the speaker a great addition to our home, and the sound quality is truly excellent with powerful bass that doesn't overpower.
The design of the speaker is striking yet simple, featuring a small rose gold control panel and a luxurious leather carrying strap that elevates its aesthetic appeal. It also comes in various colors, from muted black or white to bright and cheerful red. The AUX input allows audiophiles to connect their preferred music source and, although the speaker is a little heavy to move around constantly, it can be used wirelessly.
Livingetc rating: 4 out of 5 stars | read our full AUDIO PRO Addon T3+ review
A modern Bluetooth speaker
Image 1 of 2
5. Bowers & Wilkins Formation Wedge
Specifications
Multi-room?: Yes
Smart?: Yes
Portable?: No
Dimensions: H9.1 x W9.4 x D17.3in
Reasons to buy
+
Works with Alexa
+
Multi-room listening
+
Elegant and unique design
Reasons to avoid
-
More expensive
-
Quite large and awkwardly shaped
-
Not portable
With its elegant and distinctly modern design, the Formation Wedge is one of the best Bluetooth speakers on the market. The audio quality is excellent, with detailed, balanced sound and strong bass. The speaker gets loud without distorting the audio, so it's perfect for parties and large gatherings, and we particularly like the adjustable bass and treble, which lets you fine-tune the audio to your liking.
The device can be easily paired with other Formation speakers for a wider audio experience throughout your home thanks to its multi-room integration. Although the Wedge is limited in terms of input sources, most users won't be too concerned about this. The Wedge does not come with voice assistant features, but it can be controlled with Alexa via voice commands, which allows you to control music playback.
Some users may find the design of the Formation Wedge too modern or unconventional, particularly due to its elliptical shape. But we personally find its distinct look a definite plus. The Wedge is an eye-catching addition to any living space that doubles as both a piece of art and a high-performance sound system.
Best high end Bluetooth speaker
Image 1 of 2
6. Bang & Olufsen Beosound Balance
Specifications
Multi-room?: Yes
Smart?: Yes
Portable?: No
Dimensions: H7.9 x W7.9 x D11.4in
Reasons to buy
+
Gorgeous, luxurious design
+
Can be purchased with in-built Google Assistant
+
Multi-room audio
The Bang & Olufsen Beosound Balance is a premium high-end speaker that offers style and substance. The speaker boasts a stylish design with premium materials, available in dark grey or sand finish, and has been designed to fit seamlessly into your interior design. We value aesthetics as much as performance and this speaker offers the best of both worlds.
The Beosound Balance's sound quality is impressive for a speaker of its size, with an impressive overall sound quality and impressive bass. However, some users may find the bass overpowering or imbalanced. Also, there is no option for manual EQ adjustments, which might be a dealbreaker for some.
One of the key features of this speaker is its flexibility thanks to its multi-room integration and various connectivity options. It can be paired with another Beosound Balance for stereo sound, as well as being compatible with Chromecast or Apple AirPlay 2, allowing you to easily connect to them. The Beosound Balance's minimalist controls blend in with its overall minimalist vibe, giving it a sleek and modern look.
Best Bluetooth speaker for multiple smart assistants
Image 1 of 1
7. Devialet Phantom I
Specifications
Multi-room?: Yes
Smart?: No
Portable?: No
Dimensions: H10 x W13.5 x D9.9in
Reasons to buy
+
Great sound
+
High-quality build with striking design
+
Works with Siri, Alexa, and Google Assistant
The Devialet Phantom I 108dB 's sound quality is exceptional, promising detailed midrange and crisp highs, as well as an exceptional bass response. The Phantom's cylindrical shape not only looks stylish and unique but also allows for optimal sound performance.
Phantom I offers a variety of connectivity options, including Wi-Fi, Bluetooth, and Apple AirPlay 2. Devialet's app is also very easy to use, allowing users to choose from a wide range of music options and customize their sound experience. With Alexa, Google Assistant, and Siri voice commands, as well as touch controls on the Phantom itself, the speaker is easy to control.
At $1,690, the price tag might seem high, but we think the premium sound and flexibility may make it worth it.
A speaker that doubles as a light
Image 1 of 2
8. Harman Kardon Aura
Specifications
Multi-room?: No
Smart?: No
Portable?: No
Dimensions: 9.9 x 14.2 x 9.9in
Reasons to buy
+
Stylish, ambient-light design
+
Touch controls
+
Omnidirectional, 360 sound
+
Supports Apple Music Lossless
Reasons to avoid
-
No way of controlling light
The Harman Kardon Aura is an impressive wireless speaker with a transparent dome and central subwoofer that glows with ambient light, making it visually striking and most definitely a conversation starter. High and midrange drivers, as well as the subwoofer, promise powerful and clear audio output with spacious and balanced sound performance.
Streaming from a variety of devices is simple with the Aura's Wi-Fi and Bluetooth connectivity options. Also, the touch-control interface on the top of the speaker is intuitive and user-friendly, making it a hassle-free and flexible speaker. We would love to be able to customize the ambient lighting, but the device looks great nonetheless.
Best floorstanding Bluetooth speaker
Image 1 of 2
9. Bang & Olufsen Beoplay A9 (4th Gen)
Specifications
Multi-room?: Yes
Smart?: Yes (optional)
Portable?: No
Dimensions: 27.6 x 16.3 x 35.7in
Reasons to buy
+
One-of-a-kind design
+
Multi-speaker connectivity
+
Built-in Google Assistant available
Reasons to avoid
-
Very expensive
-
Wouldn't fit into most homes
The Bang & Olufsen Beoplay A9 is impressive for its power, as well as its elegant cylindrical design that will make a statement in any room. With three tweeters, three midrange drivers, and an eight-inch subwoofer, the Beoplay A9 promises crystal-clear audio with powerful bass that is impactful and deep.
There are a variety of wireless connectivity options available, including Bluetooth, Apple AirPlay 2, and Chromecast. With its built-in microphone, it can be controlled by voice using virtual assistants like Google Assistant, and can be operated easily using the Bang & Olufsen app. The A9 can also be paired with another Beoplay A9 speaker for stereo sound, making it ideal for larger rooms and those looking for surround sound.
However, the Beoplay A9 comes with some drawbacks, including a high price point that may exclude some buyers. It's also much larger than the other speakers on this list, and only those with space to spare would be able to make it fit into their existing decor.
About this guide
At Livingetc, we believe in transparency and reliability when it comes to product reviews. We have a wide team of impartial and professional testers on hand to rigorously evaluate products in order to provide our readers with reliable and trustworthy recommendations, and our goal is to provide buying guides, reviews, and shopping edits that help to improve our readers' lives in some way.
These products range from high-end luxury goods to more affordable items that can still provide a touch of decoration and boost the sense of fun in your home. We ask our editors, writers, and freelancers to pay attention to the details of these picks, ensuring there are valuable insights that buyers can rely on beyond the product description.
The best Bluetooth speakers on this list were curated by our experts based on hands-on testing in their own homes, as well as consumer feedback and online reviews. We will update the guide regularly to reflect new releases and fresh recommendations, and will always be trying new products to find the very best.
Choosing the best Bluetooth speaker for your home
Do Bluetooth speakers need Wi-Fi?
Bluetooth speakers do not need an internet connection in order to play music - just a Bluetooth connection from your mobile device. Many do, however, have the ability to play music over Wi-Fi via services like Chromecast, Apple AirPlay, or Spotify Connect. Depending on the Bluetooth speaker you choose, it's your choice, as Bluetooth can often be more convenient for speakers designed to be moved around.
Do Bluetooth speakers need power?
Whether your Bluetooth speaker needs to be plugged in will depend on the model you choose. While many speakers will need a powered connection in order to work, the best portable Bluetooth speakers will be able to run on battery power for an allotted amount of time. Of course, you will need to charge them regularly but, if true wireless functionality is what you want, then make sure you opt for something with a substantial battery life.
Can Bluetooth speakers be linked together?
Whether you want multi-room audio for listening to the same song across different rooms of the house, or you want to create a stereo effect with two or more speakers, it's often useful for Bluetooth devices to be able to connect to one another as well as an external media source. For this, you need to look out for multi-room listening, which means that speakers can be linked together. This is perfect for parties or just while you're cleaning the house.
Smart Homes Ecommerce Editor
Caroline is the smart home ecommerce editor for Livingetc, covering everything tech for the home, from smart speakers to air purifiers and everything in between. She is passionate about the role that technology and smart devices can play in daily life, enhancing the home without sacrificing personal style and carefully chosen interiors. In her spare time, she can be found tinkering with bulbs, soundbars, and video doorbells in an effort to automate every part of her small home. Previously, she lent her expertise to the likes of Expert Reviews, IT Pro, Coach, The Week, and more.