The 12 best kitchen handles to accessorize your space, including super chic pulls that cost less than $3 each
Looking for kitchen handles to accessorize your home? These are 9 of my favorites picks to buy right now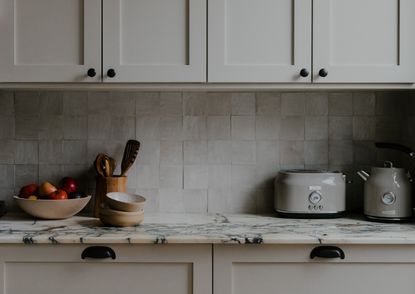 (Image credit: Nick Glimenakis. Design: The Brownstone Boys)
An underestimated decorative addition to your kitchen, kitchen handles must be nifty, nimble, tactile, and in keeping with your kitchen's overarching style. So while you might not have given much thought to the handles, the hardware you choose for your kitchen should be an equally measured consideration as the cabinets themselves.
'It's one of those pieces of detail that really does have to blend form and function. It's no good choosing something beautiful if you can't get a grip and open anything,' says the founder of Buster + Punch, Massimo Buster Minale. 'Grip should be near perfect.' When it comes to the most popular styles, cute knob handles can add a decorative element, while edge pulls are great for a minimalist style, installed on the reverse of the cabinet and wrapping around the cabinet drawer edge.
For larger doors, go for longer-length bars. T-bars are a great cross between knobs and handles, meaning you can really get some grip on the handle. Pull bars can range in length from around 160mm to 420mm and can work on pantry or cabinet-fronted fridges.
Think of your cabinet hardware like jewelry - whether it's a glimmer of gold on a T-bar or a tactile pull for ease of use, we've run through the best on the market that will bring a modern kitchen to life with ease.
Best T-bar handles
A T-bar made from solid metal with a durable brass finish, featuring a rough-cast knuckle and hand-polished solid metal bar.
(opens in new tab)
This stylish cabinet T-bar is sold in a set of two and made in brass with a decorative swirling texture. This door handle T-bar design is tactile and makes a pretty addition to a kitchen in need of a glimmer of gold.
Best pull bar handles
(opens in new tab)
If you're looking for an easy kitchen update, this brass pull bar is available in a variety of sizes for every type kitchen cabinet. Pick from 3", 4" and 6" lengths.
From $2.70!
(opens in new tab)
A geometric D-handle in gold, made from zinc alloy. They give a sophisticated look for a bargain price and you can get different lengths.
A pull bar made from solid stainless steel with a diamond-cut, cross-knurl pattern. The length of this bar would work for kitchen cabinets and the rough texture gives you a good grip.
Best pull handles
I like the scalloped edging of this brass pull. Screw your pull into the other side of a kitchen drawer with the decorative edge on the other side of the drawer for easy of grip.
(opens in new tab)
A stylish fan-like design that will add a playful decorative touch to your kitchen drawers, bringing a touch of brass color and a bit of texture.
I love the peach color of this cute pull handle, bringing the trend for decorating with pastels into your kitchen in a subtle way. The handle by Beslag Design is made of powder-coated metal and is available in a different colors.
Best knob handles
(opens in new tab)
A set of two golden knobs with a geometric twist which bounces light around the room and makes for an decorative kitchen addition.
(opens in new tab)
The cross-hatched texture of the Knurled Knob feels luxurious in hand and lends a contemporary look to cabinets and drawers.
What material should kitchen handles be?
For an enduringly stylish and industrial kitchen, bring solid metal into the space. Stainless steel, brass and bronze are all sleek and stylish, giving a slick edge to your cabinetry. 'Steel works with everything, brass is warm and inviting,' says Massimo Buster Minale (opens in new tab), founder of Buster + Punch.
Metal makes for durability, essential for everyday pieces that frequently get tugged and pulled. Buster + Punch's cabinet hardware collection, Cross, Cast and Linear is exclusively made from solid metal - steel, brass, gunmetal, black, welders black and on special occasions, burnt steel. 'We use the finest metals and everything is refined by hand. Our cabinet hardware will outlast us all,' says Massimo.
You can also get cheaper hardware in aluminum, or wood, although this might not be as durable, and bear in mind that brass oxidizes over time so must be finished with a clear lacquer glaze. Whatever material you go for, keep things cohesive throughout the room. If your kitchen has brass taps, match this with brass handles or a complementary finish such as black hardware. 'Keeping to one style of cabinet hardware has the power to lift entire homes or spaces with such ease - you'll be amazed at the result,' says Massimo. Alternatively, think fabric. Leather handles are a softer alternative that are pleasing to the touch and add a unique feel to a room as they will age and wear beautifully over time.
How should I position kitchen cabinet handles?
When it comes to placement, for drawers under 24 inches, center a single pull or knob. If your drawer is 24 inches or over you can add a second pull. To get the perfect placement for your cabinet knob or pull, divide the drawer into thirds and place the two knobs in the left and right thirds of the drawer.
Mounted on the door, cabinetry knobs and pulls are placed on the opposite side of the door hinge and typically two to three inches from the bottom corner of the door for upper cabinets. While on base cabinets, knobs are usually placed around two to three inches from the upper corner of the door.
Livingetc content editor and design expert
Oonagh is a content editor at Livingetc.com. Previously, she worked on a London property title, producing long-read interiors features, style pages and conducting interviews with a range of famous faces from the UK interiors scene, from Kit Kemp to Robert Kime. In doing so, she has developed a keen interest in London's historical architecture and the city's distinct tastemakers paving the way in the world of interiors.