This is best outdoor furniture for summer 2023 – stylish designs that look so good you'd happily have them inside, too
On the hunt for some brilliant outdoor furniture for your backyard this summer? I've scoured the internet to bring you our favorite pieces to shop right now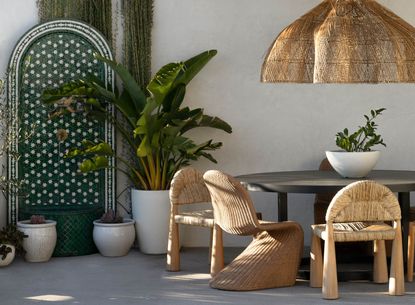 (Image credit: Image credit: Emily Cate Rochon. Design: Jessie Lane Interiors)
Quick Menu
This summer, our backyards are all about blurring boundaries between indoor and outdoor living. As we throw open our backdoors and welcome the warmer weather, it's time for our gardens to work harder, functioning as extensions of our homes: living quarters, dining room, or even just a spot for a quiet morning coffee.
'We look at outdoor spaces as outdoor rooms that function very much like interior spaces,' says David Thompson, principal, and founder of LA-based architect firm, Assembledge+ . 'The perfect outdoor furniture should also be in a dialogue with the interior design and function as an extension of the interior design mood, extending the indoor living areas to the outside.'
Here's my pick of pieces from the best outdoor furniture brands that will make your backyard perfect for entertaining this summer.
Best backyard dining tables
(opens in new tab)
Made of acacia wood tinted grey to mimic teak, and topped with a cool concrete top that is sealed for weather resistance. The result gives it a slight industrial look and its sturdy appearance brings a strong focal point to your dining area.
(opens in new tab)
I like how sleek and dominating this long table is and particularly light the choice of red. Clean, sharp lines and angles give the piece a contemporary charm, making dining more enjoyable indoors. The dining table's impact-resistant polyethylene material composition resistance to extreme atmospheric conditions.
(opens in new tab)
3. SEAX round dining table
If you're wondering whether to go round versus rectangular with your dining table, this beautiful piece might help you make a decision. Inspired by the design and look of luxury sailing vessels, the SEAX table has a sleek, slanted base and can sit four to five people comfortably for an al fresco meal.
Best backyard coffee tables
(opens in new tab)
1. Bek oyster coffee table
I love a bit of terrazzo, it just adds such a playful style to wherever it is being used. On this stacked outdoor coffee table, the tabletop swivels to your very precise lounging needs, keeping your drink well within reach at every move. The duck egg blue shelf pairs with the terrazzo surface perfectly.
(opens in new tab)
2. Hourglass coffee table
This coffee table works for indoor and outdoor and has a zellige tile-like ceramic surface. The gold hourglass base gives it a shapely look and it can add a bit of a Mediterranean backyard look to any backyard.
(opens in new tab)
Covered entirely in ceramic tiles, the Kera is durable and totally splash-resistant. Its simple yet sculptural structure will make this coffee table a staple for minimalist outdoor furniture. It's available in beige but I like it in black for a bit more drama.
Best backyard dining chairs
(opens in new tab)
I love the curved, elegant form of this chair, with a striking profile. It's super comfortable too and works both inside and out. Lightweight and durable, the chair has a roomy seat and is available in a range of different colors - although black is a classic.
(opens in new tab)
The Caya chair is a minimalist design built from steel and powder-coated, meaning it can withstand the weather and outdoor conditions all year round. The frame is delicate and elegant and clean lines will bring a minimalist feel to your space.
(opens in new tab)
3. Pallisade dining chair
As part of the Palissade collection, this dining chair has an aesthetically stylish form. The Palissade Collection is made to stand up to the elements, thanks to its weatherproof powder-coated steel and core strength. This dining armchair provides a comfortable seat at outdoor dining tables.
Best backyard sofas
I was lucky enough to see the new Molteni outdoor collection at their showroom, and this was certainly the standout piece. The teak weaves its way around the back of the bench and the L-shape extends for a real relaxing backyard addition.
(opens in new tab)
Available in either slate grey or beach sand, the waterproof upholstery of the outdoor sofa contrasts well with the solid acacia wood base of this luxury L-shaped outdoor sofa. The matching coffee table is a nice addition, reflecting the construction of the sofa and a great place to put your feet up.
(opens in new tab)
3. Marbella double seat outdoor sofa
Taking its cues from the Buchanan studio sofa that made waves in living rooms, and inspired by the broader trend for deckchair stripes for the backyard, I love the look of this outdoor sofa but it's worth noting it will need to be protected when not in use.
Best backyard accent chairs
(opens in new tab)
A rocking chair is a nice backyard addition, with connotations of traditional porches that are furnished with these old-school chairs. But they can feel modern and fresh too and work as an accent chair. I love this chair's gentle curves, and elegant frame and it's available in a variety of colors.
(opens in new tab)
I love the curved, sculptural structure of this outdoor chair based on Arne Jacobsen's original Paris Chair design in 1925. It's a timeless look that can work outdoors on a sunny day or can be pulled inside for a boho look indoors.
(opens in new tab)
3. Riviera hanging swing chair
This swing chair is designed by Sika Design for Lumens and has a curved, egg-like design. It is made from powder-coated aluminum that gives a natural rattan appearance in a natural colored finish. Perfect for a porch or pergola that needs an accent chair to tie the space together.
What material is best for outdoor furniture?
When it comes to looking for the best material for outdoor furniture, make sure you keep your eyes out for furniture that's made from weather-resistant powder-coated material.
An aluminium table will stay looking brand new even after years of use, and you can often choose from a variety of finishes.
Outdoor living trends call for more wellness areas in the garden, with a focus on clean lines and simple shapes. An emphasis on nature and the organic look is part of this wider trend. Molteni & Co has released its first outdoor dining collection this year, heavily featuring the beautiful warmth of teak. 'FSC-certified premium grade teak has natural oils that make it inherently weatherproof, mould, and insect resistant, so there's no need to treat it with harsh chemicals to make it perform outdoors,' says Reilly Gray (opens in new tab), co-founder of outdoor brand, Suns Lifestyle.
Enamel is another option. 'I love enamel that is wipeable but can be in a spectrum of colours,' says Jennifer Morris, Principal at JMorris Design, based in Brooklyn. 'In terms of the best outdoor furniture brands, Loll Design makes their furniture in recycled high-density polyethylene (HDPE), which is cleanable, colourful and won't fade in the sun.'
Wrought iron is another durable option while stainless steel will lend your outdoor space a contemporary look with easy maintenance. 'Wrought iron will be your most durable and sturdy option but is definitely a higher price point,' says Annie and Jordan Obermanns (opens in new tab) of Forge & Bow.
What size is best for outdoor dining table?
Your backyard dining table is a long-term investment piece, so getting the dimensions right is paramount. For a rectangular table that seats four to six, 68-72 inch length will suffice; six to eight seats will need around 72-80 inches. Typical diameters for a round table are 36 inches for two, 42 inches for four people, and 54 inches or up to 60 inch diameter for six people.
'A good way to choose a dining table size is to measure the area's length and width, subtract 30"-36" from each side, and whatever dimension is left can be used as your shopping guide,' recommend Annie and Jordan. 'The 30"-36" guide helps to ensure there will be an efficient amount of space to navigate around the table if guests are seated.'
There is also the round versus rectangular debate. We've seen the introduction of organic shapes for outside dining, mirroring the trends from the last few seasons of interiors. Rectangular is best for homes where entertaining and large-scale hosting is the focus, where round tables work better for more intimate, casual gatherings. The choice should also be influenced by the space available. In a more linear space, a rectangle or oval shape is best and in a more square space, a circular table or smaller square is recommended.
Consider the placement too. 'Create an outdoor space with the right amount of sun and shade that can be protected from rain and the elements,' says David (opens in new tab) from Assembledge.
Livingetc content editor and design expert
Oonagh is a content editor at Livingetc.com. Previously, she worked on a London property title, producing long-read interiors features, style pages and conducting interviews with a range of famous faces from the UK interiors scene, from Kit Kemp to Robert Kime. In doing so, she has developed a keen interest in London's historical architecture and the city's distinct tastemakers paving the way in the world of interiors.