Best smart sprinkler controllers: want a perfect lawn all summer? Here's our pick for clever gardening
Ensure your plants and grass are thriving all year-round by getting your hands on the best smart sprinkler controllers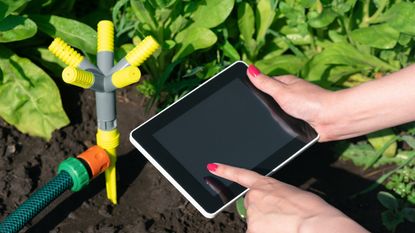 (Image credit: CC)
If you're looking for the best smart sprinkler controllers, then you're probably aware of how beneficial they can be in saving time while ensuring your garden thrives. These sprinklers are an integral part of the new smart gardening trend, allowing you to schedule watering times for your yard through a connected device like your smartphone.
The best part about these sprinklers is that they're highly efficient, which can help you save on costs in the long run. Although sprinklers have been around forever, Wi-Fi-enabled ones are a relatively new and innovative way to work with water. Unlike traditional systems that operate on mechanical or electronic timers, smart sprinklers can be easily operated with the touch of a button and can even adapt to local factors like the weather.
In this guide, we've detailed our pick of the best WiFi-controlled sprinklers that we believe you should consider. Keep in mind that specifications may vary among products, so be sure to do your research before making a purchase. To make your outdoor space even smarter, check out our guide to the best robot lawn mowers.
The Quick List
The best smart sprinkler controllers in 2023
1. Rachio 3 Smart Sprinkler Controller
Best smart sprinkler controller overall
Specifications
Zones: 8-16
Smart assistants: Alexa, Google Assistant, Nest, Ring, SmartThings
Reasons to buy
+
Promises to save up to 50% on water
+
Weather Intelligence feature reacts to outside conditions
+
WaterSense certified
+
Compatible with both Alexa and Google Assistant
Reasons to avoid
-
Expensive
-
Weather Intelligence Plus feature only free for first year
-
Won't work with HomeKit
The Rachio 3 Smart Sprinkler is the top-of-the-line model in its third generation. It comes in eight or 16 zones and is effortless to install, taking only 30 minutes without the need for any special tools. An in-app installation tutorial is also provided for extra assistance. The sprinkler system allows you to set up intelligent watering schedules that automatically adapt to your preferences, soil moisture, climate, and the season, delivering precise accuracy.
Its compatibility with various smart devices makes it an attractive product that can be easily controlled through your phone, either Apple or Android or other smart home devices with voice commands. The app provides the latest information, including when you last watered certain zones and when the next watering is scheduled.
2. Orbit 57985 B-hyve XR Smart Sprinkler Controller
Best mid-range smart sprinkler controller
Specifications
Zones: 8
Smart assistants: Alexa, Google Assistant
Reasons to buy
+
Can be set out both outdoor and indoor
+
Compatible with both Alexa and Google Assistant
+
Good price
Reasons to avoid
-
Weather data could be better
-
Mobile app requires location services to be enabled
-
Won't work with HomeKit
The Orbit B-Hyve offers versatility with the option to be installed both indoors and outdoors and can be purchased in either six or 12 zone variations. It has a charming mix of classic and modern design, with the traditional appearance of a sprinkler control system, yet smart technology makes it feel current.
This model is compatible with Amazon Alexa and can be conveniently controlled remotely through iOS and Android devices. The installation process is effortless, with the option for hardwiring, and the accompanying app makes setting timers a breeze. Furthermore, it includes Smart Watering technology, allowing it to automatically adapt to rain, wind, and freeze delays.
Featuring a durable, weather-resistant cabinet that can be secured with a lock, it can be seamlessly mounted indoors or outdoors, and the sprinkler can be managed from anywhere. However, it's imperative to exercise caution when setting location preferences through the app to account for varying weather conditions.
3. Rain-Bird ESP-TM2 Wi-Fi Irrigation Zone Controller
Best smart sprinkler controller for water reduction
Specifications
Zones: 12
Smart assistants: Alexa, Google Assistant
Reasons to buy
+
Weather-based schedule adjustments
+
Works with both Alexa and Google Assistant
+
Easy to use app
Reasons to avoid
-
Won't monitor water usage
-
Won't work with HomeKit
-
Expensive
If you're looking for a basic residential irrigation solution, the ESP-TM2 irrigation controller is a solid option. Rain Bird's "The Intelligent Use of Water" ethos is built into the controller, offering simple but still useful water-saving features. Three programs and four start times are available per program, and you can tailor your watering schedule to your landscape's needs.
The ESP-TM2 has an easy-to-use interface and comes with the LNK WiFi Module, making the system mobile-friendly without having to replace the entire unit. It controls up to 12 sprinkler zones and is suitable for indoor or outdoor installations. The large back-lit LCD display also improves visibility in low light and direct sunlight conditions.
Wi-Fi connectivity allows the system to save and restore your custom schedules, delay watering for up to 14 days, and automatically resume watering after the set delay has elapsed. Automatic weather adjustments also provide daily run time changes, promising to save you up to 50% in water.
4. Netro Smart Sprinkler Controller
Best affordable smart sprinkler controller
Specifications
Zones: 6-12
Smart assistants: Alexa, Google Assistant
Reasons to buy
+
Comes with lifetime cloud service
+
Compatible with both Alexa and Google Assistant
+
Detailed reports via the app
+
Adjusts schedules based on local weather
+
Good price
The Netro Smart Sprinkler, available in 6 and 12 zones, is not the most affordable option, but it falls nicely within the mid-range price point. With the Netro, you can control your sprinkler through your smartphone (iPhone or Android), Amazon Alexa, or Google Home. What sets this product apart is its use of AI to automatically adjust to changing weather conditions and create personalized schedules for your garden.
The Netro also boasts a database of over 1,000 common plant species and soils, allowing for further customization of schedules. Plus, it automatically complies with local water conservation regulations. The only limitation is its use of 2.4GHz WiFi, but overall, the Netro is a solid choice.
5. LinkTap G2S Wireless Water Timer & Gateway
Best smart sprinkler controller for small gardens
Specifications
Zones: 3
Works with: Alexa, Google Assistant
Reasons to buy
+
Includes flow meter for water usage monitoring
+
Schedules adjust to weather conditions
+
Compatible with both Google Assistant and Alexa
+
Good price
Reasons to avoid
-
Can only support 3 zones at once
-
Won't work with HomeKit
-
Bulky device
-
Gateway requires Ethernet connection
The LinkTap G2S automatic water timer is great for those who want to keep their plants watered from anywhere they are. With cloud-controlled watering, you can schedule watering times while taking weather conditions into account, and the user-friendly mobile and web apps provide complete control. You get flexible options like immediate starts and stops, as well as specific dates, times, and duration for watering.
One of the best features of the LinkTap G2S is its automatic fault detection. With real-time push notification and email alerts, you'll get alerts from flow and fall sensors in case of water cut-offs, pipe leaks or clogs, valve failures, or device falls. Meanwhile, the system is equipped with a proprietary Zigbee protocol that provides wider and more reliable wireless coverage than Wi-Fi.
About this guide
At Livingetc, we believe in transparency and reliability when it comes to product reviews. We have a wide team of impartial and professional testers on hand to rigorously evaluate products in order to provide our readers with reliable and trustworthy recommendations, and our goal is to provide buying guides, reviews, and shopping edits that help to improve our readers' lives in some way.
These products range from high-end luxury goods to more affordable items that can still provide a touch of decoration and boost the sense of fun in your home. We ask our editors, writers, and freelancers to pay attention to the details of these picks, ensuring there are valuable insights that buyers can rely on beyond the product description.
The best smart sprinkler controllers on this list were curated by our experts based on hands-on testing in their own homes, as well as consumer feedback and online reviews. We will update the guide regularly to reflect new releases and fresh recommendations, and will always be trying new products to find the very best.
Choosing the best smart sprinkler controllers for your yard
Before choosing the best WiFi-controlled sprinkler, it's important to assess its specifications. Start by determining the number of zones required depending on the size of your yard. Additionally, check for compatibility with your smart home devices, as not all may work with Amazon Alexa. Customer reviews can also provide valuable insights and help in making an informed decision. Consider the set-up process, as some sprinklers require more work and hardwiring than others. Watching online videos can aid in understanding the product and simplifying technical terms.
Smart Homes Ecommerce Editor
Caroline is the smart home ecommerce editor for Livingetc, covering everything tech for the home, from smart speakers to air purifiers and everything in between. She is passionate about the role that technology and smart devices can play in daily life, enhancing the home without sacrificing personal style and carefully chosen interiors. In her spare time, she can be found tinkering with bulbs, soundbars, and video doorbells in an effort to automate every part of her small home. Previously, she lent her expertise to the likes of Expert Reviews, IT Pro, Coach, The Week, and more.
With contributions from