"It just makes life more comfy!" Why designers love the 'couch desk', and how to make your sofa perfect to work from
A couch desk will ensure you're always comfortable while adding a relaxed ambiance to your space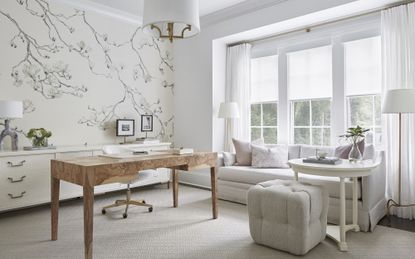 (Image credit: Brad Ramsey/Zeke Ruelas)
Our work/life balance has undoubtedly undergone a seismic shift over the the last couple of years, with many people searching for a more satisfying equilibrium.
Working from home has become a desirable option, and our home office ideas have had to keep up. This is where the couch desk comes in to its own.
'Clients have been re-thinking how they work best,' says Emilie Munroe (opens in new tab) of Studio Munroe. 'Many enjoy typing or scrolling from an upholstered sofa more than a classic office chair.
'Some request separate social spaces within the office to connect in a more approachable manner than the traditional layout of conversations from across a desk.
'We also have clients who like a sofa for day time napping or meditation as part of a renewed commitment to work/life balance.'
Designer-approved 'couch desks' that will change your WFH life....
Not sure where to start? Discover a host of designers championing the couch desk to marry comfort, style and practicality in your WFH space below.
1. Choose a couch with 'armrest tables'
When it comes to the office sofa, aka the couch desk, practicality is a key consideration as this piece has to work double duty: it needs to be reasonably comfortable while also being supportive enough to work from.
Any extra ideas to support working from it, like super handy armrest tables, are a welcome bonus.
'Office sofas tend to be more structured and more sculptural than your standard family room sofa to maintain a professional presence and support conversation over TV viewing,' says Emilie Munroe.
'This particular sofa style includes a built-in wood armrest drinks table, which is especially useful in a work environment where food and beverage is likely shared.
'Not only is it convenient, but the wood helps protect upholstery from wear and stains.'
2. Opt for a small settee
A small sofa offers the perfect spot to switch up your work position without being too cocooning that it becomes anti-productive.
'Most people's home offices are not that large,' points out Brad Ramsey (opens in new tab), Principal Designer and Founder of Brad Ramsey Interiors. 'A small home office can often be a converted spare room or small den space, so a sofa that is small in scale works best.
'We are looking for comfort, but not something large or deep that overwhelms the room.'
3. Add a couch bench to a multifunctional space
A couch desk is a space-enhancing studio apartment idea, and works well in a multifunctional room.
The studio above, by AMMOR Architecture, shows how clever furniture can optimize your space, making it work as hard as possible for your needs. The coffee table in the center actually rises up and becomes a higher surface that can be used as a dining table or a work desk.
The 'couch bench' comes into its own here, offering a supportive and sturdy yet comfy perch from which to work.
Thomas Morbitzer (opens in new tab), of AMMOR Architecture, says of the space: 'This studio is an exercise in flexibility, and responds to that need by providing a variety of surfaces for the different types of events that happen here.
'While the seating is important (there is a sleeper sofa, a lounge chair, a dining chair, and a cushioned banquette), one key item that makes them all individually and separately functional is the cocktail table, which raises and lowers modulating between leisure, dining, or work.'
4. Make the most of a high back and sloped arm
Your home office is, now more than ever, a multifunctional area; it can be a space to relax as well as work. However you are using the space, it needs to be flexible.
'Home offices are no longer just places to work,' says Marie Flanigan (opens in new tab), of Marie Flanigan Interiors. 'These rooms have evolved into elevated and luxurious spaces to work, relax and even entertain. A sofa or couch in an office space gives versatility to not only your workday seating options, but the entire home.
'Lots of homeowners use their office as a man cave, so often a television and bar cart are included, making it necessary to have seating beyond just an office chair.'
On practicalities and aesthetics, Marie continues: 'The most important thing to consider is the scale of the sofa in comparison to the room. I love when offices have a clean and modern aesthetic, so I'll choose sofas with clean or contemporary lines.
'Because this is also a workspace, you'll want to select a soft with an arm that is comfortable and the right height for working. I think this trend is here to stay, as these pieces are perfect for added from and function.'
5. Inject a little 'squish' for extra comfort
In general, a 'couch desk' is usually best with a slightly higher back and at least medium firmness for the right level of support while working.
However, there are times when you can throw out the interior design rule book - and simply opt for something that suits your taste and preference.
'We are all used to working on our phones and tablets pretty much everywhere, including in bed or on the couch,' says Brad Ramsey. 'So, I think selecting a sofa for an office that serves your own personal comfort preferences is perfectly fine.'
6. Create a tranquil space with dreamy white
If your job is reasonably high-pressured, you may want to opt for a decor scheme that works as a visual antidote to stress.
A light palette offers a calming backdrop to a home office, and matching sofa works to make the space even cozier.
Brad Ramsey created the harmonious home office above. He says: 'Since this is a home office, we wanted to soften the space and make it feel like a workspace and a living room.
'As a break from sitting at a desk, my client wanted the option to read or work on her laptop while curled up on the sofa.'
He adds: 'I think having a sofa in an office makes the space feel cozier and can pull double duty as another place to relax or gather in a home.'
7. Breathe life into the room with a colorful couch desk
Get motivation and inspiration from a colorful, eclectic space - as seen in the study of British designer Sophie Ashby (above).
The office is set in a Georgian terraced house in London's Spitalfields that once belonged to legendary English tastemaker Jocasta Innes.
The room's 'bumblebee-themed bookcases', as Ashby describes them, are an Inness inheritance, but the bleached-oak writing desk, at once organic and modern, is a creation of her own design firm, Studio Ashby.
Gino Sarfatti's 548 desk lamp (designed in 1951 and you found on 1stDibs (opens in new tab)), provides a vivid pop of color and form, while the leopard print that covers the vintage desk chair offers a dollop of whimsy.
The green velvet-upholstered couch, throws comfort and more color into the inspirational mix.
'When it comes to your office sofa, choose something that is comfortable in a color you love,' says Lauren Lerner. 'If you will be looking at it from your office desk, you want it to inspire you.'
8. Choose a structured fabric for a formal office
Is your home office more formal than laidback? Add some comfort but keep it structured with a fabric like cord.
Not only will the aesthetic suit the style of the room, but the nod to the 70s will keep you bang up-to-date - as the 70s sofa trend is certainly enjoying a renaissance.
In fact, the 1970s trend is one of the biggest interior design trends for 2023, so a cord couch desk is chic as well as practical.
9. Mix comfort with practicality
You can't go wrong with a little velvet to ensure an inviting and comfortable sofa. When teamed with high backs and arm rests, you're whipping up a recipe for the perfect couch desk.
'In the post-pandemic world, our workspaces are no longer confined to 9-5. Guestrooms and offices now reflect our evolving work habits, meaning they're both functional and relaxed,' says Dan Mazzarini (opens in new tab), Creative Director of BHDM Design + ARCHIVE by Dan Mazzarini.
He adds: 'Sofas can be a great addition to any workspace, and it's better to have a piece of furniture in the background of your Zoom than not.
'But do remember that most sofas were not designed for work. If you're one to work from a couch, look for higher, denser, and firmer options with inviting fabrics and finishes to blend form and function.'
The best 'couch desks' to buy right now
Does a couch desk have to be in a home office?
A couch desk is a stylish, comfortable and functional addition to any home office. But you can enjoy a couch desk in any room that happens to be your WFH space.
If you have a bigger bedroom, you could zone the space and add a sofa to work from. Or you can invest in a sofa for your living room that will also work to double up as a couch desk too.
Ruth Doherty is a lifestyle journalist based in London. An experienced freelance digital writer and editor, she is known for covering everything from travel and interiors to fashion and beauty. She regularly contributes to Livingetc, Ideal Home and Homes & Gardens, as well as titles like Prima and Red. Outside of work, her biggest loves are endless cups of tea, almond croissants, shopping for clothes she doesn't need, and booking holidays she does.