Designers are loving this new trend which zones open plan spaces, but in a minimalist way
Pocket doors are being reinvented to be in line with minimalist principles, helping to overhaul our homes so they're right for how we want to live now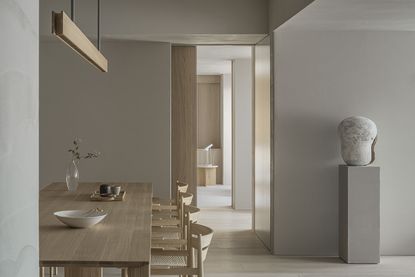 (Image credit: Tomooki Kengaku. Design by Keiji Ashizawa Design Styling: Yumi Nakata)
Now you see them, now you don't: sliding pocket doors, a Victorian-era concept known for their disappearing act, are popping up in modern homes once again. Often used to save floor space (instead of swinging outward on hinges, pocket doors slip into wall cavities when open) they can also partition floor plans without losing that clean look of minimalism.
'We're seeing an increase in the use of pocket doors as clients become more aware of them, but also because of a move away from open plan spaces post-pandemic,' says Hugh McEwen (opens in new tab), co-founder of London's Office S&M. 'This means that homeowners want spaces that can be opened up, or separated off, as needs be, rather than single, flowing spaces.'
The architectural feature has had ups and downs since its 19th century debut. While they made a comeback in midcentury homes, original iterations weren't known for their durability, and rudimentary mechanics became unwieldy, not to mention noisy, over time. Alas, those times have changed.
'It is true that many people have a negative association with sticky, clumsy pocket doors,' says Michel K. Chen (opens in new tab), founder and principal of NYC's Michel K. Chen Architecture. 'But the heavy duty tracks and other hardware mechanisms on the market today are so much smoother, lighter, and elegant.'
Innovations range from systems with soft-close functions (as quiet as a mouse) and double doors with synchronized opening mechanisms (two birds, one scone) to stacking wall panels that tackle a range of openings; pocket doors can stretch across a whole room, if you're going the distance. But in the long run, today's pocket doors are simply more advanced and reliable – here's how to get this interior design trend right.
1. Zone open plan spaces
Along with its growing popularity for creating solitary spaces in open-plan homes, the pocket door's ability to reduce sound between rooms carries plenty of weight – so long as you pick the right material. 'To zone off spaces, we always recommend using fire rated doors because they are more solid, and cut down on noise being transferred from one room to another,' says architect Hugh McEwen, who incorporated double pocket doors to seamlessly close off spaces. 'Plus they have a satisfying weight when opening and closing them.'
It wasn't long ago that this same partition would have utilized a traditional doorway. But according to McEwen, it isn't just improved mechanics that have made these seamless architectural features more feasible: it comes down to budget. 'With rising costs, the difference in price between a standard door and a pocket door is becoming less, and so the decision is less of a financial one,' he says.
2. Add artful details
While straightforward and space-saving designs tend to feature simple, flat doors that blend into surrounding walls when closed, you can take it up a notch with artful details like paneling and recessed handles to add more dimension. In these pocketing salon doors, a beveled design across cerused oak adds definitive charm when shut. 'Because there is such a deep recess for the paneling itself, and because the detailing is so sharp on the beveled surfaces of the doors, we incorporated carved wood pulls so you don't experience other hardware aside from the hinges or sliding mechanisms,' says Michel K. Chen.
It brings an aesthetic perk to a door system that's chiefly practical, making the spacial advantages all the more exciting. "We frequently incorporate them in situations where we can run the door full height from floor to ceiling, and frequently at extra wide dimensions to achieve a blurring between two spaces that are sometimes open to each other, and sometimes partitioned," says Chen. "The malleability of space and privacy that pocket doors afford in projects is attractive, and when the hardware is nicely engineered, the doors are just a pleasure to use."
3. Mix materials
Beyond timber, there's a mix of materials – from metal to glass – being used in modern pocket doors. But it's the latter that truly creates a sense of openness even when the doors are closed tight; in this bright and airy modern kitchen, a series of glass pocketing doors stretch across the room while maintaining sight-lines throughout the home. 'Glass pocket doors allow for natural light flow and visibility from space to space, while creating acoustic separation and partial privacy,' says architect Drew Lang (opens in new tab), the founding principal of NYC's Lang Architecture.
In this interior in particular, a sleek version of the new kitchen trend that features partitioned walls, you'll see the growing desire to create light barriers between spaces. "Homeowners are prioritizing open-plan living with a seamless flow between spaces,' adds Lang. "Pocket doors facilitate openness and spatial flow, while offering privacy when needed."
4. Use quieting details
In the past, shutting a classic pocket door could cause a racket – the mechanics weren't exactly smooth and often led to slamming. But the latest innovation making noise is 'soft-close' hardware, which slows the door and gently pulls it closed. 'The system works from the middle of the door, so it closes slowly and without a noise – contributing to creating a space that feels relaxing,' says Tokyo's Keiji Ashizawa Design (opens in new tab). 'In addition, suspended sliding doors do not need a groove underneath, making a beautiful continuity of the space.'
This particular type of soft-close pocket door allowed Keiji Ashizawa Design to achieve a calm, relaxed environment throughout their entire project. "The discreet detail of the pocket doors is related to the concept of 'mute' for the project – where we also see that it has been rekindled as a popular choice of detail,' says the studio. 'A door that opens and closes in a small space can be a distraction, and it is also easy to adjust the extent of its opening.'
5. Have double doors
While double pocket doors of the past required twice the effort (each leaf opened and closed separately) new mechanics ease up on manual labor. At west London's The Broadway, a new project that reimagined a former Metropolitan Police Headquarters, architects outfitted apartments with pocket doors that move simultaneously with a single pull. 'An interesting feature to consider is a synchronised opening mechanism, where the doors are weighted so that when one door leaf is opened or closed, the other leaf moves at the same time,' recommends Michele Greco (opens in new tab), associate director at Squire & Partners.
And while double pocket doors add a touch of excitement, keep in mind that you might sacrifice just as much room for electricity on either side – without additional planning, that is. "Pocket doors can restrict you from having electrical sockets on the walls that the doors slide into, however there are some systems which allow for them," adds Greco. "These systems usually require the walls to be thicker, which will mean losing a little room area."
6. Choose glass
Viable interior wall space might keep you from installing large pocket doors in small apartments (walls with plumbing, or load-bearing walls have a tendency to get in the way). But Singapore's MONOCOT created a savvy workaround: a pocket door that only tucks three quarters into the wall. 'The reason for us not doing a full pocket door is due to lack of space,' explains founder Mikael Teh (opens in new tab). 'There is a column that is hidden behind the cabinet.' Without sacrificing a wide doorway, architects added a fixed interior glass partition that aligns with the pocket door when fully open – and gives the illusion of a much larger pocket door when closed.
Again, the key to creating this open feel in tight quarters is the result of smart material choices, in this case a combination of clear and ribbed glass. 'For this particular project, we wanted to have the fluted glass overlap the clear glass to give it a bit more texture and privacy for the owner when he is using the study,' adds Teh. Opened or closed, the result is a pocket door with serious range.
7. ADD A SECRET HANDLE
If you are aiming for a door that tucks entirely into the wall (one that's flush with the doorframe when fully open) you won't just need one special handle – you'll need two.
In the design above, Madrid's OOAA Arquitectura (opens in new tab) got crafty to create a seamless doorway. 'In order to be able to hide the sliding door in its pocket completely, the handle must be trimmed and we must put another handle system on the edge of the door to be able to bring it out of the pocket,' says founding architect Iker Ochotorena. In addition to carving out a flush door pull directly into the surface itself, they also installed a special latch on the door's edge, which allows the door to be pulled out even when the main handle is out of reach.
Keith Flanagan is a New York based journalist specialising in design, food and travel. He has been an editor at Time Out New York, and has written for such publications as Architectural Digest, Conde Nast Traveller, Food 52 and USA Today. He regularly contributes to Livingetc, reporting on design trends and offering insight from the biggest names in the US. His intelligent approach to interiors also sees him as an expert in explaining the different disciplines in design.