Introducing the dining sofa - designers explain how this decor trend elevates your home
Find out why designers are swapping chairs for the dining sofa, a brand new decor trend that helps to create elevated, elegant and relaxed yet social spaces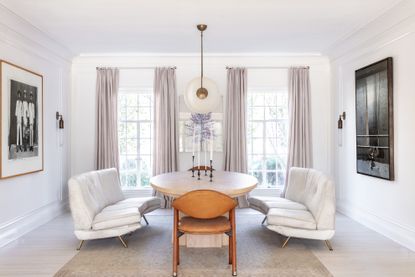 (Image credit: Brigette Romanek)
It's official: the dining sofa is the new laidback-luxe way to approach dining room seating for a relaxed ambiance and stretched-out soirées.
So why are we turning our backs on the humble dining chair, and why are couches the new big interior design trend?
'One of the primary reasons for the dining sofa trend's popularity is comfort,' says Anna Agapova, O&A Designs' Creative Director. 'After the pandemic, people spend more time at home and want to be comfortable while eating. Sofas offer a level of comfort that traditional chairs can't match.
'They're also a more versatile option that can be moved around the house and used for other purposes beyond dining.'
She adds: 'But comfort isn't the only factor at play here. The dining sofa trend also creates a less formal approach to home decor.
'Many people want to create relaxed and welcoming spaces rather than stiff and formal ones. The dining sofa is a great way to achieve this because it instantly creates a cozy, intimate atmosphere around the table.'
9 ways the dining sofa has become the latest luxe trend
Discover why you should be swapping your chairs for couches below - and what to look for in a dining sofa.
1. Sumptuous velvet
The choice of fabric for your dining sofa can add to the warmth and welcoming vibes of the room. And velvet is the ultimate invitation for a long sit-and-stay lunch or dinner party.
The dining room of this country house designed for art enthusiasts (above) was outfitted with a unique dining ensemble: the Kravet dining table, complemented by Moebel Design sofas.
The sofas are deep and soft to create a relaxed atmosphere and ultra-comfortable seating for guests, while making the dining room more cozy.
'There's something about sitting on a sofa that just feels more casual and inviting than sitting on a chair,' says Anna Agapova (opens in new tab), who designed the room above. 'Dining couches boast an elegant yet understated aesthetic that complements any interior design.'
2. Relaxed entertaining
'Over the years, I've loved incorporating sofas and love seats at the breakfast or dining table,' says Marie Flanigan (opens in new tab).
'It's essential to think about how you like to entertain and how you envision using each space.
'For a lot of clients, the dining sofa is the perfect means to infuse comfortable seating for relaxed entertaining. Couches and sofas inherently create a sense of comfort and ease, which is what we wanted to accomplish with the dining space above.'
3. For breakfast
A dining sofa is a great alternative to banquette seating as it can be added after a build and can also offer higher comfort levels.
'The dining sofa is a bit more comfortable than a banquette, which can be preferable for families,' says Marie Flanigan.
'A lot of these spaces double as a homework station or game table, so anytime we can add comfortable for kids, we do!'
She adds: 'One thing I always suggest for these spaces is that you pick a performance fabric that is spill- and stain-resistant.'
4. As a sofa bench
If you like the idea of having a sofa at the dining table but would like something a little sleeker and firmer, opt for a dining sofa bench instead.
Janet Blutter Shiff (opens in new tab), of Blutter Shiff Design, who created the space above, says: 'We love this idea, especially because of the clean lines and contemporary feel of the room.
'Sometimes, because of all the legs and individual pieces, too many chairs can take away from the look of the space. It also takes away the view of the dining table, which has its own sculptural look.
'This home is a very minimal space so we wanted this look to feel uncluttered, simple and clean.'
Janet continues: 'They also have a beautiful art collection, so less was more when it came to the furnishings.
'Using a sofa may not be as functional as separate chairs, but in this case the look was more important to the client.'
5. As a space saver
'I love the use of a smaller scale sofa in an informal dining area,' says Kate Ballou (opens in new tab) of Hendrick Interiors. 'The reality is that so much more happens at the breakfast table than just eating.
'We sit with our friends and neighbors there or it becomes an extension of our work space where we set up a laptop for a few hours. Having a more comfortable seating option than your standard chair allows for longer and more comfortable time at the dining table.'
It's also a breath of fresh air aesthetically, she says, continuing: 'A dining sofa visually gives a break from seeing so many chairs, and can be an opportunity to use another color, pattern, or texture to add interest to the space.
'Using a dining sofa can also make an off center placement of a table feel more intentional. If you have a tricky space in terms of layout, and can't have the table in the middle of the room, a dining sofa at one wall can be the intentional anchor and open up the room for circulation or other functional needs.'
6. By adding pattern
A sofa is not only a comfortable option for dining seating, but it can also be a great opportunity to add a large splash of pattern or color.
The dining area above, by Andrea Schumacher Interiors, shows how pattern can inject life to a dining space.
'We select sofas for dining areas because it creates a different culture for the space, says Andrea Schumacher. 'They are more comfortable in the sense that you are sitting on a lounge-like seating arrangement. The culture this creates is more European, where you will want to share drinks and food with your guests for longer than a meal.'
Create the ultimate lounge atmosphere by adding armchairs to each end of the dining table, too.
7. With low or no arms
When choosing your dining sofa, think about how the space is mostly utilized. Is it a relaxed area for daily use, or an upscale spot for dinner parties?
If it's that latter, you may want to choose a high-backed option for extra support and a more formal feel, but which still offers an extra level of comfort and social ambiance over chairs.
It's also a good idea to allow for easy access by opting for a sofa with low or no arms.
Kate Balou, of Hendrick Interiors, says: 'Considering the scale of the sofa is important - look for slimmer profiles or pieces that are closer to a bench or banquette than a sofa.
'Also consider the ease of getting in and out of the sofa - if it has arms they need to be low for easy access.'
8. Low and loungy
The chic room above by Brigette Romanek - the celebrated designer behind Gwyneth Paltrow's stunning modern home - instantly makes you feel like you've been invited to dinner in a 70s private members' club. Cool with a capital C.
We know the 70s sofa trend is huge for living rooms in 2023 but, if proof were needed they're also the ultimate dining sofa choice, this is it.
Speaking about the space, Brigette Romanek (opens in new tab), of Romanek Design Studio, says: 'I'm always looking for ways to change things up, or do something unexpected.
'I had these beauties and I thought the profile was divine, and the fun of doing something so odd was good.
'I will tell you that my clients love them, and fit a bunch of people who lounge on them for hours like a couch in a living room. Take risks... And remember to have fun.'
9. With curves
There's something extra welcoming about a curved sofa; the conviviality of the piece invites you to stay just a little while longer.
Speaking about the rise in the popularity of the dining sofa, Helen Pett, design ambassador at Arteriors, says: 'The dining room has had a shift in purpose over the last few years. A space once reserved for formal gatherings and special occasions, this is now one of the rooms within a home that is often used daily. A space that can become home office, somewhere for kids to finish homework and, increasingly, a casual dining setting for simple family meals.
'The latest proof is an increase in interior designers selecting a sofa on one - or both - sides of the dining table. This creates a much more relaxed atmosphere, encouraging diners to sit and enjoy meals in a newly informal setting where you savour lengthy breakfasts, read the papers and make the most of a space that once sat unused for weeks at a time.'
The best dining sofas to buy now
Ruth Doherty is a lifestyle journalist based in London. An experienced freelance digital writer and editor, she is known for covering everything from travel and interiors to fashion and beauty. She regularly contributes to Livingetc, Ideal Home and Homes & Gardens, as well as titles like Prima and Red. Outside of work, her biggest loves are endless cups of tea, almond croissants, shopping for clothes she doesn't need, and booking holidays she does.