Garden color schemes – these are the palettes landscapers lean on to make planting feel cohesive and considered
These garden color schemes will ensure you pick the right planting combinations for a backyard that feels well put together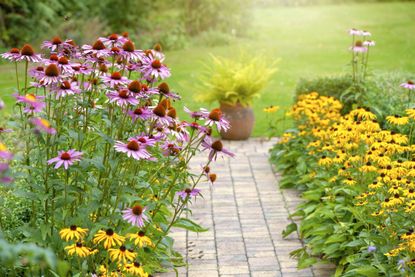 (Image credit: Getty Images)
Whether you're deciding on a new landscaping design, or just picking your annuals for this year, it's time to think about garden color schemes. It can feel a little harder to define garden colors, compared to an interior color scheme, but it's an important step to take if you want your planting to feel modern, cohesive and seem well thought out.
We spoke to top landscape architects, designers and gardeners to help us get to grips with the palettes, both bold an minimalist palettes, that will turn your modern garden into a cheerful and inviting space.
7 garden color schemes to consider
Landscaping a backyard can be a bit of a challenge, especially if you're unsure of what look would be ideal for it. Rather than going straight on to planting, it's a good idea to first consider the color you like.
'Before anything, you should think about whether you prefer pastels or bright colors, cool or warm tones, or if there are any colors you dislike when planning your garden,' says landscape designer Amber Scott Freda (opens in new tab). 'Cool colors tend to create a more calming, zen-like space, whereas warm colors will create more of a sense of excitement.'
1. Blue, yellow and white
'Color combinations in the garden are a matter of personal preference,' says Amber. 'Planning your color schemes is the best way to create a cohesive and well-designed space that doesn't start to feel hodgepodge or overwhelming. A favorite Mediterranean-inspired classic color scheme is blue, yellow, and white.'
If you're wondering how to choose plants for your garden in these colors, consider Delphiniums, Cornflowers, Anchusa and Gentians for blue flowers. Yellows can be achieved from Daffodils, coneflowers, coreopsis, or sunflowers. And finally, add a touch of white with jasmine, gardenia, snowdrops, or Lily of the valley.
Together, a combination of yellow, blue, and white can create a calming, relaxing, and Mediterranean feeling. Much like a holiday retreat.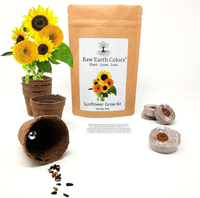 (opens in new tab)
Sunflower grow kit, Amazon (opens in new tab)
Want to add bright yellow to your garden? Buy this premium sunflower seeds kit for planting, and add a vibrant touch to your garden.
2. Tonal color schemes
A simpler palette for a garden can be achieved by focusing around different shades of the same color.
'When planning a garden design, it's important to think about the space as a whole, while also mirroring your aesthetic as you would with interior choices,' says Whitney Bromberg Hawkings (opens in new tab), founder of FLOWERBX. 'For me, a pared-back, tonal approach is best, allowing each area of the garden to be its own unique space within a larger overall considered design. Much like the way we work with cut flowers, I prefer my garden planting palette to focus on one tonal shade, such as an area of pink florals that seamlessly transitions into soft purples or whites.' If you're planning a cut flower garden, you'll have readymade bouquets from your choices, too.
'Think delphiniums and fragrant roses in summer, and dahlias and hydrangeas as we transition to autumn. The best thing about working with the seasons is that there's always something to look forward to – whether it's that first flower emerging after the last frost, or a kaleidoscope of spring/summer color when the sun starts shining.'
3. Purple and yellow
If you want to know how to plan a modern garden, think of a palette that immediately catches the eye. Landscape designer Jonathan Fargion (opens in new tab)'s favorite garden color scheme is purple and yellow, for which he suggests mixing the likes of Purple Salvia and Russian sage with Black-eyed susan, and Coreopsis moonbeam.
'For purple, you can consider Purple Salvia, Russian sage, Blazing star, Catmint, and Lavender, and for yellow, Black-eyed susan and Coreopsis moonbeam,' Jonathan says.
'For a sunny purple and yellow palette, consider Coreopsis 'Moonbeam', Rudbeckia fulgida, Nepeta 'Walker's Low', Salvia 'Caradonna', Yarrow 'Moonshine', Agastache 'Blue Fortune', Perovskia atriplicifolia, Solidago 'Fireworks', Verbena bonairiensis, Iris versicolor, Allium 'Globemaster,' adds Kat Aul Cervoni (opens in new tab), landscape designer and founder of Staghorn NYC and The Cultivation by Kat. 'And for a shady purple yellow scheme, think Carex 'Everillo', Astilbe 'Pumilla', Geranium 'Rozanne', Ligularia 'Bottle Rocket', Heuchera 'Plum Pudding' or 'Palace Purple', Digitalis lutea or Digitalis ambigua, Hydrangea 'Bloomstruck', Rhododendron PJM, Corydalis lutea, Hakonechloa 'All Gold' and Zizia aurea'
4. Red and purple
Consider palettes that are bold and have an instantly uplifting look. 'There are so many color combinations I like and quite honestly you can never go wrong,' says Jonathan. 'My favorite combo is red with purple, and to create that choose Common Poppy, Red Kniphofia, along with Russian sage.'
Red and purple sit next to each other on the color wheel which makes them an ideal pairing in color theory for an analagous color scheme. These tones have a regal look, and can look great in the garden or even in plant pots. If you wish, you could add a complementary color such as yellow or green to make the display even more eye-catching.
5. Purple and orange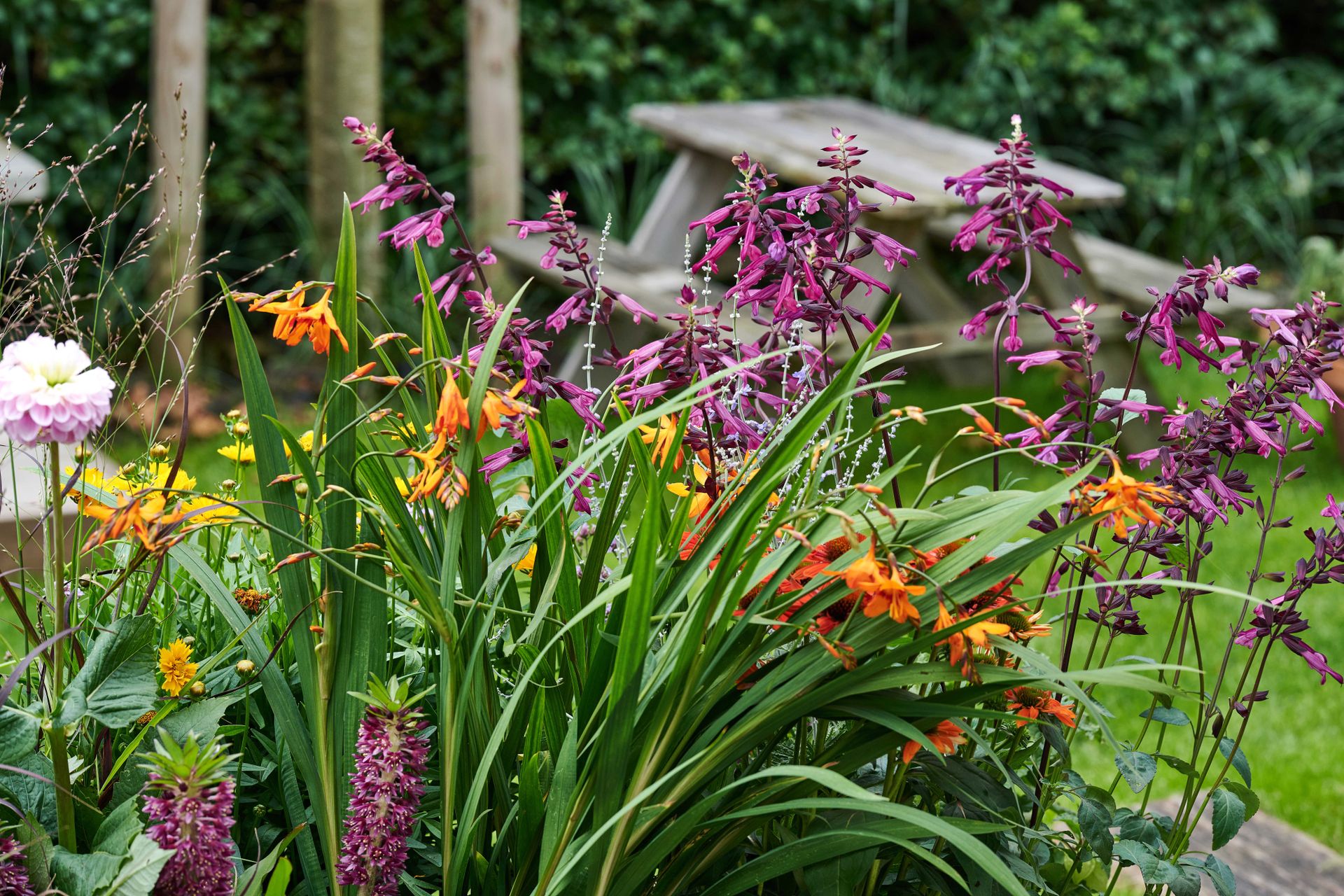 Another great flower bed idea is mixing purple with orange for a truly one-of-a-kind garden.
'For a bolder, punchier look I like pairing purples and oranges as they're nearly opposites on the color wheel and make each other appear more vivid,' says Kat. 'This is an especially energetic color combo and it's much easier to achieve with sunny gardens as the options for orange plantings in a shaded space are extremely limited (often to shade-tolerant annuals like impatiens).'
'For a sunny purple and orange palette, think of Geum 'Firestorm', Nepeta 'Walker's Low', Salvia 'Caradonna', Yarrow 'Terra Cotta', Crocosmia 'Orange Lucifer', Asclepias tuberosa, Agastache 'Blue Fortune', Perovskia atriplicifolia, Helenium 'Morheim Beauty', Verbena bonairiensis, Iris versicolor and Allium 'Globemaster.'
6. Orange and red
Orange and red is a great combination that immediately points to long, sunny, and bright days. This palette also represents warmth and beauty. Dahlias and Lilies in vibrant shades of red, orange, and yellow can be a great addition to your garden.
You'll find plants with orange and red leaves that can round out a color scheme, and the Croton is an easy-to-grow plant known for its variegated foliage covered in orange and red which is also an ideal pick for container gardening.
7. Green and white
For a minimalist backyard or garden, think of paring down on colors and experimenting with natural greens and textures.
'Some people prefer to keep their gardens more minimalist, using mostly shades of green with white flowers,' says Amber. 'Foliage is the minimalist gardener's best friend,' adds Whitney. 'I love houseplants and greenery inside my home, so the garden is no exception. I enjoy experimenting with a wide variety and palette of tones and textures – mainly rich greens with pops of delicate white flowers like tulips, delphiniums, and roses to give more interest to a simplistic scheme. Potted varieties work well in any kind of garden to draw the eye to areas of focus.'
How else can I add color through planting?
'Adding seasonal fruits to your vegetable garden is a great way to add color and vibrancy,' says Richa Kedia, gardening expert and founder of Simplyfy Plants (opens in new tab). 'There are so many options to choose from, depending on where you live and what fruits are in season. If you're looking for something easy to grow and add a pop of color, consider strawberries. They're a great option for both beginners and experienced gardeners, and they come in a range of colors, from bright red to deep maroon.'
'Another great option for adding color to your garden is with blueberries,' says Richa. 'These little berries are packed with antioxidants and are delicious in baked goods, smoothies, and more. They also come in a range of colors, from light blue to deep purple, so they're sure to add a pop of color to your garden. If you're looking for something more exotic, consider growing passion fruit. These tropical fruits have a unique flavor and are a beautiful addition to any garden. They come in various colors, from bright yellow to deep purple, and their vines can add a lovely touch of greenery to your space.'
Aditi Sharma Maheshwari is an architecture and design journalist with over 10 years of experience. She's worked at some of the leading media houses in India such as Elle Decor, Houzz and Architectural Digest (Condé Nast). Till recently, she was a freelance writer for publications such as Architectural Digest US, House Beautiful, Stir World, Beautiful Homes India among others. In her spare time, she volunteers at animal shelters and other rescue organizations.