'It makes you create a limit' – how this genius new organizer helped me declutter the most hoarded thing in my home
This new grocery bag dispenser is a must-have for anyone with a habit of hoarding shopping bags, professional organizers explain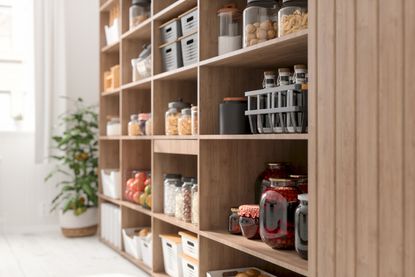 (Image credit: Getty)
If there's one common offender responsible for cluttering my kitchen cupboards, it's plastic grocery bags. There seems to be a never-ending number of them hiding inside larger bags, constantly multiplying like some bizarre magic trick gone wrong. Fortunately, I've finally found a genius solution to put an end to the over-spilling bag of bags, and it comes in the form of a nifty little dispenser.
The compact gadget - just released by organization luminaries, YouCopia - is a must-have for anyone who, like me, has a habit of hoarding bags. If you're looking for ways to organize your kitchen, I'd even go as far as saying this dispenser is the place to start. Once those unsightly bags are out of the way, all else follows. It keeps your cupboards looking tidy, helps to maximize space, and - believe it or not - the satisfaction even makes organizing your storage fun. Here's why I think you need on in your life.
Plastic grocery bags are a universal issue in more ways than one. Of course, they contribute to an enormous amount of plastic waste, but, within our four walls, they also contribute to an enormous amount of clutter. This plastic bag dispenser not only eradicates that problem by keeping my bags tidy and contained, but it also acts as a constant reminder of their very existence.
The thing is, my bag hoarding is well-meaning. Like so many of us, I made a pledge to be more sustainable by taking my own grocery bags to the store to curb my plastic consumption, but alas, I always seem to forget them. I'm not alone, either. 'I appreciate that folks like to reuse their grocery bags - we all know what a menace they are to the environment - but the downside is that I see tangled messes of bags in many of my client's homes,' says professional organizer, Melissa Gugni (opens in new tab).
Luckily, this game-changing device is so small and slim that it can sit on your entryway console table or slot under your under-sink cupboard for easy access whenever you make a quick trip to the shops. So how does it work? The kitchen organizer neatly stores up to 40 bags with a spring-loaded platform that dispenses bags from a slot at the top. A fill line and recycling logo that turns blue indicate when the unit is full and it might be time to recycle some.
It's been a total game-changer in my home, freeing up so much space in my cupboards while also helping restrict the number of bags I bring in, but don't just take it from me. According to professional organizer Ben Soreff (opens in new tab) of House to Home Organizing, sleek storage like this is essential for staying on top of clutter.
'One of the most important aspects of containers is that they create a limit on items,' he says. 'We don't keep things just for the sake of keeping them. With plastic bags, we want to use them again. With all this in mind the most important way to use bag storage is not just to stuff bags in them like you are feeding a monster, we want to get them back out again. In other words, these types of storage solutions are great if used properly.'
Melissa shares a similar sentiment. 'Keeping bags contained in a dispenser takes up less room and also designates a specific place that everyone knows where to put them and where to get one,' she says. 'I have a similar one that I keep next to my cat's litter box so that I always have a bag nearby. For my small space, I prefer this to a Litter Genie which works similarly but takes up more space and is several times the price.'
As well as their dispenser, YouCopia has also released a reusable bag organizer that acts as a waiting station for grocery, shopping, and gift bags. The four tall adjustable dividers snap firmly into the base to create three custom compartments that keep twenty or more bags upright and neatly organized. It's the ultimate kitchen storage idea, and the perfect addition to a pantry that's over-spilling with stuff.
As far as organizers go, these two certainly have our seal of approval. Put an end to the boundless bag problem and achieve the clutter-free kitchen cabinets of your dreams with these clever buys. They're the simple, space-saving solution to bag storage that you won't regret.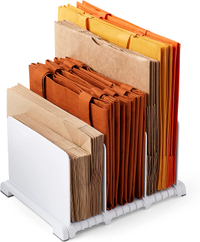 (opens in new tab)
Lilith Hudson is the Junior Writer on Livingetc, and an expert at decoding trends and reporting on them as they happen. Writing news articles for our digital platform, she's the go-to person for all the latest micro-trends, interior hacks, and color inspiration that you need in your home. She discovered a love for lifestyle journalism during her BA in English and Philosophy at the University of Nottingham where she spent more time writing for her student magazine than she did studying. Lilith now holds an MA in Magazine Journalism from City, University of London (a degree where she could combine both) and has previously worked at the Saturday Times Magazine, ES Magazine, DJ Mag and The Simple Things Magazine.