High gloss kitchen cabinets are making a major comeback – but this 'dated' style is being reimagined this time around
This style of kitchen may have fallen out of favor in recent times, but a new take shows how it can really elevate a kitchen in need of a refresh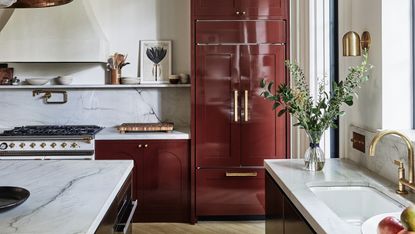 (Image credit: Jeff Holt. Design: Chused & Co)
Not too long ago, high gloss kitchens were the most popular style to choose for a kitchen renovation. They were used in modern kitchens with a space-age aesthetic – but it was a style that fell out of fashion for the flattest, most-matte cabinetry styles which are, by in large, still in fashion today.
However, we're now starting to see high gloss return to kitchen design, albeit in a different form. Today's trendiest high-gloss kitchens are super modern, monochromatic slab door styles (which are, ironically, the more dated way of using gloss). Instead, more characterful styles of doors are being painted in gloss, bringing an old-world charm to these designs.
If you are looking to give your kitchen a bit of a refresh, a high-gloss look might be your answer. This interior design trend for a high-gloss kitchen can look smart, and sophisticated, is perfect for a busy family-orientated space, and can be easily achieved to suit any style of home. I've spoken to the interior designers to find out why this look is coming back and how to recreate it in your own home.
What are high-gloss cabinets?
There are several ways to achieve your high-gloss look. Most high-gloss kitchen cabinet doors are made from thick layers of lacquer or paint on a wooden base.
'I painted the high gloss lacquer on the cabinets because I was tired of seeing the same old boring kitchens in dark colors,' says Jennifer Chused (opens in new tab) of Chused & Co. 'Because of the laborious process, the finish actually ends up being quite strong and easily wipeable. I used NYC Fine Finishes spray lacquer.'
Building up the shine this way is a cost-effective way to get the look, but might involve some upkeep further down the line. An acrylic material is another alternative, and PVC laminates are a cheaper way of getting the look for less.
For other surfaces like a kitchen island, like the above by Offhand Practice, paint a high-gloss clear varnish or lacquer paint over your island. Or if you are looking for a kitchen worktop material, then stainless steel, marble, or quartz are good options.
Why are high-gloss kitchens trending?
So why is the high-gloss look trending? High-gloss isn't new, but designers are enjoying the quality, sheen and polished look it brings to a kitchen.
It's undoubtedly a reaction to the prominence of matte cabinetry styles, with homeowners seeking out something 'new' to set their homes apart from their neighbors. This time around, gloss isn't being used in ultra modern ways, however. Instead, more characterful, even traditional kitchen styles are being giving this bold sheen, helping to avoid the clichés associated with gloss kitchens.
As homeowners look to their homes as decluttered, tranquil places to relax, we want our kitchens to feel refined, too. The high-gloss look feels fresh, and like the trend for stainless steel kitchens, it gives the air of a professional kitchen to your home. More and more, we want our kitchens to become spaces for entertaining, and this slick finish gives the feel of a restaurant/bar where guests sit up at the countertop and watch the chefs at work.
What are the benefits of high-gloss kitchens?
The main benefit of a high-gloss kitchen is visual. Switching up tired old kitchen cabinets for something slick and shiny can transform and elevate the kitchen with minimal effort.
'This is the main reason I use high-gloss finish,' explains designer of Lior Brosh (opens in new tab) of Brosh Architects. 'This is because it reflects natural light coming from the outside into the internal space, making it look brighter in cloudy grey days. Gloss cabinets also have an added bonus because they look high-end finish.'
As well as just bringing a slick, fresh look to your kitchen, the mirroring effect has other qualities. The sheen can really help a space feel bigger and more open, with light entering the kitchen and bouncing around the space. This means a high-gloss kitchen is a great look for a small kitchen.
These lacquered, high-gloss surfaces are also super easy to look after. With one flat surface, it's harder for dirt to stick and easier to clean. Where the likes of Shaker kitchens have grooves that dirt can get trapped in, high-shine cabinets are easy to clean with one wipe down.
When it comes to the pricing of your high-gloss kitchen, it depends on how you achieve the shine. If you are using a high-gloss paint, this can be a quick and easy way to update your kitchen and bring that dazzling shine for a cheap price point. Investing in new acrylic kitchen cabinets is a little more expensive, but longer lasting and won't need as much upkeep as your paint begins to chip away.
Finally, high-gloss kitchen doors are available in basically every shade you could want. From gleaming white for a minimalist kitchen, to primary color pops if you're looking to bring some drama to your kitchen, there are so many choices to pick from.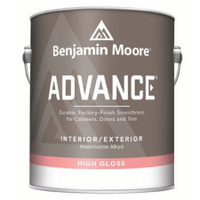 (opens in new tab)
Are there disadvantages?
It pays to be aware of the pitfalls of a high-gloss kitchen. Sometimes the reflection can be too strong in certain kitchens, so it's worth making sure your cabinets balance well with your lighting - avoid anything too harsh and go for diffused kitchen lighting instead.
While they are easy to look after and clean, the shine can also show up dirt too, which is a negative of the high-gloss kitchen. 'We typically avoid using polished surfaces in kitchens since they tend to highlight stains, fingerprints, and scratches,' says Emily Brown (opens in new tab) of Emily Lauren Interiors. 'However, on occasion, we may incorporate higher sheen levels and textures to create depth and interest.
How do you style a high-gloss kitchen?
When it comes to accessorizing your high-gloss kitchen, if you are going for high-gloss cabinets across all kitchen doors, a handleless look can give a slick feel. Alternatively, holes in the cabinet door can feel contemporary and fun.
I also like the slide look that this design from Studio Barbara (opens in new tab) has gone for, instead of doors on hinges, helping to make the space feel less cluttered.
If you're going all-white, a high-gloss kitchen can end up feeling a little stark. It's a good idea to mix your high-gloss cabinets with a different shade on the wall to stop it from looking too flat.
When it comes to light fixtures, if you're going for the modern look, accentuate the style with spotlights that will look contemporary and cool. Soften the glare and the shine by going for diffused lighting. As with every kitchen, it's important to layer your lighting and have different sources dotted throughout the room. When it comes to light sources in a kitchen, consider task-based downlights under cabinets, and make the space feel more homely with a kitchen table lamp.
Livingetc content editor and design expert
Oonagh is a content editor at Livingetc.com. Previously, she worked on a London property title, producing long-read interiors features, style pages and conducting interviews with a range of famous faces from the UK interiors scene, from Kit Kemp to Robert Kime. In doing so, she has developed a keen interest in London's historical architecture and the city's distinct tastemakers paving the way in the world of interiors.