How to create a gallery wall - tips, tricks and advice
Knowing how to create a gallery wall is allows you to add colour, interest and a ton of personality to your home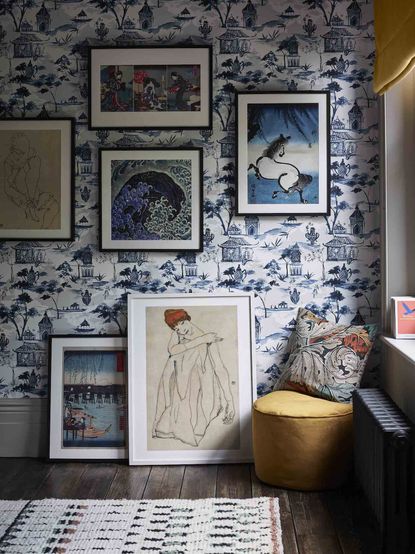 Wondering how to create a gallery wall - a display of multiple framed works – has become a national obsession. Gallery wall ideas are handy to have up your sleeve when decorating because they can be designed to fit into almost any space in the house, from clustered around the television screen to lining the wall up the stairs and even in the bathroom. This isn't just about putting your favourite pictures up next to each other; there's a knack to curating a gallery wall that works cohesively as one visual piece, with each piece contributing to but not overpowering the final aesthetic. From choosing the art and frames to how to hang it and where –there's a lot to consider before you start hammering.
1.Start a collection
The first thing to do in the gallery wall journey, is to start collecting wall-worthy items that you love. These could range from artworks and photos to postcards, notes plates, textiles; any objects that can be framed or hung.
'A gallery wall is much more interesting if it isn't only art prints in frames,' says Thomas Nissen, CEO & Founder of The Poster Club. 'It brings a sense of tactility to your wall, inviting the eye to explore different layers three-dimensionally.'
When you've amassed your pieces, look at them together and see if there's a common theme or colour you could build on – if not, that's fine too, the gallery wall will just have more of an eclectic feel.
'It's called a gallery wall because you are building your own exhibition in your home,' says Katherine Lemin, Partner and Wall Decor Buyer at John Lewis & Partners. 'It's a personal decision whether you want to have a theme for your gallery wall, but the joy of a gallery wall is that anything really goes, and it can be in any part of the house, from the living room to the stairs'.
'I think the best themed gallery walls are the ones where the theme is not immediately understood and you have to look for it' adds Charlotte Rey of Campbell Rey.
2. Pick the perfect spot for your gallery wall
When you've made your selection – which can be anything from three pieces to three hundred – decide where the gallery will hang.
'Gallery walls work in pretty much any space in the home, they add drama to hallways, a statement for downstairs loos and can draw the eye away from television sets in living rooms' says John Lewis & Partners' Katherine Lemin.
'Hang your gallery wall where you spend the most time, and where you will get the most joy from looking at the art' advises The Poster Club's Thomas Nissen. Make sure the chosen wall doesn't have electrical cables in it.
3. Pick your frames
Now it's time to consider framing, where there are two main options; to match or not to match. 'Matching frames offer a clean look, where the focus lies more on the art itself and creates more structure,' says Anna Sheridan, Stylist at Heal's, which has a good selection of frames here (opens in new tab).
'However, mixing different materials, textures and colours of frames builds more character and variety, and works especially well for larger layouts.' 'If you have a heavily patterned wallpaper, matching frames can ensure that your wall doesn't look too busy, while an eclectic mix of frames will bring a sense of fun the wall,' says John Lewis & Partners' Katherine Lemin.
4. Plan your gallery wall layout
Lay the collection on the floor, step back and experiment with different combinations and layouts, which can range from uniform grids to more irregular combinations. 'If you want a big salon with lots of works it's best to place the larger pieces at the edges with one in the middle to anchor the wall' advises Kate Bryan Head of Collections at Soho House & Co. 'Although there is something striking about pieces assembled in an organic slightly haphazard fashion, too'.
Take a photo of your layout. Transfer it onto the wall by making paper templates; trace and cut out the shape of each work onto paper, label it, mark the nail placement, then tape the templates to the wall. Make any adjustments, and use a level to ensure they're straight. Hammer through the nail mark, tear off the paper, and hang the frame (use a drill for any especially heavy pieces). Repeat until the wall is complete!
5. Grow your gallery wall
'The great thing about gallery walls is that they can continue to grow over time, so it's best to start with a layout that you love and leave room in case you want to add smaller pieces later' says Heal's' Anna Sheridan. 'Create a small version of your end goal, and adding to the wall as you find pieces you love,' adds The Poster Club's Thomas Nissen. 'Rearranging and swapping out certain pieces in your collection breathes new life your artworks.'
How to plan a gallery wall layout
Plan a galley wall layout by starting on the floor. 'Lay out all the artworks on the floor in front of the wall and play with their positioning until you're happy with the overall arrangement' advises Duncan Campbell of design duo Campbell Rey.
Where to put a gallery wall?
'A gallery wall can go anywhere but it's best if isn't in a thoroughfare where it can be easily knocked' says Emily Taylor, Director at Frame London. 'It's important to make sure you have enough space to avoid making the display look busy or make the room seem smaller' says Anna Sheridan, Stylist at Heal's. 'Staircases are great as a gallery wall will bring interest to the décor without adding unnecessary clutter.'
How to measure for a gallery wall
To measure a galley wall, there is no one rule to suit. 'There is no guide that works for every room when you're designing the frame layout, it's okay to judge the arrangement by eye and adjust it to suit your individual scheme. However, aim to have the centre of the gallery at eye level height' advises Heal's' Anna Sheridan.
How far apart should pictures be in a gallery wall?
Pictures in a gallery wall should be at least 50 millimetres apart. 'At the very least 50mm between pictures, though and it's often better to add more space where possible,' says Frame London's Emily Taylor. 'If you are hanging works very closely together, do so in a systematic way from the centre of the arrangement.' 'Aim to keep the distance between each piece the same' adds Heal's' Anna Sheridan.
How much does framing cost?
'A custom frame is likely to cost from £100 –ask a framer for a rough estimate and advise' says Frame London's Emily Taylor. 'See the framing as an investment into the piece – and make sure to look into glass that protects from sun damage' adds Charlotte Rey of Campbell Rey.
Tips for a stylish gallery wall
'It's all about inspiration, inspiration, inspiration,' says The Poster Club's Thomas Nissen; 'Use platforms like Instagram, Pinterest and YouTube for creative ideas.'If the room is already busy with bright accessories and furnishings, you may want to keep it simple,' says Heal's' Anna Sheridan. 'For more pared-back schemes, a gallery wall can be a quick way to add colour and personality into the room.'
Step by step how to hang a gallery wall
Step 1 Position your artworks on the floor, experiment with layouts, and when you're happy, take a photo of the final arrangement for reference.
Step 2 Cut out paper templates of your artwork, label each piece, and mark on the paper where the hanger is for the nail.
Step 3 Make sure the destination wall is clean and in good condition – this could be a good opportunity to touch up paint as needed.
Step 4 Using a low tack masking tape, fix the templates to the wall as per your layout. Make any final adjustments.
Step 5 Working from one side of the wall to the other, hammer – or drill, for heavy pieces – into the wall through the nail mark on the paper template.
Step 6 Tear away the paper, hang the artwork or object, and repeat until the wall is complete, ensuring each frame is hanging perfectly straight.
Amy Moorea Wong is a freelance interior design journalist with a decade of experience in contemporary print and digital editorial, previously News Editor at Livingetc. She writes on a broad range of modern design topics from news and interior zeitgeist to houses, architecture, travel and wider culture. She has a penchant for natural materials, surprising pops of colour and pattern and design with an eco edge.