How to hire and work with an interior designer
Want to know exactly how to hire and work with an interior designer? We've spoken to the experts and put together a handy guide below.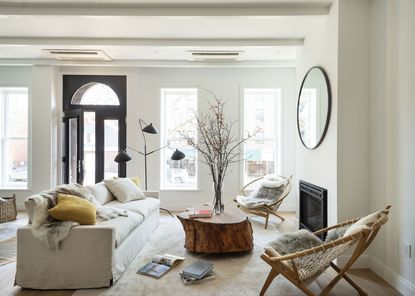 A fresh set of eyes on your home can be a vital ingredient when planning a new look and thinking about modern interior design. An interior designer who can instantly spot the potential and problems in any room and know how to channel that creative magic is like having a fairy godmother you never knew you needed! An interior designer will juggle the budget, time frame and do all the research, which frees you up for up all the fun stuff. Choosing the right interior designer for your project is key – you want to not only like their creative style but also be able to communicate with them well to ensure you both understand what it is you want to achieve.
How to find an interior designer
To find an interior designer, recommendations are always a good place to start or pop into the local interiors store in your area and see if they offer a design service. Start following people online whose interior aesthetic you like or try the British Institute of Interior Design (opens in new tab) 'Find A Interior Designer' service where you can search for a designer by postcode.
How to choose an interior designer
Ensure you and your designer can communicate well together before hiring them for your project. Start with a consultation. "Look at projects that the designer has completed', suggests Los Angeles Interior Designer, Michael Rasky (opens in new tab), 'You don't have to like everything they have done but the spirit of their design aesthetic should run through their work. I like to meet at the project and talk a bit before starting a formal relationship. You should have a connection of some sort.'
Where to start when working with an interior designer
Consider how much you want to spend and be clear to the designer what your budget is. Let them know how involved you want to be in the project – do you want to oversee every decision or leave most of it to the designer? Remember to be open to new ideas and suggestions throughout the process as this is what you are paying the interior designer for.
Good questions to ask at the initial consultation with an interior designer
Ask your interior designer about a favourite project they have worked on and the colour palette they prefer. What do they think works or doesn't in your space currently? Ask if you can speak to previous clients and get them to explain how the process will work after the initial meeting.
'How much the interior designer listens to you, asks you questions and talks about the planning of the project when describing the design process are likely to be indicators of a good relationship and ultimately a successful project. I really like to understand not just how they will be living in the space when the project is complete also but in the years ahead so it can be "future proofed,' says Geraldine Morley, Geraldine Morley Interior Design (opens in new tab).
Things to consider when hiring an interior designer
Ensure the interior designer you're considering is qualified and insured. Then trust in your decision that you have hired the best person and sit back and enjoy the process! 'Think practically what you are going to use the space for,' says Zoe Louise Harrison, Creative Director, Ginger & Green (opens in new tab). 'I have three children so my house has to be bullet proof – it needs to be liveable and practical to fit my lifestyle. I always assess a client's use of the space; things like how busy the house is or if they entertain a lot. All these things play into it as you start to look at materials.'
Timing is everything
How long the process will take will vary depending on the scale and budget of a project and if the interior design is running alongside structural work - will you need an architect? Different items of furniture might have longer lead times to order or if items are custom-made this can add to the date of completion. Remember too popular interior designers may be booked up well in advance.
How much do interior designers charge?
Different interior designers charge in different ways, some will charge an hourly rate whilst others want a fixed sum for the project or a percentage of the whole budget. Make sure you are clear of your designers pricing structure and you have a written formal contract in place.
Is it worth hiring an interior designer?
An interior designers role encapsulates more than just the 'look' of a room. They work with your space and layout and ensure a cohesive flow that works. They look at the function of the space and make sure a room is being used to its maximum potential. You are paying for their time, eye, experience and contacts. This insider network is often a gateway to great products, services and discounts. If you find all the choices overwhelming then an interior designer is invaluable in editing it down and presenting you with just a couple of options.
How much does it cost to hire an interior designer?
The cost of hiring an interior designer varies greatly as there are no standard fees within the industry. Generally you will be paying for the designers experience, skills and time they have spent working in the field. The scale of the project, the brief and location will also be taken into view. Some designers will charge for the initial consultation so do check.
How much does an interior designer do?
An interior designer will look at a space; layout, features, lighting, furniture and soft furnishings as well as project manage the whole job. An interior designer can envision the complete room and know exactly how to achieve it. "When you're living in space that's yours, it's hard to see where to make improvements or think about a home's potential. Having an interior designer always leads to new solutions. I would even hire a designer! Even interior designers need fresh eyes on their project, 'says Holly Waterfield, The Brooklyn Home Company (opens in new tab).
How do I hire an interior designer on a budget?
Interior designers can work with different budgets and help you get the most out of what you have to spend. Some interior designers might be happy to consult on your project for a couple of hours and then armed with these ideas you could tackle the job yourself.
What skills do you need to be an interior designer?
There are plenty of online interior design courses that can you help get you into this profession. Creative and artistic abilities are obvious assets alongside strong communication and organisational skills. "I think it's important to have a good eye but being good with people is a must as you are straddling clients and suppliers and have to act as mediator and psychiatrist at times! You need to be great at logistics as you will be project managing the whole job. Being creative is a just a tiny part of being an interior designer,' explains Nicky Mudie, Founder and Director, Violet & George Interior Design (opens in new tab).
How can I become an interior designer?
Depending on how far you want to take it you could begin with a short course to learn the fundamentals of interior design or you could study at diploma or degree level to become industry ready.