How should you layout a pantry? The 5 steps professional organizers take to the perfect set-up
We speak to the decluttering experts to find out the five steps to a perfectly decluttered pantry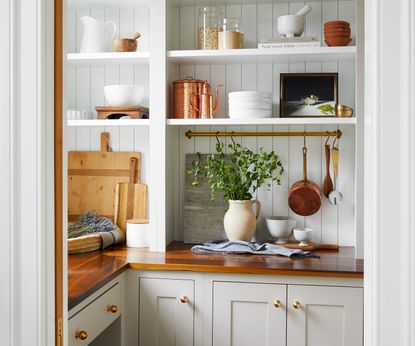 (Image credit: Weeth Home)
The perfect pantry is only as beautiful as it is organized, so getting the layout spot-on during the initial design stages is key. Whether you have a standalone cupboard pantry or are lucky enough to have a kitchen with a walk-in closet, the same rules apply when laying out the space. 'The inside of a pantry can be small but mighty in its ability to add more function and storage for an organized space,' says Ginger Curtis, president of Urbanology Designs.
The pillars of perfect pantry design are simple - focus on keeping the like-items together and zoning the space. 'A neat and tidy pantry promotes healthy home meals and saves you money,' says Unison Frances, professional organizer and founder of Go Goddess Organizing. 'When we can see what ingredients we have, we are inspired to use them, and we use them before they expire or rot which saves us money.' Read on for other top tips to laying out your pantry.
1. Go uniform
The number one rule for pantry planning is to go uniform with your pantry storage. The phrase 'tidy house, tidy mind,' rings true, so when your pantry has been neatly organized and laid out, the space will feel calmer as a consequence.
'Think about using baskets or boxes to contain items,' says Laura Price of professional home organization company, The Home Organisation. 'Not only does this stop them from straying and making a mess, but if you choose the right baskets, it can also make your pantry look amazing.
'We like to use clear pantry bins in kitchens so you can easily see what's inside and they can go in the dishwasher, and the sharp clean lines give a really contemporary look. Wooden or rattan baskets work really well if you have a more country or relaxed style and favor natural textures.'
Another surefire way to keep your pantry neat and tidy is by labeling your bins, baskets, and containers. 'Labels are an efficient organizing system that lets everyone know where to find and return items. So finding and putting away things becomes effortless, regardless of who uses the space,' says The Organized House founder and professional declutterer, Michelle Urban. 'You can create your own using a label marker, sticky notes, or painter's tape, print them out on your computer using a template, or purchase customized labels from Etsy.'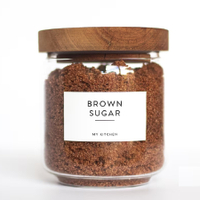 (opens in new tab)
Minimalist-style customized labels (opens in new tab)
I love the look of this simple style of label, perfect for your kitchen pantry. Keep your pantry organized and stylish with these sleek labels that come in a standard set of labels for pantry staples like flour, sugar, pasta, and more. Or you can order the custom set to personalize your kitchen.
2. Categorize food and create zones
When it comes to pantry organization, think about the designated zones - storing similar items together and giving them a set area to live so you always know where to find what when cooking or baking.
'Zones help maximize the functionality of an area because they keep everything you need in one designated spot,' says Michelle.
'As a result, finding things, knowing what you have, putting things away, and cleaning up becomes an easy task. Having a specified zone also helps minimize the chances of clutter piling up or misplacing items because when you are done using an item.'
When it comes to zoning, Unison recommends eight categories. 'My pantry zones are as follows - zone one is rice, beans, pulses, noodles and pasta. Zone two is cereals and oats. Zone three is baking ingredients. Zone four is canned goods. Zone five is oils, sauces and spices. Zone six is snacks while zone seven is sweet treats. Zone eight is overstock items.'
Laying out your pantry zones to make the highest-traffic ingredients easily accessible will help save you time, and money and will also help you keep it neat and tidy.
3. Consider the order you place things in your pantry
When considering the layout of your pantry, the best way to keep it looking good is to make your kitchen organization as intuitive as possible. 'Heavy items should be lower down so they're not difficult to put away,' says 'The items you use on a daily basis should be front and center so you can grab them without effort,' says Laura.
As well as the weight of the objects in your pantry, think about the practicality of where you store food. 'For example, it's best to store food higher than your appliances and crockery to avoid attracting mice,' says interior designer Naomi Astley Clarke (opens in new tab).
4. Make full use of your pantry's height
Make sure to use all your kitchen's space, especially height. 'Even at very high level, you can have thin wrap-around shelf which are great ways to maximize storage space, especially in smaller kitchens,' says Naomi.
As well as space for shelving, walls, and doors are a blank canvas and perfect for maximizing your space too. 'Wall shelves and pantry door hooks are great examples of vertical storage, but many other creative solutions exist. Like, an over-the-door shoe organizer,' recommends Michelle. This is perfect for storing spice packets, dish towels, pot holders, or small kitchen utensils. 'I like using clear shoe organizers because you can quickly see what you have and locate precisely what you need without searching all the compartments.'
Using that vertical space might seem awkward, but you can always combat the hard-to-reach issue in a walk-in pantry with the help of a ladder. I quite like the look it brings to your pantry, adding a touch of the country cottage aesthetic that is so commonly associated with pantries.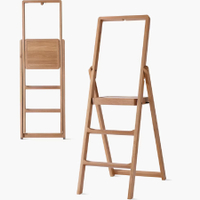 (opens in new tab)
Step ladder, Design Within Reach (opens in new tab)
Get to those hard-to-reach areas with this aesthetic step ladder designed by Karl Malmvall for Design House Stockholm. The ladder is made from lacquered beech or natural oak and folds to just two inches thick for easy storage. It also includes a small hook for hanging.
5. Use cabinet organizers
Pantries tend to be overloaded spaces crowded with spice jars and tins. When searching for that specific spice, it can often end up with you having to remove all the jars from the pantry shelving until you find the right one, then having to stock them back in the cupboard. Remove the hassle and invest in a lazy Susan that helps you rotate the jars with ease. 'Lazy Susans are great for sauces or spreads or just about anything else you want to have extra accessible,' says professional organizer Britnee Tanner (opens in new tab).
Livingetc content editor and design expert
Oonagh is a content editor at Livingetc.com. Previously, she worked on a London property title, producing long-read interiors features, style pages and conducting interviews with a range of famous faces from the UK interiors scene, from Kit Kemp to Robert Kime. In doing so, she has developed a keen interest in London's historical architecture and the city's distinct tastemakers paving the way in the world of interiors.