IKEA has launched a new interior design service – and it'll cost you less than $100 per room
If you're looking for some interior expertise on a budget, look no further than this service from our favorite Swedish brand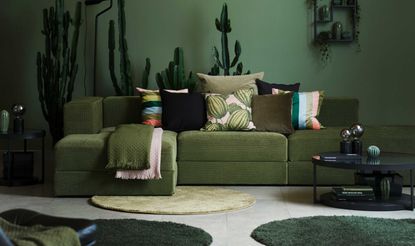 (Image credit: IKEA)
Maybe once a reserve of the privileged, interior designers are becoming more and more accessible to people of every walk of life in 2023. However, while services that let you book one on one time with a top designer may still set your decorating budget back, a new service from IKEA promises a wallet-friendly way to consult a designer.
It can feel impossible to start designing a space, especially if you haven't decorated a home before or are starting completely from scratch, but this service from IKEA is the perfect way to dip your toe into the world of interior design. You can get expert advice on color schemes, lighting and styling to start your interior design journey.
Buying furniture can be overwhelming, particularly if you are faced with a completely blank canvas. It can be difficult to know where to begin. Dealing with a smaller space may lead you to questions like: how do I maximize my space? Or, how can I give the illusion of a larger room? That's where an interior designer can come in.
However, hiring an interior designer has traditionally been expensive and out of reach for many people, but IKEA has made it possible to tap into the expertise of their designers at an affordable rate. With the furniture recommendations coming from IKEA, too, you're promised a interior designed space on a budget.
Here's how it work.
What does IKEA's interior design service entail?
You may have an idea of your personal style already but you're unsure how to execute it, or you might feel completely lost with interiors and feel you need more guidance. Either way, in two 45-minute virtual sessions, an IKEA (opens in new tab) expert can talk to you about color schemes, accessories and more practical things like storage and organization solutions. Depending on where you are at with your transformation the expert advisors can tailor the service to fit you.
So how does it work? It all starts with a questionnaire that aims to hone in on the details of your project and learn more about your style. It will focus on the dimensions and details of your project as well as inspiration and style. It is important not to rush this step, the more information you can give the better. Based on the information you give, your design expert will build an idea of the style and create a moodboard to set out the vision.
In your first meeting, you can discuss the moodboard and give any thoughts you have, working with your designer to create your dream home. A successful partnership with an interior designer requires honesty and openness, tell them straight up what you're into and what doesn't float your boat. But be open to new ideas, you have called on their expertise for a reason. Every meeting will be a thorough discussion and collaboration, where you have the opportunity to pick their brain on all things interiors.
Once you approve everything you will receive a final design package, including your moodboard, 3D floor plan, details drawing and plans, and your personalized product selection. Everything you could need to get going. Then it's onto the fun part. Shopping! With the easy-to-follow shopping guide, you have everything at your fingertips. IKEA already has a similar offering for kitchen designs, but this new launch means you can now apply to other areas of your home, too.
Okay, so it's not exactly the same as getting a one-on-one session with Kelly Wearstler to re-design your home, but if you need a little bit of help with making your layout work, or how to pack more storage in, this could be the best money you ever spend.
How much does it cost?
IKEA's interior design service is priced at just $99 per room for residential clients, which includes working on a moodboard, mapping out your space using IKEA Kreative and helping you to select furnishings, lighting, decor and more.
Want to be your own interior designer? Start here
Best for the basics
(opens in new tab)
The Interior Design Handbook, Frida Ramstedt
Best for color inspo
(opens in new tab)
Living with Color, Rebecca Attwood
Best for styling tips
(opens in new tab)
Design the Home You Love, Lee Mayer and Emily Motayed
Amy is currently studying for an MA in Magazine Journalism at City, University of London, with experience writing for Women's lifestyle publications across arts, culture, and beauty. She has a particular love for the minimalist aesthetic mixed with mid-century furniture, especially combining unique vintage finds with more modern pieces. Her previous work in luxury jewellery has given her a keen eye for beautiful things and clever design, that plays into her love of interior design. As a result, Amy will often be heard justifying homeware purchases as 'an investment', wise words to live by.