What fruit trees can you grow indoors? 9 tasty crops that will thrive inside if you follow these experts' advice
It's possible to grow delicious edible plants inside. Experts tell us the best indoor fruit trees to try, and explain the way to yield healthy crops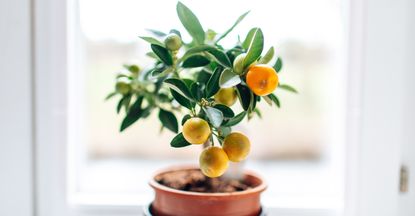 (Image credit: Getty / Denise Hoffmesiter)
Plants generally need pollinators to produce fruit, so it may come as a surprise to discover that there are a number of fruit trees you can grow indoors.
Of course growing outside in the soil under the sun is best, but if you don't have a backyard or balcony, you can still yield a gratifying fruit crop while indoor gardening. Success may depend on where you live and the fruit you choose. Those inhabiting the sunnier spots are likely to do better than growers in colder climes. However, with a little effort and ambition, it's possible to harvest fruit in your home, wherever you live.
So which plants can produce fruit indoors without bees, butterflies and other pollinating bugs?
9 fruit trees you can grow indoors
There are other reasons you should consider indoor fruit trees other than the desire to 'grow your own'.
'Growing fruit trees indoors has some nice perks over traditional house plants,' says Nate Littlewood, co-founder of Get Urban Leaf. 'Their flowers have a delightful aroma and the fruits add a splash of color.'
But which fruit trees are the best to grow indoors?
1. Meyer lemons
How much more satisfying would it be to pick a lemon from your own indoor tree to squeeze into your G&T or soda than one from a supermarket? This needn't be a distant dream either. There are lemon varieties that can be grown successfully indoors.
One of those varieties is the Meyer lemon. Slightly sweeter than standard varieties, Meyer lemons can take up to 6 months to fully ripen. Expect an indoor tree to grow to around 4-6' and flower twice a year. With or without a crop, this ornamental tree is an attractive addition to an indoor garden.
'Meyer lemons are a dwarf variety and do well indoors with good care,' says California-based vegetable garden designer, Dana Hopper (opens in new tab) of Home Grown Veggie. 'Dwarfs are created by grafting a rootstock onto the original citrus plant that prevent it from growing too large.
'Dwarf Meyer Lemon trees are great for pots and containers because they are prolific from a young age, and can produce almost all year round,' says Dr. Majid Jahanbin (opens in new tab), agricultural engineer and founder, Paradise Nurseries in Los Angeles.
2. Dwarf limes
Love Key lime pie? Think of the joy from eating dessert made with produce grown by your own hand at home.
In fact, it's not just the sweeter Key limes that can grow well indoors. Dwarf Bearss (Persian) and Kaffir limes can be grown too. The latter are more sour and suit savoury dishes such as stir fries and Thai green curries. So that's dinner and dessert sorted.
'For the soonest possible harvest, you'll want to buy a two or three year old dwarf lime tree,' says Dana Hopper of Home Grown Veggie. 'With any citrus, avoid buying trees that are already flowering and fruiting.
'Transplant the tree first and get it settled in a sunny spot. It'll need 8-12 hours of sunlight per day, so add a grow light in the winter in your home, and let its roots get established before fruiting.'
'Not all citrus plants are the same,' adds Nate Littlewood (opens in new tab), co-founder, Get Urban Leaf. 'Some of those that do best in a more modest light include Thai Limes, Finger Limes, and Thornless Key Limes.'
3. Calamondin oranges
Packed with vitamin C, dietary fibre and flavanoids oranges are another health-boosting citrus fruit that can be grown indoors. Although, not your regular orange, calamondin are small, a cross between a kumquat and a tangerine with a tangy taste.
Citrus trees are generally successful indoors, because they are self-pollinating, unlike other types of fruit, such as apples or plums, which require cross-pollination from bees and other bugs.
'Fruit trees like their soil more on the acidic side than vegetables and herbs,' says Dana Hopper. 'So you'll need the best potting mix for containers specific to fruit trees. It's the same with fertilizer. They're both common at the local nursery.
'Fertilize according to the instructions, usually once every 3 weeks during the warmer months and only occasionally during the winter. The basis of a healthy plant is its root system so having that patience in the beginning pays off with a healthier plant and bigger harvests to come.'
'Once the tree does fruit, make sure it doesn't have too much fruit weight on a small branch. If that's the case, remove a few of the immature oranges and leave some to grow and ripen.'
4. Kumquats
Another citrus fruit that suits an edible indoor garden is the Kumquat. These pretty ornamental trees are evergreen and flower multiple times a year. So they are an attractive plant to have in your home whether they are flowering, fruiting or green.
Like other citrus trees, kumquat trees like the sun and enough water to keep its soil moist but not soggy. Slow-growing and generally small, kumquat trees can reach 6-8' indoors and can live several decades.
The small fruits they produce don't need to be peeled and some types are sweeter than others, such as the Meiwa. Nagami kumquats (which are more oval) have a more tart or bitter taste but both can be eaten fresh or used for marmalade.
If you find the flavour too sour to eat whole, kumquats can be sliced as a substitute for lime in cocktails. Another bonus is that the leaves can be used to make tea.
5. Avocados
Although avocados can technically be grown indoors, this tree takes dedication and patience - they're not your low maintenance plant for indoor gardening. It's fun to experiment and plant an avocado pit from seed, but you'll be lucky if you ever actually see fruit. So if you love guacamole or avo on toast there are other options.
'We recommend starting with live plants for a few reasons,' says Nate at Get Urban Leaf. 'Firstly, dwarf (indoor) varieties can't actually be grown from seed. Second, it can take years to bear a crop so if you're after fruit, it's best to start with the most mature tree you can find. Haas avocado bear fruit after 2-3 years.'
'However, indoor fruit trees need lots of sun and space, and the total amount of fruit you get is pretty modest, so if your goal is food, you're better off growing herbs, lettuce, or vegetables.'
6. Cherry tomatoes
Although we tend to think of tomato as salad, it is botanically classified as a fruit, so we're including it here rather than in an indoor vegetable garden. It's also another edible plant that can be cultivated indoors, if you're prepared to give it the care and attention it needs.
'Some gardeners have insisted to me that you simply can't grow tomatoes (viable, tasty ones, anyway) indoors because much of what they need is outdoors - for example: bees,' says Elizabeth Millard (opens in new tab), author of the Kitchen Gardening Handbook.
'But you can game the pollination process if you're truly dedicated to indoor tomatoes. I also stick with what I've found the most successful: cherry tomatoes and small varieties, such as Tommy Toe, Pink Ping Pong and Yellow Pear.
'Tomatoes do well with plenty of space for root growth, so opt for large containers and pots. These bigger containers also give you an opportunity to do more with staking and trellising, which is important for healthy plant growth.
'I've seen some successful grow systems that use 5-gallon buckets, which are handy because they can be easily moved. Any smaller than that size and you'll likely cramp the roots as they're trying to establish. And don't forget the importance of adequate drainage.'
7. Figs
Figs are another fruit that can be grown indoors. Again, it takes a little dedication, as they are more temperature trees than subtropical citrus. But it is possible for them to fruit indoors and they are a wonderful addition to an indoor garden.
'Fig trees are a little bit trickier to grow indoors than citrus because they're native to more seasonal climates and use the winter to get set up for the next growing season,' explains Nate at Get Urban Leaf.
'This is often overlooked, but their ability to set fruit is hurt without a "Winter Chill." They need temperatures that are pretty low (32 to 45 F), so you'll need to put these plants outside when it gets cold.
'Check the variety is suitable for your USDA plant Hardiness zone before you buy. We pick plants that only need a short chill period and put them on our fire escape for a few weeks in the fall.'
8. Peaches
Fancy picking sweet, juicy peaches from your own tree - even without a garden? It can be done. As with other types of fruit that can be grown indoors, choose a dwarf variety, such as Redhaven or Reliance, which are self-pollinating. This is especially important if you have only room for one peach tree.
Although called 'dwarf', these peach trees can still grow to 6-10 foot, so choose a spot where your tree has ample room to grow. Also, be mindful of where you live. Similar to fig trees, peaches need 'winter chill'. This means your tree will need to sit outside for a few weeks over winter or fall, so check it's compatible with your plant hardiness zone (opens in new tab).
'Fruit trees grown indoors will need lots of light,' says Nate at Get Urban Leaf. 'Fruit trees have the highest light requirements of any edible plant you can grow and in nature they have full exposure to the sky.'
A sunny windowsill for an indoor garden may be your best bet, but still might not be enough. 'Unless you have an exceptionally bright southern window or sunroom, as winter sets in you will almost certainly benefit from a grow light,' continues Nate.
'In fact, we consider the grow light an essential tool of indoor gardening. It's easy to give fruit plants enough light to be healthy with grow lights.'
9. Dwarf bananas
Banana trees are popular houseplants in lush indoor gardens, loved for their beauty and majestic green leaves. However, there are dwarf varieties that will provide fruit indoors too.
According to Michigan Bulb Co, a Dwarf Cavendish banana tree will bear edible fruit in three-five years. Although best in a greenhouse, you could have success in a sun room or glass-roofed extension. Plant your tree in a large tub, as it can grow up to four foot tall. It will appreciate bright, indirect light and you may need a humidifier.
'Make sure to keep the soil moist at all times for a mini Cavendish banana tree, but do not allow it to stand in water,' says Michigan Bulb (opens in new tab)'s plant expert. 'Dwarf banana trees require moist air and temperatures from 75-80 degrees F in the day, and night temperature from 65-70 degrees F. Their leaves will scorch if left in a draught or exposed to dry air.'
Jacky Parker is a London-based freelance journalist and content creator, specialising in interiors, travel and food. From buying guides and real home case studies to shopping and news pages, she produces a wide range of features for national magazines and SEO content for websites
A long-time contributor to Livingetc, as a member of the team, she regularly reports on the latest trends, speaking to experts and discovering the latest tips. Jacky has also written for other publications such as Homes and Gardens, Ideal Home, Red, Grand Designs, Sunday Times Style and AD, Country Homes and Interiors and ELLE Decoration.