Is Apple TV+ worth it? The streaming platform has been getting some buzz, but is it worth hitting subscribe?
We look at what's offered by Apple TV+ compared to other streaming platforms to see if it deserves the subscription fee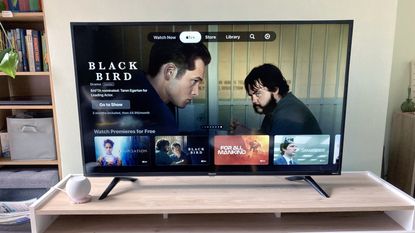 (Image credit: Future)
It's hard to remember in our time of a dozen streaming services vying for our attention that, back in 2019, Apple's announcement that it was going to jump into the world of original programming with its own streaming service was met with huge excitement. A slew of star-studded dramas and comedies followed, but now Apple TV+ is just one of many services asking us to fork over our hard-earned cash.
But with content earning awards, winning over critics, and generally getting more buzz, it may be time to revisit what the service has to offer. After comparing Apple TV - the company's streaming device - to the other big hitters, we were curious how Apple TV+ could measure up.
Read on to see how the service compares on things like cost, the quality of content, compatibility with smart TVs, and additional streaming options.
How much is Apple TV+?
Apple TV+ will set you back $4.99 per month, which gets you access to content via your TV, iPhone, iPad, Mac, or streaming device. You can also pay for a year upfront, costing $49.99 as a one-off payment and saving you close to $10 over 12 months.
Comparing this to other services, Netflix currently costs $9.99/month for its basic ad-free package, while Prime Video is $8.99/month for streaming only. Hulu is $7.99/month, and HBO Max is $15.99/month with no ads.
Does Apple TV+ allow password sharing?
Apple TV+ has a feature called Family Sharing, which allows you to add up to six family members, all of whom will get an individual profile on the same account. These profiles will also be available for Apple Music and Apple Arcade, which puts it above less integrated services from other streaming providers.
Unlike Netflix's latest password-sharing crackdown, Apple hasn't yet made any noises about stopping users from multiple locations from sharing one account. The individual profiles mean you can also stop other members' tastes from impacting your own recommendations.
How can you watch Apple TV+?
Apple TV+ is widely available on various TV brands and streaming devices, though there are some exceptions. Most TVs from Samsung, LG, and Sony will support the app, in addition to Roku, Fire TV, and Google TV. You can also access the app through gaming consoles and, of course, Apple TV.
The app can also be downloaded on Apple mobile devices, and content is not limited to that available through an Apple TV+ subscription. iTunes purchases and additional channels can also be viewed on the same interface, and you will be served personalized recommendations based on your history.
What channels are available through Apple TV+?
Similar to Amazon Prime's add-on channels for subscribers, Apple TV+ gives you the option to subscribe to additional streaming services in one place. These range from must-haves to niche, obscure services, but the full list is certainly worth a browse if you have specific tastes not being catered for by the big streaming services.
There are too many to list here, but channels include AMC+ ($8.99pm), Britbox ($6.99pm), Paramount+ ($9.99pm), Showtime ($10.99pm), Shudder ($5.99pm), and Starz ($8.99pm). Once subscribed, the additional cost will be added to your monthly bill, keeping things tidy for your budget.
Is the content on Apple TV+ any good?
Content on Apple TV+ is slightly more limited than what you might find on Netflix or Prime Video, but much of that is due to the streaming service's young age. It can also be argued that Apple has so far been more discerning about the films and TV shows that it purchases and commissions, leading to better overall quality.
This is debatable, but it's worth saying that Apple was behind Coda - the first streaming-only movie to win best picture at the Oscars - beating Netflix to the punch. Outside of original movies, you'll also find buzz-worthy shows like Ted Lasso and The Morning Show, as well as genre gems like Servant or Severance.
If you don't have the funds to subscribe to absolutely every streaming service (and who does?!), we always recommend doing your research on which one offers the most content fitting your tastes. That said, Apple TV+ certainly holds its own against the other streaming giants, even if it doesn't have as much older, binge-able series.
Does Apple TV+ have a free trial?
You may have noticed that Apple is quite keen for you to try out its streaming platform, and so a free trial for Apple TV+ has traditionally come with pretty much any tech purchase from the company. Outside of these deals, the standard free trial for the service is 7 days, after which you will be charged $4.99/month.
Smart Homes Ecommerce Editor
Caroline is the smart home ecommerce editor for Livingetc, covering everything tech for the home, from smart speakers to air purifiers and everything in between. She is passionate about the role that technology and smart devices can play in daily life, enhancing the home without sacrificing personal style and carefully chosen interiors. In her spare time, she can be found tinkering with bulbs, soundbars, and video doorbells in an effort to automate every part of her small home. Previously, she lent her expertise to the likes of Expert Reviews, IT Pro, Coach, The Week, and more.