Netflix vs Apple TV+: two content goliaths, but which one wins out?
We compare Netflix and Apple TV+ to see which one would work best for your household's entertainment needs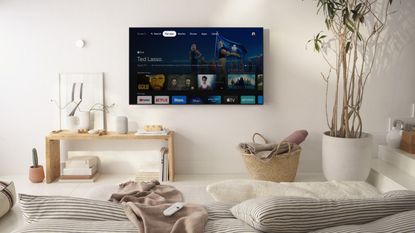 (Image credit: Google)
If you're looking for something to watch in the evening, then chances are that Netflix is one of the first places you're going to look. But, with the once ubiquitous streaming getting a few bad headlines lately, as well as its need to battle with the numerous other streaming platforms that have emerged in its wake, many TV lovers are wondering whether they might want to switch.
If you can't afford to subscribe to every single platform (which is most of us), then it may come down to a choice between the big hitters. One of those is Apple TV+, which has been rolling along since 2019 but accruing users, awards, and positive buzz all the while.
So which one is best? In this article, we will take a look at both Netflix and Apple TV+'s content libraries, streaming interfaces, pricing, and availability to see which one would suit you and your household best.
Netflix vs Apple TV+: Content selection
Due to Netflix's advancing age, the streaming platform has a vast library of content that ranges between new series, older sitcoms, and dramas from the days of broadcast television and a great selection of foreign language titles. While some of these, like Squid Game, have broken through, there's a lot more to discover.
All in all, the platform has more than 15,000 titles across pretty much every genre and subgenre known to man. There's a reason that scrolling endlessly instead of picking something to watch has become the bugbear of many a streamer.
Apple TV+, meanwhile, has a reputation for being more discerning about what it puts out, choosing to be a destination for 'quality' rather than a competitor with Netflix in terms of choice. It's much more original content heavy as a result, with shows like Ted Lasso and The Morning Show getting a lot of attention. Come for the optimistic soccer coach and stay for the whacky chills of M. Night Shyamalan's Servant, Apple hopes.
Netflix vs Apple TV+: Original content
The selection of original content on both Netflix and Apple TV+ tends to follow the trend of its overall library in that, while Netflix chooses to bombard its users with choice and variety, Apple TV+ has a slower trickle of original shows and movies. It's really up to the individual which approach is more palatable.
Netflix's original shows and movies have received both audience and critical acclaim, including titles like Stranger Things, The Crown, and Orange is the New Black (to truly name just a few), but the streamer has been criticized for not promoting a lot of its content, choosing instead to flood its platform and hopes that audience - with the help of the algorithm - will find it themselves.
Because Apple TV+ has fewer shows and movies coming out each week, it's easier to find them straight away. The downside to this, of course, is that users can see straight away whether the selection of shows and movies is for them, rather than getting a general sense that there's something to please everyone.
Nevertheless, Apple TV+ has a lot of buzz-worthy shows and big stars for series like Ted Lasso, The Morning Show, and Dickinson, and has actually managed to accrue more prestigious awards than Netflix in its shorter time online.
Netflix vs Apple TV+: Navigation
A good streaming interface can make or break a streaming platform, as it's no good having 1,000s of titles if your audience is too frustrated to stick around and find them. Netflix knows this, and its navigation puts user-friendliness front and center. The advanced algorithm picks genres, shows, and movies for each individual user and even changes the image card to what it thinks will most entice you.
Apple TV+'s interface is also nice to use but has more to accomplish. Alongside the original titles on the platform, Apple TV is also a way to access content from various sources, including iTunes rentals and purchases, and so it arguably houses more titles than Netflix needs to. Nevertheless, it's sleek and easy to find things to watch.
Netflix vs Apple TV+: Availability
Netflix is available pretty much everywhere, from the best streaming devices and TVs to your phone and tablet. Apple TV+, however, is more limited because its affiliation with the iPhone, and so Android users are out of luck. The app has crept onto most of the major TVs and streaming devices by now, though, so you'll be able to watch on the big screen without issues.
Netflix vs Apple TV+: Our verdict
There's no doubt that Netflix is still very much at the top of its game in the streaming world, but many people are sticking with the platform for ease, if nothing else. For those who want as much choice as possible, as well as the ability to find hidden gems on a lazy Sunday afternoon, Netflix is perfect. There's always something new, and with the advent of its new, cheaper ad-supported package, you can also save a little cash.
However, Apple TV+ is no slouch, and there's something to be said for a platform that's actively growing rather than resting on its laurels. Apple has fewer titles to date (and is unlikely to catch up in terms of numbers), but it's a solid choice for those who want a more curated experience. Also, iPhone users will be rewarded with a more seamless integration across devices.
Smart Homes Ecommerce Editor
Caroline is the smart home ecommerce editor for Livingetc, covering everything tech for the home, from smart speakers to air purifiers and everything in between. She is passionate about the role that technology and smart devices can play in daily life, enhancing the home without sacrificing personal style and carefully chosen interiors. In her spare time, she can be found tinkering with bulbs, soundbars, and video doorbells in an effort to automate every part of her small home. Previously, she lent her expertise to the likes of Expert Reviews, IT Pro, Coach, The Week, and more.