Best outdoor mirrors – stylish designs that can make your backyard look bigger and your landscaping more dynamic
The best outdoor mirrors work the same magic on your backyard as they do indoors – making a small space look bigger and creating emphasis on your favorite design features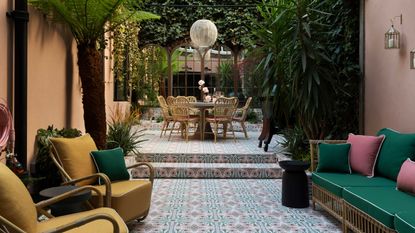 (Image credit: Richard Gooding. Design: Rebecca James)
If you're faced with a small backyard, many of the same tricks we used inside our homes to make tiny rooms feel bigger will have the same impact outside. For this small, boxed-in courtyard garden designed by interior designer Rebecca James, that was the key to making the design feel open, and un-claustrophobic.
But while the uplifting wall color, statement floor and interesting focal points might first catch your eye, it's something at the rear of the space that creates the real optical illusion of this backyard having more space than it actually does.
It's that old space-enhancing trick, the mirror, that's the real gamechanger for this design. And it's inspired us to take a deep dive into the world of outdoor mirrors, as we look at what you need to know about them, and find the best to buy right now.
Why invest in an outdoor mirror?
If you ask anyone for a trick to make a room feel bigger, we'd guess they'd suggest a mirror. It's a well-known idea, so it's not surprising that the have the same effect on our outside spaces. 'Apart from the aesthetic benefits, the mirrors in this design served two important purposes,' interior designer Rebecca James (opens in new tab) tells us. 'Firstly, it reflected light into the garden and, secondly, made the space appear larger than it really was.'
However, using one does more than just make a small backyard look bigger, interior and landscape designer Jane Stark (opens in new tab) explains. 'By including a mirror in the backyard, it reflects and amplifies the size of a space, exaggerates specific details, and can be used as a focal point or to deliberately disorient,' Jane tells us. 'For example, we have used mirrors on three sides of a courtyard to create the Droste effect [where an image repeats in itself], to hence enlarge the space.'
Best outdoor mirrors
Can you put a regular mirror in my backyard?
'When left outdoors, mirrors generally weather and stain over time, however [you can] install specially made outdoor mirrors which had been made with protective lacquered frames,' explains Rebecca James.
Weather will affect your mirror in a few ways. 'Moisture will cause deterioration of the edge of the mirror, however, we like this effect,' explains Jane Stark.
'The issue is not so much the mirrors, but the frames that change appearance when exposed to outdoor elements,' agrees Rebecca. Special frames, or frame treated with protective sealants will last longer, and materials like resin won't rust or degrade under water, making these types of frame superior, though they can yellow when exposed to the sun.
If in doubt, store your mirror away during the winter months, just like your outdoor furniture.
Where should I position an outdoor mirror?
By in large, outdoor mirrors are decorative only (it's even unlikely you're going to need to see yourself in it), so it's an aesthetic decision on where they should go. However, they're best used as focal points for walls, or to highlight or emphasize something noteworthy in your space. A well-placed mirror can create the effect of doubling your planting in some instances, making a small backyard feel extra lush.
'In this design, the mirror adjoins the owner of the garden's study,' Jane explains. 'The original objective was to give him a continuous and expansive view of the garden via the mirror, which captures every last trace of the space.'
From a practical perspective, choosing your backyard's sunniest spot might not be a good idea. 'It's always advisable to not place the mirrors in direct sunlight as it could sometimes cause cracks to appear,' Rebecca warns.
Hugh is the Deputy Editor of Livingetc.com. From working on a number of home, design and property publications and websites, including Grand Designs, ICON and specialist kitchen and bathroom magazines, Hugh has developed a passion for modern architecture, impactful interiors and green homes. Whether moonlighting as an interior decorator for private clients or renovating the Victorian terrace in Essex where he lives (DIYing as much of the work as possible), you'll find that Hugh has an overarching fondness for luxurious minimalism, abstract shapes and all things beige. He's just finished a kitchen and garden renovation, and has eyes set on a bathroom makeover for 2022.