Privacy fence ideas: 12 stylish ways to up the privacy in your garden
Because good fences make good neighbors, right? Be inspired by our privacy fence ideas and find plenty of ways to make even an urban garden feel more secluded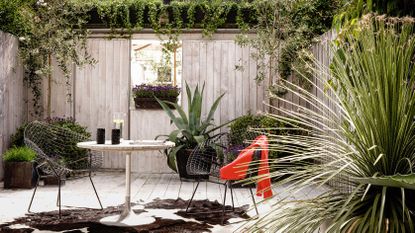 (Image credit: Paul Raeside)
Fence privacy ideas may not be top of your agenda when it comes to planning and designing your dream modern garden but, you can have all the stylish garden furniture and dreamy pergola, but lay down with a book, and hello, there's your neighbor trimming their hedge. Hardly the most relaxing experience. So to avoid, plan your fences in early.
And garden fences needn't be purely practical either, as all these gorgeous ideas prove they can really add something to the space too. From sleek, modern slatted designs to rustic willow structures there is a fence out there to suit all styles and all size of garden too.
1. Opt for a textured design with different sized panels
For a fence that really blends into the garden, pick a design that has natural shape to it. You don't often find neat lines and equal measurements in nature, so for a fence that feels part of the garden keep your panels different sizes and overlap them to add texture. You can see in this fence, lengths of bark have been added too for an even more natural feel.
Blend the bottom of the fence into the garden with a border filled with plants of various sizes and textures. Add in some climbers too, to blend the fence and add height so extra privacy too.
2. Add texture and privacy with a willow fence
How dreamy is this gorgeous set up? Now your backyard might not have a stunning stone outdoor kitchen but you can take inspiration from this privacy fence idea. If you have a patio or decking that you just want to make a bit more secluded, add a fence to divide the space from the rest of the garden or even a covered pergola. Pick something that isn't too solid like the willow you see here, so it doesn't feel too blocked off and you still get light coming into the space.
3. Blend a wooden fence with other materials
In a small garden, sometimes just a solid wall of fencing can be a bit overbearing. So try mixing it with another material, you still get the same amount of privacy but this will add more interest to your space.
In this garden, a chalkboard wall meets a slated fence for a really fun, creative feel that works perfectly with the fuss-free design of the rest of the space. For a more rustic look you could pair a fence with a stone wall or opt for a white wall for a modern Mediterranean feel.
4. Make a seating area more secluded
You often find in smaller or urban gardens that seating areas are tucked into a corner. This makes sense because it's often the section of the garden that is least overlooked. However, this means the fence becomes a huge feature of the seating area so it's important it looks lovely, as well as adds that much-needed privacy.
Case in point with this lovely outdoor seating area. The fence almost blends into the built-in banquette because of the raised planters and climbers. The large palm zones off the area from the rest of the garden, making it feel more like a separate secluded 'room'.
5. Add height a garden wall with fencing
If you have been blessed with lovely garden walls, but you just need to add some extra height for privacy, try adding a fence 'extension'.
Here in this more traditional, English garden, trellis has been used and climbers add that extra privacy. You could choose horizontal slated fenced for something more contemporary – even if your garden wall is old the contrast would be perfect for creating a garden that was a mix of modern and traditional.
6. Camouflage a garden fence with subtle colors
Sometimes a raw wooden fence just won't match the vibe of your garden, the solution is simple – paint. Paint your fence in a subtle that's going to blend in with the rest of your garden. The obvious choice would be some form of pale green which will act as a backdrop for your planting and won't interfere with any other colors you want to bring into the garden.
Painting your garden fence is also a great way to make a small garden look bigger as it's not as obvious where the garden ends as there is no bulky wooden fence breaking up the space.
7. Disguise a privacy fence by turning it into a living wall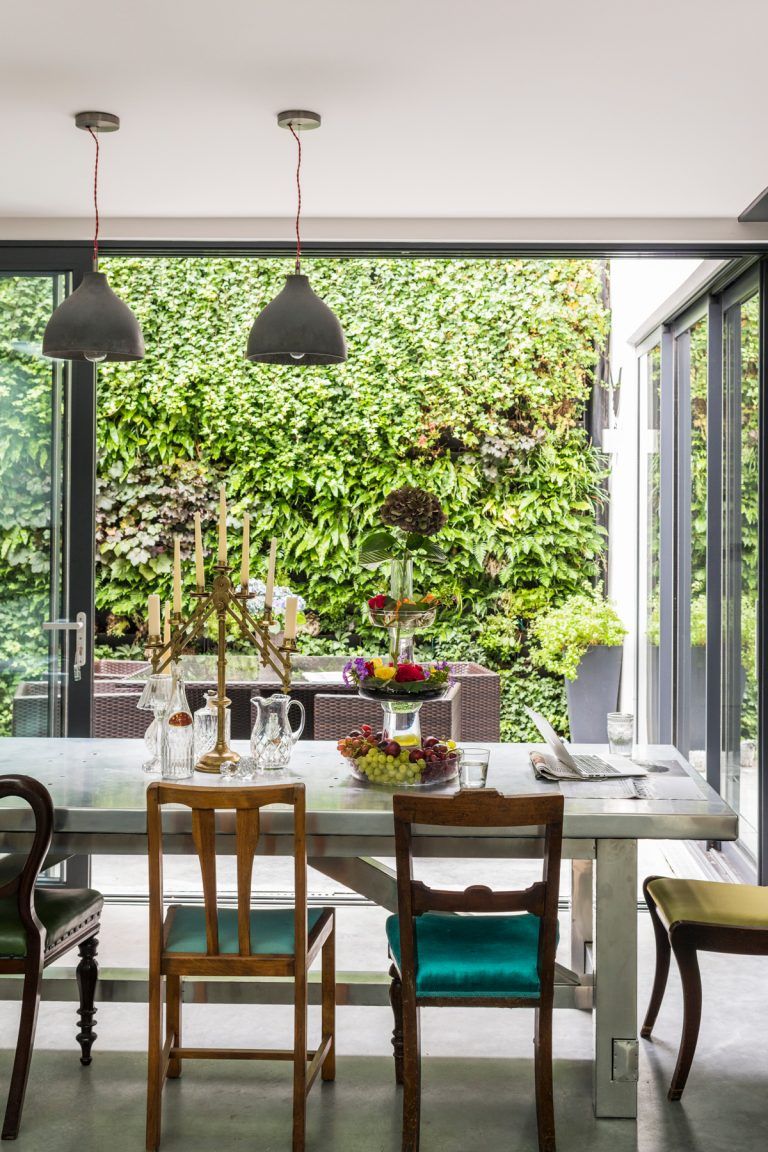 If a fence really isn't your style or if in a small garden you think a tall fence might look too intense, turn your fence into a living wall. Not only will give you the privacy you need, by growing plants vertically you free up floor space to use for gorgeous outdoor furniture ideas instead.
8. Top your back fence with trellis
Often with urban gardens you aren't always overlooked from the side, but usually it's behind the garden where privacy might be an issue. Now you don't want towering fences on all sides of your garden, but you could make the back fence higher than the rest so you aren't overlooked.
See here how the back fence is top with some extra trellis so there's extra privacy but you aren't blocking out lots of light or overbearing the garden with a huge fence. By growing climbers up the fence and slightly obscuring it will large plants it blends nicely into the garden.
9. Add extra privacy and height to a fence with greenery
Again, if you don't want a tall fence to impose over your garden, but need extra height for privacy, trees that grown above the line of the fence will add the height without the needing the solid structure of the fence. Prune them so they stay bare at fence height and then have the lush greenery almost floating above the fence.
10. Use lighter colors for taller fences
Sometimes you just need to install a really tall fence to ensure privacy in your garden. To stop a towering fence totally overwhelming a small garden, firstly keep the design very simple, the narrow vertical slats used here are the perfect example, and either opt for a pale wood or paint your fence in a subtle light hue. Add some climbers for extra camouflage.
11. Or contrast lush greenery with a dark fence
Add depth to your garden and take influence from this fence privacy idea by painting a fence in a dark shade. Black or a deep charcoal grey will really make the greenery pop and provides the perfect backdrop for more modern garden plants like leafy palms, tree ferns and banana trees. Plus, as this garden proves, despite the dark colors it work in a small space too.
12. Add levels to a privacy fence for a more subtle look
A lovely privacy fence idea is to opt for a leveled design that allows you to plant a raised bed in the fence itself. This makes your fence feel more like a feature in your garden and visually breaks up the solid wall. This is also a nice way to zone your garden and add extra privacy to a specific area like a patio or deck.
What is the best privacy fence to put up?
The best private fence for your garden will come down to style and budget. All fences will of course provide privacy so it just depends on the look you are after and if you want your fence to be more of a feature as well as add privacy.
Wooden fences are the most common option and come in so many different styles and finishes. Close board fencing, where wooden slats overlap vertically is what you probably see most often, its durable and long-lasting, great for height and you can easily paint it to suit your space. Larch lap fencing is where the boards overlap horizontally, it's not as long-lasting as a close board design but ideal if you are on more of a budget.
Slated fence panels are increasingly in popularity and can often be found in modern, urban gardens due to their fuss-free design. They are ideal for climbing plants too, but don't provide total privacy due to the gaps. A great option for smaller gardens though as the horizontal design can trick the eye and make the space feel wider.
If your garden fence is about providing extra security as well as privacy, you might want to consider an aluminum or wrought iron fence instead of wood.
Hebe is the Digital Editor of Livingetc; she has a background in lifestyle and interior journalism and a passion for renovating small spaces. You'll usually find her attempting DIY, whether it's spray painting her whole kitchen, don't try that at home, or ever changing the wallpaper in her hallway. Livingetc has been such a huge inspiration and has influenced Hebe's style since she moved into her first rental and finally had a small amount of control over the decor and now loves being able to help others make decisions when decorating their own homes. Last year she moved from renting to owning her first teeny tiny Edwardian flat in London with her whippet Willow (who yes she chose to match her interiors...) and is already on the lookout for her next project.