5 things you can get rid of from your laundry room today to declutter, save space and embrace minimalism
Laundry rooms are magnets for clutter - start your spring cleaning here with these experts' easy decluttering tips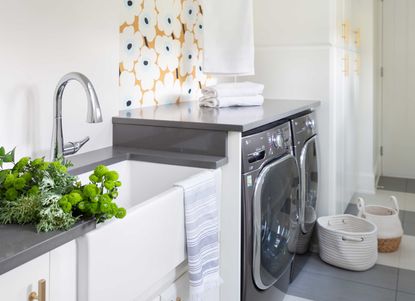 (Image credit: Reena Sopotra)
If you feel your laundry room has become a bit of a dumping zone for anything and everything, perhaps it no longer serves as a clean functional space, it's time for a clear-out. The laundry room is one of the most neglected spaces in a home, surprising considering the amount of use it gets. Generally, they are small spaces that need to be highly practical, but so often they become rammed with unnecessary clutter. That is why we have put together a list of five things to get rid of in your laundry room now!
Minimalism is a wonderful interior trend, and whilst your laundry room doesn't need to be up to date with the latest design aesthetic, this really suits the requirements of the room. An immaculately organised laundry room might not make the task enjoyable, however, it will make the process more streamlined and as a result quicker.
If you are feeling in the mood for a spring clean but unsure where to begin, the laundry room is calling your name. Melissa Gugni, owner and chief organizer of Melissa Gugni organizing, agrees. 'When you need a quick organizing fix, there is nothing better, since it can usually be done in under an hour,' Melissa says.
With some expert advice from Melissa and other professional organizers we advise you on the items you should be chucking out to take one step closer to the organised laundry room you deserve.
1. Towels
A laundry room isn't really the most practical space for overflow towel storage, but if a mountain of towels are taking up half your laundry room cabinet, rather than moving them somewhere else, it's time to let them go.
Di Ter Avest (opens in new tab), a professional organizer and owner of Di is organized, suggests cutting your towel pile based on the amount of people. 'We usually suggest our clients to keep 2-3 sets of towels per family member,' she says, 'And just a few old towels for rags and emergency spills.' So, say goodbye to some of your crusty old towels and unlock new storage space in your laundry room.
2. Excess laundry products
If you're anything like me, it is likely you will have accumulated a large number of tubs and bottles of laundry products as you try different washing detergents, fabric softeners, and more.
We are here to tell you it is time to get rid of them. No more rummaging around among the hundreds of almost-full products in your laundry room storage to find what you are looking for. It is unnecessary clutter that can easily be removed.
When decluttering use a discerning eye about what is taking up space in your laundry room and what you actually need. 'Having too many laundry products can make the whole process feel a lot more chaotic than it needs to be,' says Melissa Gugni (opens in new tab), 'keep your favorites on hand but less is more.' You will be shocked at the amount of space you will be left with.
3. Anything that doesn't belong
Start by removing all items that don't belong. The laundry room unfortunately serves as a dumping ground for some members of the family, so all sorts of things can accumulate there. 'Emptying pockets' is another way this occurs says Melissa, noting 'toys, money, paper clips, keys and pens' as usual suspects.
Make a habit of regularly removing all these random bits and bobs and put them where they belong to keep your laundry room shelving clear of needless clutter.
4. Your trash can
If you are limited on space you may be looking for larger items to get rid of to free up some precious floor space. Removing a trash can from your laundry room might be the perfect space saving hack.
Melissa, who works in a lot of small laundry rooms, suggests cutting bins in favour of smaller solutions. 'Lint bins are a godsend,' she says. 'They are made with magnets to easily attach to the side of a washer or dryer. When it is easy to access the receptacle, folks are more likely to use it regularly'. We love finding ways of combining practicality and decluttering.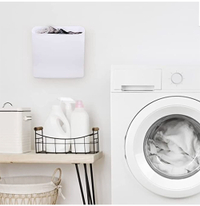 (opens in new tab)
Magnetic lint bin, Amazon (opens in new tab)
This is the lint bin Melissa recommends for saving space and helping keep your washing machine and workspace clean. if you need to free up some floor space consider removing your bulky trashcan in favour of this clever little bin.
5. Secondary storage clutter
So many people use the laundry room as secondary storage, especially when a space is used as a mudroom, contributing to the already cluttered chaos we have. Shoes, coats, medicine, and tools, don't all need to be located there. Consider what could be removed and stored elsewhere. Try to be conscious in decluttering the laundry room, it is a small space in which only the essentials should be kept.
Hopefully this list has given you some ideas of what to remove from your laundry room to declutter. We promise that you will be praising this satisfying clean for a long time as you endure your chores in an organised and peaceful sanctuary.
Amy is currently studying for an MA in Magazine Journalism at City, University of London, with experience writing for Women's lifestyle publications across arts, culture, and beauty. She has a particular love for the minimalist aesthetic mixed with mid-century furniture, especially combining unique vintage finds with more modern pieces. Her previous work in luxury jewellery has given her a keen eye for beautiful things and clever design, that plays into her love of interior design. As a result, Amy will often be heard justifying homeware purchases as 'an investment', wise words to live by.