This viral paint touch-up pen is a game changer for decluttering left over paint cans – they're only $4 each on Amazon
If you find yourself struggling with paint touch ups after a DIY, take a look at this handy paint pen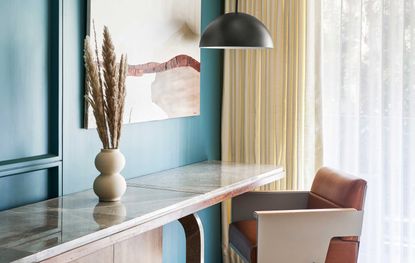 (Image credit: Shiraz Jamali Architects)
Calling all DIYers, this one's for you. If you've ever happily discarded your paint cans after a project, you might now understand the dilemma of keeping paint around for future touch-ups. Accidents happen and chips to your beautiful paint job should be anticipated, but storing a large pot of paint can be excessive and a waste of space. If you're adventurous with your home's paint ideas, you may end up with hoards of different colors, textures and formulas for every eventuality.
While you may have resigned yourself to this fate, perhaps you have a large garage that serves this purpose quite well, but you are still faced with the issue that paint does not last well in these conditions. If properly sealed paint can last from 3-5 years, however often cans do not satisfy this requirement, and fluctuating temperatures can also play a role in your paint degrading quicker.
Now, we've found an Amazon find that's going viral online that's meant to take the pain out of paint touch-ups. Say goodbye to hauling out large cans of messy paint, brushes, and drop cloths, it is now easy to fix little nicks and scratches to your paintwork.
So what does this clever buy do? Essentially it is a paint pot and brush in one convenient little pen. Simply swipe it on and you've got a paint job that looks good as new.
It's a brilliant problem-solver. Getting a whole painter's toolbox out to fix a small issue seems unnecessary, while it's also considered a painting shortcut to avoid to touch up directly from the can, as the color can shift if not mixed properly.
To use one, after you've finished your project, before packing away your DIY supplies, fill the pen with your paint of choice and store it away for a rainy day. The kit comes with an easy-to-use syringe that sucks up the paint and deposits it in the pen contraption sans mess. It is as simple as that.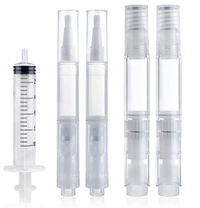 (opens in new tab)
Paintwork touch-up pen, Amazon (opens in new tab)
Quickly tidy up any paintwork chips and make your interiors look freshly painted with this handy little gadget. This convenient pen stores paint to be on hand whenever you need it.
They come in sets, meaning you can store multiple colors at once to serve each individual project, and they can be easily labeled. No need to stick to one color, go wild and mix it up to your heart's content.
Not only are they a great solution for quick interior touch-ups, they also provide an answer to our paint storage issue. It takes up less space than a felt-tip pen and keeps your paint fresher for longer, what more could you want? Tuck them away in a draw and forget about them.
We are so glad these pens have gone viral. They provide the perfect solution for a struggle we have had for far too long. So whether you are new to home DIY or overhaul aficionado check out this convenient pen is well worth a look.
Amy is currently studying for an MA in Magazine Journalism at City, University of London, with experience writing for Women's lifestyle publications across arts, culture, and beauty. She has a particular love for the minimalist aesthetic mixed with mid-century furniture, especially combining unique vintage finds with more modern pieces. Her previous work in luxury jewellery has given her a keen eye for beautiful things and clever design, that plays into her love of interior design. As a result, Amy will often be heard justifying homeware purchases as 'an investment', wise words to live by.