5 vegetables you can grow indoors all year - experts on the home-grown produce that just keeps on coming
No backyard? That's no barrier to growing your own vegetables, and some edible plants can be grown all year, according to experts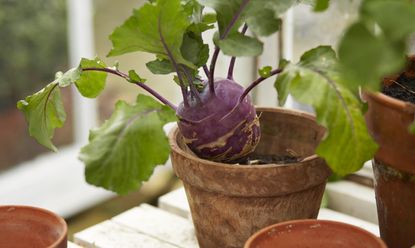 (Image credit: Getty)
Like the idea of self-sufficiency or living off the land but live in an apartment without outside space? Don't be deterred. With this expert advice you can cultivate crops indoors all year.
Many of us want to eat fresh, home grown produce without the plastic packaging or toxic pesticides. Whether for health, environmental or financial reasons, growing your own veg in an indoor garden is having a resurgence.
And not having a backyard or any outside space needn't be a reason to not start. In fact, an indoor vegetable garden was how the formerly Minnesota-based garden expert, author and founder of Bossy Acres Farm, Elizabeth Millard got started.
'I'd believed for most of my life that indoor vegetable growing was for experts who possessed deeply green thumbs, and that anything edible raised inside a house had to be grown in some extensive, costly system,' says Elizabeth.
'Fortunately, through several seasons of indoor growing, I came to see that there are plenty of options when it comes to in-home "farming".'
5 Vegetables you can grow indoors all year
Obviously large vegetables, such as pumpkin or squash that need lots of space aren't a good idea indoors. However, there are plenty of smaller edibles that are perfectly feasible for indoor gardening.
'We began by growing a wealth of crops inside and the more experimentation we did with micro-greens, pea shoots, radishes, and other tasty vegetables, the more we felt like we were extending summer indoors,' continues Elizabeth.
In her book, the Indoor Kitchen Gardening Handbook, published by Cool Springs Press, Elizabeth Millard (opens in new tab) also emphasises the importance of planning, from choosing the right spot and what or how much to grow, to container shapes and sizes and soil type.
'Creating a plan might seem like it would take the fun out of the adventure
of indoor growing, but I've found that the opposite is true. By understanding why I'm planting a specific "crop" and how I'm going to use that vegetable or herb in the future, I've been able to stay on top of my projects and very little goes to waste,' says Elizabeth.
1. Micro greens
These nutritional power houses are not only packed with flavour - and according to research up to 40% more vitamins and minerals (pound for pound) than their fully-grown counterparts - they're easy to grow indoors too.
Micro-greens don't take up much space, as they are harvested in the early stages of growth. You truly can have a small vegetable garden if you only have a windowsill. Sow them in shallow seedling-style trays with drainage slots and they can be ready to harvest in a week.
From beets or radish to trusty mustard and cress, there are plenty of micro-greens to choose from, so pick those you find tastiest. They're best sprinkled liberally on salads, sandwiches and hot dishes. Rotate crops too, so as one batch is harvested, you have another almost ready.
'Micro-greens can be grown from nearly any seed, since they represent the first stage of growth of a plant,' explains Elizabeth Millard. 'Called cotyledons, these initial leaves of a seedling give way eventually to a plant's "true leaves," and from there the growth truly begins into vegetable, herb, or fruit.
'Daikon radish or purple kohlrabi, are both particularly flavorful and provide pretty micros. If a milder taste is preferred, stick with options like chard, basil, cabbage, or carrot. Imagine the full flavor of a vegetable whittled down to a sliver, and that should determine your choice.'
2. Scallions
Sprinkled over salads raw, or cooked and used as a base for risottos, pastas, quiches and countless recipes, this stalwart from the allium family is a great vegetable to start an indoor kitchen garden with. They're so easy that they're one of the best vegetables for beginner gardeners to grow.
'Green onions are absolutely one of the most fun vegetables to grow indoors, probably because of the immediate gratification factor. They're truly easy,' says Dana Hopper (opens in new tab), vegetable garden designer and co-founder of Home Grown Veggies.
'Use the same organic potting soil you would use for herbs (look out for one with ingredients such as coir, perlite, feather meal, worm castings, crab meal, kelp meal, oyster shell) and mix in a small amount of compost or worm castings.
'Green onions can also easily be started from seed. But a great hack is to buy a bunch at the grocery, cut off the tops leaving about an inch of green over the white bulb and roots, and plant directly into the soil leaving only the green tops sticking out.
'Keep soil moist but not soggy and save a space for them on a sunny window. Generally, they don't require much amending with compost. But once you pop one out to eat, you can put some compost or castings in its place and immediately reseed or transplant for a continual harvest.'
3. Lettuce and salad leaves
Plants with a shallow root system are the best choice for indoor growing. Most types of lettuce and other salad leaves such as arugula can be a worthwhile indoor crop for this reason. Head lettuces require a little more spacing than salad mixes, which grow in a cluster.
'When it comes to indoor growing, I nearly always gravitate to the salad mixes because they grow quickly, I can seed them according to pot size, and they incorporate a range of flavors from mustard greens and peppery arugula to pretty 'Rouge d'Hiver' and frilly 'Lollo Rosso,' says Elizabeth Millard.
'No matter what you pick, I'd advise jotting down growing notes in a journal. When growing several varieties of lettuce, I sometimes forget what works well and what doesn't, or what tasted too bitter or too boring. A quick perusal of my gardening journal before ordering always helps me to distinguish the bountiful from the blah.'
'Lettuce seeds need light to geminate,' says Dana Hopper (opens in new tab). 'Scatter seeds over the top of your pot - don't cover them up - just lightly tamp them down into the soil.
'Keep the top moist or misted after seeding and when they start to grow, water so that they're damp but not soggy through to harvest. These leafy greens don't need a prime spot in your window - they'll do fine in partial shade and prefer it over intense sunlight.'
4. Radish
A crop that matures quickly, radishes can be ready to harvest in a few weeks from seeding, making them one of the best vegetables to grow in pots. Bursting with color, heat and goodness, they are a fun and firey addition to an indoor garden. Tasty sliced onto salads, they can be pickled too.
'Start radish from seed about 1/3 of an inch down - you'll see sprouts in no time,' says Dana Hopper. 'It'll take around 30 days to see your radish emerging from the soil.
'These vegetables can be planted together with scallions in a medium sized pot or trough (make sure they're at least 4" deep, although 6" - 8" is preferable). Plant your green onions first and then seed your radish around them. They only need about 2" of space between seeds or shoots.'
5. Beets
This versatile root is delicious roasted, sautéd, pickled or raw, and is often enjoyed in salads, soups, slaws or as a side. Once confident, try golden or rainbow beets for a beautiful alternative to the usual ruby red.
'Much like radishes, success with indoor growing for beets is often about variety selection,' says Elizabeth. 'Zeppo are a smaller beet, and at fifty days from seed to harvest, it's faster growing that many other varieties.
'Root vegetables like these are all fairly similar in terms of root depth, so I tend to grow them in their own separate pots rather than trying to create a mini-farm in a single large container.
'Beets do well in loose soil, so you might consider a soilless mix like compost and sand mixed together, or at least putting some vermiculite in your potting mix to allow for more drainage.
'Beets draw nutrients rather heavily so a little compost tea or other fertilizer is also a good idea,' adds Elizabeth.
Jacky Parker is a London-based freelance journalist and content creator, specialising in interiors, travel and food. From buying guides and real home case studies to shopping and news pages, she produces a wide range of features for national magazines and SEO content for websites
A long-time contributor to Livingetc, as a member of the team, she regularly reports on the latest trends, speaking to experts and discovering the latest tips. Jacky has also written for other publications such as Homes and Gardens, Ideal Home, Red, Grand Designs, Sunday Times Style and AD, Country Homes and Interiors and ELLE Decoration.