Our editor has trawled Wayfair's WayDay sale for the designs that'll make your living room look so much more expensive
On-trend couches, perfect marble coffee tables and lighting that fits how we all want to live, Pip Rich has scoured the Wayfair WayDay sale so you don't have to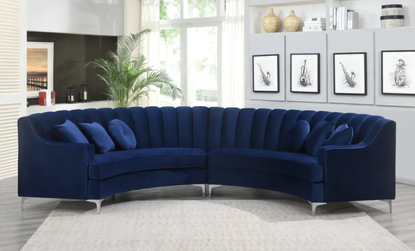 (Image credit: Wayfair)
If you know what to look for in the Wayfair WayDay sale, it can be easy to find pieces that elevate your living room. If you don't, you can end up staring at faux leather massage chairs that look even clunkier than Joey and Chandler's.
So here are the pieces that I think will instantly overhaul your living room - all on sale now, but only for the rest of today. Quick!
Browse the full Wayfair WayDay sale here (opens in new tab).
Neutral rugs
Let's start at the floor. You'll need something soft to walk on that means you can go barefoot (which always makes you feel safe). But nothing too show stopping that steals focus. These are the answer.
Calm and curated
(opens in new tab)
With just a hint of a pattern but nothing that would overpower even the most minimalist living room, this modern organic rug links showier pieces of furniture well. It goes with everything - I can see it with a stone-top coffee table and an air of serenity.
Goes with everything
(opens in new tab)
Wisdom I refer back to always: designer Beata Heuman told me jute rugs go with everything, and helps to link colors or shapes that perhaps don't technically match. She's right - I have one in my living room that changed the whole vibe for the better.
Stone-top coffee tables
Now add a bit of gleam, and the trend for marble continues. It's still so luxe, so timeless. Elegant and elevated.
Allows a feeling of space
(opens in new tab)
Its skinny legs allow air to flow through and around this glossy marble coffee table. Monochrome continues to be a big living room trend - sharp, sleek and smart.
Adds storage
(opens in new tab)
I am always looking for another shelf to keep my stuff on - decluttering can only go so far. The fact this coffee table has an extra layer for books, magazines - or boxes - really helps.
Blue couches
Dark blue is back in style - it's super sophisticated and makes a living room look more expensive. These two couches nail it.
Perfect for TV watching
(opens in new tab)
Geo 2 Piece upholstered sectional
It's the bolster cushions that do it for me, rounding off the sharp corners of this couch that is just made for lounging across. I spy the perfect living room TV sofa.
Ideal for entertaining
(opens in new tab)
Wide Velvet Symmetrical Modular Curved-Shape Sectional
The trend for curved sofas is going nowhere, and this sprawling sectional is the ideal couch for entertaining. I'm imagining my favorite people, drink in hand, gathered in. Pair with a round rug and some sparkling conversation.
Table lamps
The era of the big light is officially over - it's so much more convivial to create pools of lighting instead. Dot at different heights, on a fireplace or end table.
Elegantly shaped
(opens in new tab)
The smooth texture of concrete is the perfect complement and contrast to the marble coffee table. Man made instead of natural but just as refined. Again, I enjoy how much airiness this slimline structure allows.
Warm to read by
(opens in new tab)
This has the softest, warmest glow. A slight golden touch to the subtle light it creates, this is wonderful to read by. I'm considering buying three and dotting them around my living room.
Objets
This is where it starts to get fun. The bigger pieces bought so the personality can be layered in on top. And these pieces are full of personality.
Quirkily beautiful
(opens in new tab)
This isn't for everyone - I'd never get it passed my husband - but if you have confidence and flair then it's unusual enough to work. I find it beautiful - quite dreamy - and that it works filled with flowers or left empty.
Soft silhouette
(opens in new tab)
With any shelfscape I believe it's the space around each objet that is most interesting. And this has a perfect silhouette - place it next to something a little more angular for a very cleverly curated display.
The editor of Livingetc, Pip Rich (formerly Pip McCormac) is a lifestyle journalist of almost 20 years experience working for some of the UK's biggest titles. As well as holding staff positions at Sunday Times Style, Red and Grazia he has written for the Guardian, The Telegraph, The Times and ES Magazine. The host of Livingetc's podcast Home Truths, Pip has also published three books - his most recent, A New Leaf, was released in December 2021 and is about the homes of architects who have filled their spaces with houseplants. He has recently moved out of London - and a home that ELLE Decoration called one of the ten best small spaces in the world - to start a new renovation project in Somerset.