Our editor has scoured Wayfair's WayDay sale for the outdoor furniture that'll make your yard perfect for entertaining
Upright armchairs and outdoor rugs, battery powered lamps and bargain tables - Wayfair's WayDay sale has everything you need for a relaxed backyard to entertain in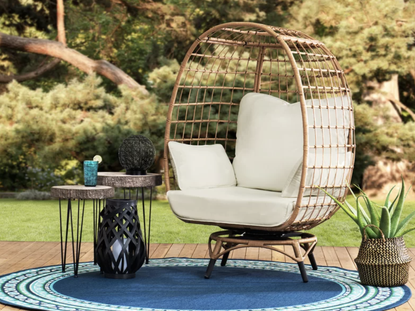 (Image credit: Wayfair)
This is set to be the year of the outdoor entertaining space, and the Wayfair WayDay sale has you covered, if you know where to look. But the sale is only on for today, so act fast!
With some clever editing, Wayfair is actually one of the best outdoor furniture brands to shop from. So I've weeded out all the strange-looking gnome lamps and the life size figurine of a yeti (seriously) to bring you the pieces that I think will make a backyard to impress.
Browse the full Wayfair WayDay sale here (opens in new tab).
Outdoor rugs
I'm a huge convert to the outdoor rug - I used to think they'd get dirty immediately and not be worth the hassle. But I bought one last year which survived pretty well (despite my puppies). And what they do is help to zone an area around which seats and a table and a gas grill or whatever else you have magically become an entertaining hub.
Rich and warming
(opens in new tab)
Terracotta is the color of outdoors - of pots filled with lavender and rosemary in the Med. This area rug does the same job, bringing a flash of heat to your backyard.
Sophisticated style
(opens in new tab)
I'd take this one for more minimalist backyard - I can picture it on a gravel pit, surrounded by aloe plants and ferns, string lighting overhead, grown-up chatter as the sun begins to set.
Outdoor chairs
Upright chairs - as opposed to loungers or outdoor chaise lounges - are essential for an entertaining space. So much easier to have a conversation from, and so much neater and less bulky to store.
Smart and chic
(opens in new tab)
These evoke everything that's currently on-trend for indoor dining chairs - cocooning forms, rounded edges, bold colors. Add a throw pillow and you could happily sit in this all night.
Buy of the year
(opens in new tab)
The cafe-style has somewhat taken over interior design trends - see the cafe curtain and the rustic breakfast nook - and it continues to outdoor chairs. These could be my buy of the year.
Outdoor dining tables
Convivial
(opens in new tab)
This is the shape I like for an indoor table - and it works for outdoors, too. Round, so it's convivial, and a central pillar so the legs don't get in the way. The concrete finish is smoothly alluring.
The full dinner party
(opens in new tab)
The color of wood, this contrasts well to hard landscaping such as concrete tiles or white-washed walls. And it's so large! You can easily fit ten chairs around it - 12 if you squeeze. The summer party starts here.
Outdoor lamps
An essential part of an outdoor party - there's no point if you can't see your guests. Modern lights are all battery powered, so easy to move around and group as you wish.
Versatile
(opens in new tab)
Not only doe this have a super warm glow (out of the white part at the bottom of its bottle shape) but is also works as a table lamp or hanging lantern. So move it around for whatever you need - two or three from a tree would look like heaven.
Super affordable
(opens in new tab)
With the olde-worlde charm of a latern this battery-powered light is so cheap you could easily festoon a whole walkway with them. They're light and easy to move - I'm imagining guests carrying their own one to light their way around the yard.
Outdoor throw pillows
Of course, you're going to need to get comfortable, and an outdoor pillow will entice you to nestle in. I like these to be colorful - a dash of something fun that truly lifts the more neutral bigger pieces.
Tropical motif
(opens in new tab)
Designed by Justina Blakeney, I love how it's motif transports me to the tropics. Use to soften one of those upright dining chairs I mentioned earlier.
Outdoor egg chairs
Of course, every entertaining space needs a chill out zone, and that's just what an egg chair is for. Freestanding or hanging, they both work to carve out a little nook for peace.
Scandi vibes
(opens in new tab)
Big enough to be a love seat, or a little reading nest just for one.
Good for a porch
(opens in new tab)
Bungalow Rose porch swing
Perfect for whiling away the hours on a porch or patio.
The editor of Livingetc, Pip Rich (formerly Pip McCormac) is a lifestyle journalist of almost 20 years experience working for some of the UK's biggest titles. As well as holding staff positions at Sunday Times Style, Red and Grazia he has written for the Guardian, The Telegraph, The Times and ES Magazine. The host of Livingetc's podcast Home Truths, Pip has also published three books - his most recent, A New Leaf, was released in December 2021 and is about the homes of architects who have filled their spaces with houseplants. He has recently moved out of London - and a home that ELLE Decoration called one of the ten best small spaces in the world - to start a new renovation project in Somerset.