5 ways to hide outdoor eyesores – the tricks landscape designers use to disguise your backyard's worst features
We speak to the landscape designers to find out their favorite ways to hide those backyard eyesores that would otherwise ruin your view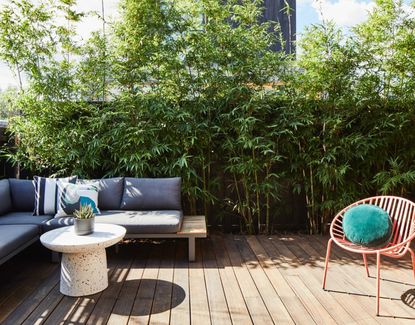 (Image credit: Circle Studio)
It's all well and good investing in beautiful outdoor furniture and landscaping your backyard, but those everyday eyesores can really get in the way of making your backyard a tranquil escape.
From the necessity to store trash cans to ugly plumbing, there are so many everyday obstacles that help our backyard function, but that can also be quite distracting the eye, creating a visually jarring focal point.
Of course, landscape designers have perfected the art of hiding what you don't want to see. I asked them for their best tips and tricks for a picture perfect outdoor space.
1. Enlist the help of a privacy screen
A privacy screen is a great option to hide an offending outdoor eyesore. While their main purpose is to shield your backyard from prying neighborly eyes, they have a secondary function. From recycling bins, to compost bins to swimming pool mechanisms, a tactically placed privacy screen can act as a feature while diverting the eye from what's behind it.
The best privacy screens seamlessly blend the aesthetic with the practical and can shade your backyard from neighbours all while distracting from that eyesore. Think timber that blends into your natural space, to more intricately designed metal manifestations of privacy screens.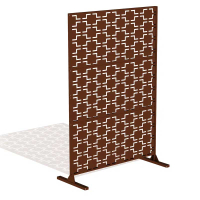 (opens in new tab)
Bronze outdoor privacy screen, Wayfair (opens in new tab)
This stylish bronze privacy screen has a natural patina that will help it feel part of the background of your outdoor space, while still providing a focal point.
2. Distract the eye with other backyard features
Invest in furniture, strategically placing larger big ticket items around the backyard in front of eyesores or in a certain place that will distract from them being there. 'Strategic furniture layout and carefully selected outdoor pieces are your best bets to shroud outdoor eyesores,' says Madison Adam (opens in new tab), Article's interior design services manager. 'Layout furniture so the area you want to hide isn't your guests' main sight line.'
Position sofas or the best outdoor furniture so that people face away from what you want to hide. 'I also love using pillows and decor as pops of color to draw the eye to different spots throughout the space.' A well-placed outdoor sofa and coffee table set could distract from something behind it, while an outdoor rug can hide all manner of sins.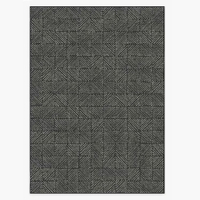 (opens in new tab)
Parquet black rug, Ruggable (opens in new tab)
Outdoor rugs can be used the hide less than desirable patios and damage to decks. These styles from Ruggale are machine-washable while design forward. Pick from a range of shapes, sizes and designs. I like this tiled design with off-white diagonal lines.
3. Use fences to your advantage
Any eyesore or view you'd rather not see can be aided with the simple addition of a tactically placed simple garden fence. 'Fences play a defining role in the overall feel of a space,' says Julie Farris (opens in new tab), a Brooklyn-based landscape designer and founder of XS Space. 'They're sort of like an outdoor wallpaper in three dimensions.'
When picking the perfect fence, the more inoffensive and subtle, the better. 'I like fences that kind of disappear,' says Julie. 'Well, not really, but ones that provide a natural and classic backdrop, and that weather well so that the garden can take the foreground.' Think stained wood, or paint black or white for a more dramatic background. Fence toppers attach to the top of a fence to make it even taller, they have a decorative flair to them and increase privacy. Different pattern and hatching can distract the eye further and can act as a horizontal trellis to train plants.
Julie avoids woods such as pine that feature knots because they tend to be distracting and busy in a small space. Go for around 6ft in height, just taller than most people but not too high to make the space feel inward-looking and claustrophobic.
4. Get clever with planting
A garden trellis with climbing vines creates a visual barrier from what you want to hide. Plant tall grass or bamboo in planters placed in a row to create separation and naturally camouflage the space behind it.
When trying to screen an unsightly object or view, I love to use tall steel trellis structures with vines to create a green wall,' says Kathryn Prideaux (opens in new tab) of Prideaux Design. 'This approach allows for height - without sacrificing much space in depth.
'I use steel posts with cable spanning between them - often just inside a wall or just outside of a wall. This creates a very minimal structure that can be used as the backbone for vines to climb. I have used these custom trellis features as tall as 9'.'
Trellises are great when there are mechanicals to be screened, like pool equipment, AC condensers. 'I plant fragrant flowering vines either at the base or an adjacent planter - this softens the structure and adds color and seasonal interest,' says Julie .
When it comes to the best plants for trellises, Julie advocates a mix of evergreen shrubs at different heights and textures 'it looks more natural,' she says.
Other great plants include easy-to-grow grape vines that will take off over summer and all through autumn, beautiful flowering wisteria, ivy or honeysuckle. You can even use this garden trellis structure for planting your own vegetable garden. Think courgette, beans and pumpkins for a fully functioning trellis that hides your offending eyesore and turns the focus of the backyard into something else entirely.
5. Factor in eyesores in the initial planning stages
Ultimately, think about how you plan your backyard and the perimeter of the space in the initial planning stages.
'I try to be strategic in the space planning from the onset of a project when views or objects require screening,' says Kathryn. 'Think about the location of tall walls - shade features - or other structures that can really be visual blockers - and can also allow the focus of the space to relocate to another area of the yard.'
Consider how a tall wall, a well-placed tree or even a feature can be used to can hide a neighbor's unsightly wall or other outdoor eyesores.
Livingetc content editor and design expert
Oonagh is a content editor at Livingetc.com. Previously, she worked on a London property title, producing long-read interiors features, style pages and conducting interviews with a range of famous faces from the UK interiors scene, from Kit Kemp to Robert Kime. In doing so, she has developed a keen interest in London's historical architecture and the city's distinct tastemakers paving the way in the world of interiors.