A gas grill you can take with you anywhere, the Weber Traveler blew our reviewer away
We test the Weber Traveler, a portable and functional grill that just about anyone can use.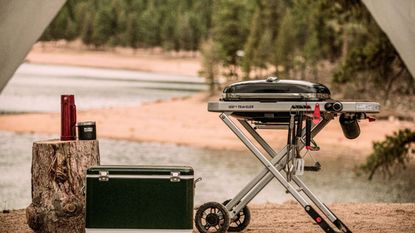 (Image credit: Weber)
Our favorite portable gas grill, the Weber Traveler, is a well-designed and transportable option that easily folds up and down when needed. The wheels make it easy to move, and there's enough space to cook for a whole family. It's a great choice for any outdoor cookout.
Reasons to buy
+

Very portable

+

Good size cooking surface

+

Side shelf for plates and utensils

+

Easy to set up
Reasons to avoid
-

Would benefit from second burner

-

Quite expensive for a portable model
If you've ever barbequed at the park or a campground, then you know the grill options at those locales aren't particularly great. You may have longed to bring your own spectacular grill from home, but schlepping a large, heavy grill doesn't seem like a great option either.
Enter the Weber Traveler Gas Grill. Never until now did I feel like I could grill in the great outdoors with an easy-to-carry, portable gas grill. The Weber Traveler has a scissor-legged, foldable design but still comes with a significantly sized cooking surface, plus a side shelf for setting spare plates and cooking utensils. It is perfect for taking to the park, campgrounds, or pretty much anywhere—even home. If you have a small, stamp-size back patio you want to cook on. This might be the best gas grill option for you.
But there's more to consider besides the grill's movability and size. How does it actually perform? Does its transportability outshine its aptitude for cooking a good burger or bratwurst? To find out, I took the grill to a nearby campsite where I often walk the dogs to see for myself if the thoughtful travel design of the grill detracted at all from its cooking ability.
Weber Traveler: Key info
Cooking capacity: 320 in²
Number of burners: 1
With a hood? Yes
Power: Gas (propane tank not included)
Ready to cook on in: 20 minutes
Color: Black, red, or blue
Weber Traveler: Set-up
To be honest, there wasn't much setup required. Much of the Weber Traveler, which included the frame and hood, arrived already assembled. I did have to attach the wheels that allow the grill to be portable, but even that assembly was easy and intuitive, and thus I skipped the instructions. And I didn't need to use any tools for assembly. I will mention that the grill arrived nicely packed and protected, but removing all the packaging was very easy as well.
Weber Traveler: Performance
Considering the grill's intended use, I decided to test it at a nearby campground. The grill is foldable, and all it takes is placing a foot on the folding handle and, with my hand, pulling the red release lever. The grill actually then lowers itself to the group, and everything snaps in place. The large all-weather plastic wheels allowed me to move the cart that the grill attached down the driveway to my car.
Loading the grill into my small Toyota Corolla was surprisingly simple. I was able to slide one end of the grill and then use the handle above the wheels to pick the grill off the pavement. The grill weighs about 45 pounds or so, which isn't much, and the wheels make moving the cart and grill feel even lighter when pushing the Weber Traveler.
Unloading the grill from the car was similarly easy. We had to cross a short wooded area to get to a hardscape, cement picnic area, and regardless of the terrain, the wheels made moving the grill stress-free. To set up the grill, I pulled the red release lever and moved the cart safety lock to the unlocked position, and lifted the grill until it was raised and locked in place. Lastly, I affixed the small propane tank.
Then we got to grilling, allowing it to warm up first. It took about 10 minutes to get the grill above 400°F. We cooked the usual campsite fare, bratwursts with a side of edamame to class up the meal. The amount of grilling area on the Weber Traveler actually would have fit more than we chose to cook. I feel certain we could have squeezed in 15 burger patties if we wanted. It took us about 15 minutes to get our bratwursts well done, but the edamame took a bit longer.
Having another burner may have solved this problem, as I might have then been able to cook them at a different temperature without worrying about charring the meat. But all in all, everything turned out delicious and proffered that grilled flavor Weber is beloved for.
After everything was cooked, we allowed the grill to cool down fully before giving it a speedy clean. The grates are porcelain-enameled, cast-iron, so I wanted to make sure nothing stuck to them that could affect future grilling sessions. If you're like us and don't season the grates with olive oil or another cooking oil before grilling, the fat from your chosen meat (in our case, bratwursts) might be enough to help prevent any excess debris from sticking.
Then we packed up—the propane must be removed before pulling the red release lever. It seems like a safety feature of the grill, and I liked that this forces users to take care of their gas before trying to tuck the grill away inside a car.
Weber Traveler: Design
The design feels evocative of the classic Weber from back in the day. But the Weber Traveler is modernized and updated with a more rectangular shape. I prefer the black hood, though I can see myself just as well liking the red or deep ocean blue options. There is also now a Stealth Edition if you want your Weber Traveler to have a totally sleek, black finish and look.
The Weber Traveler is designed to be light and portable, even though the cooking grates are cast iron—anyone with a cast iron pan knows the material is usually quite heavy. But despite being solid areas to disperse flame away, overall, the grill felt light enough to move around. Perhaps because the spacing between each bar to the grate reduced the amount of cast iron needed.
The design of the grill also allows it to fit compactly and neatly in a car trunk. Having only one set of wheels in no way hindered its movability or affected how it could slide into place inside my car trunk.
For the exterior hood and body, painted porcelain-enameled steel was chosen, along with stainless steel accents across the lid. This lid also comes with a stainless-steel handle. The burners inside are made of stainless steel as well.
Each design detail of the grill seemed attended to—even the safety features. The release lever and safety lock are both rendered with a brilliant red hue that doesn't detract from the overall aesthetics of the grill, but the color clearly draws attention, so you don't forget them.
Weber Traveler: Our verdict
The Weber Traveler is the best portable gas grill to buy right now. And it defiantly beats whatever a local park or campground can supply. It's a well-designed and transportable grill that, when the release is activated, folds itself into place. The big wheels make moving the grill around easy, whatever your strength or the terrain that you'll be cooking on.
While it would have been nice to have more than one burner, perhaps this isn't even something most people want while camping anyway. There is enough grilling space to cook 20 bratwursts and thus feed a whole family on a cookout in the woods.
If you like being in the great outdoors and want to bring delicious food, then the Weber Traveler is a great choice. This grill is functional and well-made, and just about anyone can use it.
About this review
At Livingetc, we provide genuine reviews based on personal experience with various products. Our writers test the products in their own homes to ensure that readers receive an accurate and reliable account. These reviews are then used to create comprehensive buying guides that cater to various budgets and needs.