What color is replacing dark blue? This moody shade is the new go-to for atmospheric decorating schemes
Moody blues might once have had a grip on interior design, but today's designers are turning to a surprising color in its stead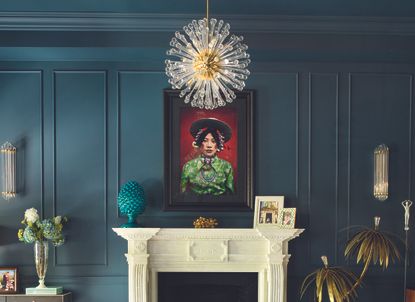 (Image credit: Simon Upton)
There was a time where dark blue walls were seen everywhere in interior design, and then just as quickly as they'd taken a stranglehold on our decorating schemes, they were gone.
That's not to say that dark blue isn't a timeless color - it certainly is. But it's definitely become a less popular choice for both interior designers and homeowners for walls that create a moody atmosphere.
However, these moody schemes remain a big interior design trend - so what's replacing dark blue as the color du jour for achieving this look. Well, you might be surprised by its successor.
What color is replacing dark blue?
in 2023, it's shades of deep, rich brown that have taken over as the go-to for those looking to create dark, cocooning interiors. It reflects a wider color trend for earth tones within interior design, especially in schemes that aim to be minimalist, relaxing and cozy - a contrast to the hyper colorful schemes that are also popular right now.
'We are seeing a movement towards natural earthy colors and brown is making a huge comeback,' says Caitlin Parker, founder of Seattle-based interior design firm, Parker Studios. 'It is one of the more sophisticated neutral shades and brings a touch of warmth to a space, which is what makes it so inviting.'
But what kind of styles does dark brown lend itself too? Here's how a few designers have used it.
1. A mid-century twist
So why is brown the perfect choice for now? For interiors and fabric designer, Martyn Lawrence Bullard (opens in new tab), it is the perfect color that harks back to a mid-century era that homeowners have been coveting and paying homage to. As vintage mid-century modern living room furniture and decor appear back in our homes, so too does the dark color palette associated with this zenith era of design.
'Brown walls, made so popular by David Hicks in the 1960s when he juxtaposed stately rooms with dark chocolate walls and painted all the furniture white or pale pink for a modern statement has now become a luxuriant designer trick,' says Martyn.
2. Tone on tone
Often seen as a pitfall, dark brown doesn't pair particularly well with brighter paint colors or primary shades. But this should be seen as part of its charm. While it's not a great base for all colors of the spectrum, it is surprisingly versatile when you think about how it works alongside texture, material, and fabric.
Think natural materials, artisan crafts, organic ceramics, linen, natural wood and reclaimed furniture. Using layers of brown and a mix of textures and materials can create a sanctuary that soothe the senses. This makes it the perfect foundation color for a Minimaluxe interior.
It's these layers that designers are bringing to the home instead of color, creating a rich and comprehensive scheme through texture, and brown is the perfect hue to add warmth. 'The beauty of the deep brown tones played off against lighter upholstery creates instant drama in a room and provides an inviting, sexy, and decadent ambiance immediately,' says Martyn.
There are some colors that go with brown in this tone, however. 'Brown also pairs well with burnt oranges and deep maroon tones,' says luxury interior designer, Rebecca James (opens in new tab). 'These colors are rich and give a sense of home comfort.'
3. Color drenching
What's more, dark brown is the perfect color that brings the feeling of nature into the home, reminding us of the earth beneath our feet. With it a sense of calmness and tranquility that we're craving from our interiors.
'It feels cozy,' say Sirotov Architects (opens in new tab), who designed this rich, brown home. 'We used brown in this project to create a secure feeling and warm color scheme. It is a basic, classic and cozy color at the same time.'
What is the perfect dark brown paint?
Brown can range from beige browns to dark rich browns, each bringing warmth to a space while creating a connection to the outside world. To find the perfect dark brown, we must delve into color theory.
'Browns are on the deepest part of the neutral color spectrum so, it is a naturally rich color or tone,' says interior designer Christina Rottman (opens in new tab). 'Because it is an organic hue, it is less contrived than a primary or secondary color like a dark green or a dark blue which feels dated in comparison. Nature never disappoints!'
Adding white to dark brown brings up the beige tone, a color that is replacing grey as the new neutral. Adding black gives it that velvety richness, and adding grey creates a more mushroom tone of brown.
Lighting plays a significant role in the brown that is right for your room. In north-facing rooms, the brown may appear slightly cool with a tinge of grey to it. On the other hand, the south-facing rooms can reflect the warm and earthy touch of brown. A light-filled room might need you to go a few shades darker to make sure you get that depth, even when the sunlight is pouring in through the window.
(opens in new tab)
A deep brown with a slightly grey undertone that helps this color feel modern and minimalist.
(opens in new tab)
2. Tanner's Brown from Farrow & Ball
With a bit more of a grey tinge to it, this tone is named after the artisans who created leather. Looking almost black in lower lighting, it becomes browner in color in well-lit homes thanks to reddish undertones.
How do I use dark brown in the home?
So how to use dark brown in the home? First off, don't be afraid of paint. Interior designers are loving taking paint all along the walls and ceilings, filling in crown molding details with this dark shade of brown to create real impact.
In terms of the rooms that work best, think about what kind of mood you want to create. Rooms where relaxation is the focus, work best with a moody brown shade. 'I like to use this color in bedrooms as clients tend to be more daring in this area,' says Rebecca. A snug or TV room might also work for this deep shade, and a lick of dark brown paint can elevate a bathroom to a spa-bathroom.
Dark brown is also a great paint choice to use in a space that needs some added interest. 'In my opinion, rich dark colors tend to enhance interior spaces which lack in architectural character. Dark browns are a wonderful color to use because it evokes warmth and decadence.'
Livingetc content editor and design expert
Oonagh is a content editor at Livingetc.com. Previously, she worked on a London property title, producing long-read interiors features, style pages and conducting interviews with a range of famous faces from the UK interiors scene, from Kit Kemp to Robert Kime. In doing so, she has developed a keen interest in London's historical architecture and the city's distinct tastemakers paving the way in the world of interiors.