What color should I paint my pantry shelves? Experts explain how to perfect this game-changing finishing touch
Changing the color of your pantry shelves is a small job that makes a big difference. Experts explain the finishes, hues and styles to get it right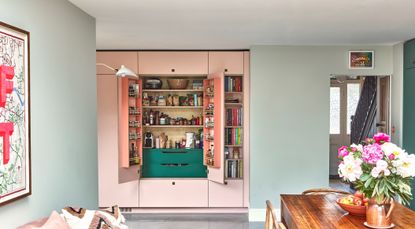 (Image credit: PLUCK)
Kitchen pantries are one of the most hardworking spaces, quietly hiding away the essentials that fuel the home. But a purely utilitarian room doesn't need to be devoid of design. Pantry shelves present a delicious opportunity to experiment with color. With a nice lick of a considered paint color and the right finish, this room can become like a little jewel box; the crowning glory of the kitchen or passageway.
If you hope for modern storage that looks inspiring (and always clean!), then these expert-recommended tips are just for you. Take a look at these key points and keep them in mind as you embark on a fresh, new reno for your kitchen pantry.
What color should I paint my pantry shelves?
There is no right or wrong answer to colors for a kitchen or walk-in pantry shelves; this space, most times works as an exclusive area, open to experimentation. If you're unsure of what shelf colors work, consider painting swatches around the space, and seeing how the room looks and feels. Ideally, a pantry should create a feeling of relaxation and ease; a place where you can spend time without getting overwhelmed or feeling closed in.
'When it comes to pantry shelves, as opposed to kitchens, I feel that 'trends' don't apply to them,' says Mindy O'Connor (opens in new tab), principal of Melinda Kelson O'Connor Architecture & Interiors. 'This is a space that functions as a purely functional space and is in fact, better off staying away from trends. But having said that, if I had to choose hues, I'd say sage green, light blue, soft pink, beige, ivory and off-white are ideal tones that are timeless, as these keep the space light and breezy yet give it personality.'
'One important thing to keep in mind before choosing a color for the pantry is the amount of natural light pouring into the space,' says Andrew Griffiths (opens in new tab), founder of A New Day Design Studio. 'This has a transformational impact on color. By keeping a check on the type and amount of illumination in the room, you will be able to decide what hues will work best, whether warm or cool.'
If you want to create a stand-alone look for the pantry, consider painting the walls and ceiling too, along with the shelves. Paints aside, you could even use printed tiles, wallpaper, or self-adhesive vinyl. (opens in new tab)
Cook's Blue, Farrow & Ball (opens in new tab)
Consider this bright and deeply pigmented color to give your pantry a big boost in personality. Consider color-drenching the space with blue on the shelves, cabinets, and walls.
What finish of paint is best for kitchen shelves?
There are several interior paint finishes to choose from, and it can be a tad bit confusing when it comes to figuring out which ones work for the pantry shelving.
Paint sheen largely means how the color reflects light. Paints with flat or matte finish have low-sheen. Semi-gloss has a mid-range degree of light-reflective ability, while high gloss reflects the maximum light. For areas where you want to draw attention and give a big boost of personality, a high gloss or semi-gloss paint works. These are ideally good for doors, cabinets, and trims. They are durable, do not chip easily, and are perfect for high-traffic areas.
'If you're painting your pantry cabinets, keep the paint to a semi-gloss satin finish, as it's easy to wipe down,' says Jennifer. 'Immediate stains come off easily with a damp cloth. This finish also doesn't showcase cracks and marks that easily, which a pantry is bound to get with all the heavy ingredients, bags, and crockery stored within it. Matte finishes look pretty but can show stains more.'
Should pantry shelves match kitchen shelves?
'This is not a rule,' says Cat Dal (opens in new tab), founder of Cat Dal Interiors. 'In our projects, we've done pantries that showcase exclusive color and print. Rather than looking just like the kitchen, which seems so boring, we wanted the pantry in a similar style but a different color scheme, leaning in for a more personality-filled look.'
If the pantry storage is within the kitchen, and you want to create a seamless look, you could consider the cabinets and shelves in the same color. Sometimes, the same material tones too can help create a unified look. Tonal hues or different shades of the same color used across the kitchen and pantry shelves look effective.
Inversely, to make a big impact, while choosing a paint color for your pantry, you could consider a color block. By choosing contrasting tones between the kitchen cabinets and pantry shelves, you could create a visual that is immediately eye-catching.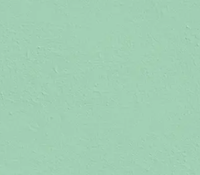 (opens in new tab)
Green 08 Matt, Lick (opens in new tab)
Looking for crisp, perky kitchen and pantry cabinet paint? This color will give your storage a smooth and refreshing feeling.
Should I go light or dark for my pantry shelf color?
'I think a pantry is a great place to have fun, but I would leave the really loud colors or prints to the walls and keep shelves on the more subdued side so you can see all the items you put on them,' says Jennifer Morris (opens in new tab), founder of JMorris Design. 'Natural but lighter woods for pantry shelves are great.'
'Ideally, pantry shelves should be in durable, easy-to-clean, materials such as laminates,' says architect Lisa Breeze. 'I find lighter colors work best, as softer tones make it easier to work in this space, and it doesn't let the small space feel even smaller or suffocating.'
Usually, when it comes to pantry colors, dark hues may prevent you from noticing smaller, tinier details of your food and ingredients, like black mold, insects, and grime on dark-colored surfaces. A dark-toned room also makes it harder to find things quickly. However, if it is a dark tone you are completely set on, consider adding a large window so the space is filled with plenty of light during the day.
That said, experts suggest lighter and breezier tones. Think warm white or lemon yellow. These colors reflect light upwards, making it easier to see what's stored within. The only challenge will be to make these colors look clean. Frequent wiping and dusting will be required.
Aditi Sharma Maheshwari is an architecture and design journalist with over 10 years of experience. She's worked at some of the leading media houses in India such as Elle Decor, Houzz and Architectural Digest (Condé Nast). Till recently, she was a freelance writer for publications such as Architectural Digest US, House Beautiful, Stir World, Beautiful Homes India among others. In her spare time, she volunteers at animal shelters and other rescue organizations.