Where can I buy limewash paint? The 6 best places to find this on-trend wall finish online
Limewash paint is one of the biggest decorating trends right now, but it's not always easy to find. So where are the best places to buy it?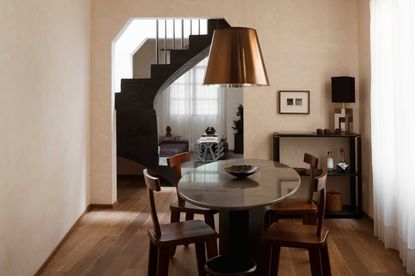 (Image credit: Fabian Martinez (@fabianmml). Design: Chloé Mason Gray)
Limewash paints are not a new phenomenon by any means. The technique is certainly not a modern invention, the mineral-based paint has been around for centuries, after all - yet this paint finish has taken on an effortless minimalism that plays into the quiet luxury aesthetic that's a defining mood in interiors right now.
This new lease of life is partly due to the trend for organic-looking texture and how, in the case of limewash paint, it reduces the starkness and flatness of a blank wall or space. Utilizing this paint in unusual settings can provide an interesting balance of harsh and soft. In a large open room the paint can be applied to the ceiling to provide a subtle warmth negative space, creating a soothing environment that feels like you are cocooned. Contrast the oversized wall space with soft linens and plush furnishings for that understated luxurious feel.
In spite of its popularity, it can still be harder to find than your standard paint finishes, but in reality, there are so many options to choose from now when it comes to limewash paint. Here are six of the best places to find.
Where can you buy limewash paint?
What is limewash paint?
Limewash paint produces a chalky texture and a light wash of color that isn't heavy and opaque. The paint is created by first making lime putty, which is limestone that is crushed, scorched and then mixed with water.
Said putty is then aged and thinned with water, and colored with pigments, to form the consistency of limewash paint. The result gives a film-like tint to the wall that gives a soft depth that reveals the application process.
As a natural paint limewash has a lot of non-superficial benefits as well. It is breathable, non-toxic, and eco-friendly.
How do you apply limewash?
The cloudy and imperfect appearance of this paint idea lends itself to experimentation and creativity. There is no right or wrong way to limewash a wall once you've got the basics in hand - however, there are some tips to achieve your desired look.
Firstly, never use a roller. Instead, use a long-haired paint brush to apply several thin coats. Make sure to start with an acrylic primer to smooth out any imperfections, as you don't want this unwanted texture to take away from the overall effect. Working in small areas spread the paint using horizontal, vertical and diagonal strokes. Then vigorously work the pain in circular motions.
This may feel unnatural at first, but you must forget your previous painting knowledge to achieve the best limewash finish. Using thin layers will allow you some freedom to experiment, ensure it is not applied too thickly as this will result in cracking.
Is limewash paint practical?
Limewashed surfaces age gracefully. Due to its perfectly imperfect nature, this paint does not fade as noticeably as your traditional options. Although it won't be visually obvious it will dilute over time, requiring a top-up every 5-7 years. The rest of the time it is fairly fuss-free. However, a PSA for people with children.
Limewash paint cannot be washed or wiped down due to its powdery nature and can't be touched up. To fix you would have to do a full coat of paint. For this reason, we would not advise using it in children's bedrooms or anywhere you feel it would get worn quickly.
Amy is currently studying for an MA in Magazine Journalism at City, University of London, with experience writing for Women's lifestyle publications across arts, culture, and beauty. She has a particular love for the minimalist aesthetic mixed with mid-century furniture, especially combining unique vintage finds with more modern pieces. Her previous work in luxury jewellery has given her a keen eye for beautiful things and clever design, that plays into her love of interior design. As a result, Amy will often be heard justifying homeware purchases as 'an investment', wise words to live by.